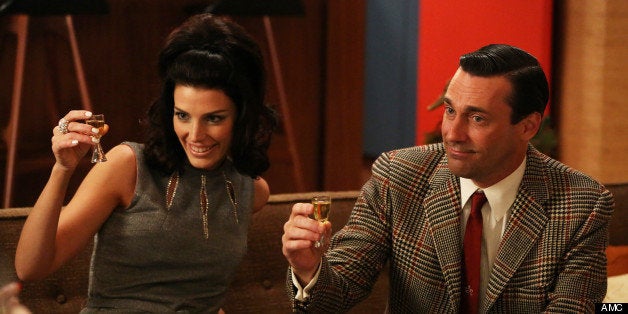 "Mad Men" is nothing if not great at making booze, drugs and the occasional shot in the behind look appealing. So in celebration of the show's Season 6 finale (Sun., June 23 at 10 p.m. ET on AMC), we've made it easier to partake with your favorite characters at SC&P.
We're not pushers -- pick your own poison! -- and we don't condone over-indulging, by any means, but if the show fits ... (And you're over 21, of course.)
Keep reading for our suggestions on when to cheers, puff and pour one out, then share your own predictions of what'll happen in the finale in our comments.
Take a swig out of Glen and Rolo's bottle of booze if ...
Sally rolls her eyes
Betty desperately tries to bond with her daughter
Don mentions Sally's name while lying in the fetal position
Miss Porter's gets a mention
Bobby or Glen make an appearance
Mix a strong drink from Don Draper's bar cart when ...
Peggy comes into Don's office (we're all gonna need liquid courage for whatever's next!)
Ted touches Peggy
Ted and Peggy giggle
Ted touches Peggy and then they giggle
Joan undermines someone
Ted wears a turtleneck
Take a shot (pun intended) when ...
Pete gets anywhere near his gun again
Ken's eye patch makes another appearance
Cutler is seen without his glasses
Chevy gets a shout out
If Megan asks to talk to Don about their relationship
Someone mentions Gleason (RIP, you St. Joseph's ad genius)
Enjoy an herbal treat (if that's your thing) ...
Whenever Stan does anything (but especially if he's enjoying an herbal treat too)
Whenever Roger Sterling reminisces about tripping
Swig some Manischewitz if ...
Ginsberg shoots down someone's idea
Down a coffee chaser to sober up a bit when ...
Bob Benson is getting people coffee
Bob speaks Spanish
Someone wears shorts (please Bob, wear shorts again)
"Mad Men" Season 6 finale airs Sun., June 23 at 10 p.m. ET on AMC.
PHOTO GALLERY
'Mad Men' Season 6 and 7
Calling all HuffPost superfans!
Sign up for membership to become a founding member and help shape HuffPost's next chapter
BEFORE YOU GO