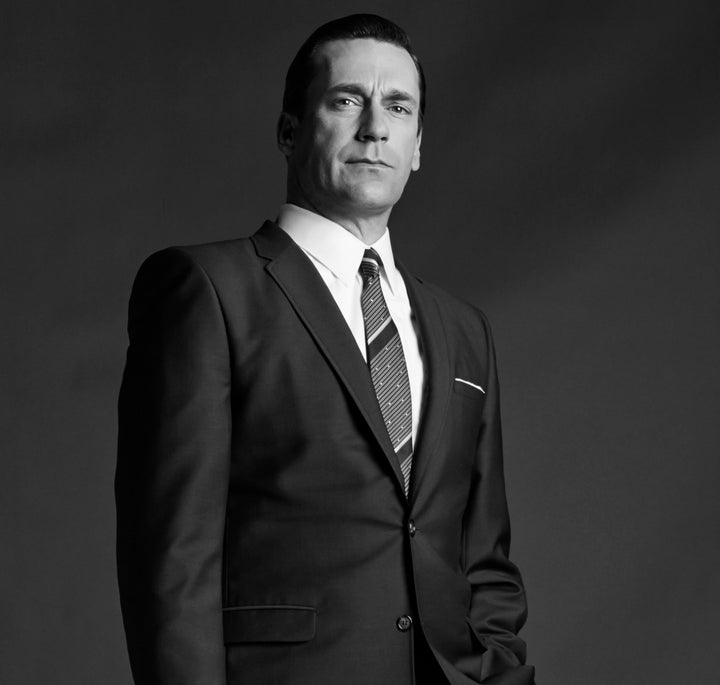 The actor also teased that viewers have a lot to learn about TV's favorite antihero. "We find out more in Season 6 about why Don is how he is and why Don does what he does," he said.
Note: Questions were asked in a roundtable format by multiple outlets and portions of the below interview have been edited or condensed for clarity.
We can't talk much about this season, but the poster this year is very interesting. Are there any clues in there that we're supposed to be picking up on?
Well, I think the central motif of it, obviously, is two versions of this one man crossing. Which one is supposed to be the most central? Which one are we supposed to be following, honestly? One of them is with somebody, one of them is not and I think it shouldn't be lost on people. One of them has a briefcase in his hand, one of them doesn't. It's a very rich image. One way is the stop sign. There's a lot of things. Those aren't mistakes. If you guys have talked to Matthew, you realize that he doesn't say, "Oh, let's put 12 tape recorders out here because 12 is a fun number." It's like, "No, let's put seven." He thinks about these things and he's very involved in that. He's very involved in the choosing of this particular image and finding the artist he wanted. He wanted a specific style of art. I think somebody said, "You know that guy's still alive, want to just have him do it?" He said yeah. It's amazing and also that's an amazing opportunity to have that person come and contribute his vision to the show. When I saw it, I was like -- because it's so different from our normal stylistic cues which are very graphic and very sparse -- this is chaotic and different and in many ways, kind of suggests the world we're moving into. Great colors and crazy tones and a lot going on.
There was a big disparity between where Peggy (Elisabeth Moss) was headed and where Don was headed in the last season, as far as her becoming more in the know. It looked like Don and Pete (Vincent Kartheiser) were challenged by this new political, beatnik sort of mentality. Does that disparity of attitude continue?
I think part of what we're continually exploring is that time doesn't stand still for any of us, unfortunately, and the longer you survive in any industry, the more you run the risk of facing irrelevance. And as you grow older and the next generation comes up, you find yourself out of step with music or popular culture or movies and TV or cinema or whatever, because you're old and you have shit to do. You have a life. Teenagers are built to consume popular culture. That's all they have time for because that's all they care about, and this was the time at which that market segment just became the only market segment that was being appealed to.
We're still at it: The majority of feature films these days are pitched to 14-year olds. Whether it's "Twilight" or "Transformers" or really just these huge, huge franchises, millions and millions of dollars, because they're the ones that see it and they buy the toys and the books and the magazines and the posters and the ancillary stuff and that's not new. So Don, when he has people like Ginsberg [Ben Feldman] and Peggy and Stan [Jay R. Ferguson], that sort of younger generation surrounding him, he realizes that that's an asset. That's a big part of why losing Peggy was a particularly difficult goodbye. But, obviously, Peggy needed that, so I think that is a difficult challenge -- for Don to find that relevance again and that place, or to accept the older, patriarchal executive place in that world. [Even if] you're Tom Brady ... there's always somebody younger and hungrier that's gunning for your job. They may not have the skill set that you have or the experience that you have, but there's always somebody else.
Do you think that part of Don's attraction to Megan (Jessica Paré) was because she was part of this younger generation and he could learn from her?
Yeah. I think, honestly, part of Season 5's pick up was that Don and Megan were this dynamic duo at the office and then he realized that she didn't want it. "But you're so good at it, why wouldn't you? It's the greatest job ever." "Not for me, for you," and that's a hiccup for him when she says, "I want to go do that." "Why on earth would you want to give all this up?" Because it's not her dream. It's Don's dream and I think navigating that was a tricky thing. He says to her at one point, "You want to be somebody's discovery, you want to be somebody's favor" and I think that's a big realization and I think a big thing for Don to do of letting her go.
If you could give Don any advice, what would you say?
I think it's more like, what do I wish for Don? I think that there's a resolution to his issues where I wish for him to find peace and more balance and/or happiness. Don's life has been one out of balance for quite some time and not to get too "Life of Pi" on anyone ... we find out more in Season 6 about why Don is how he is and why Don does what he does. And his house is built on a weak foundation. He's a fundamentally damaged and broken guy. I guess I would wish for him to buy something to fix that foundation and then work on the house. Don't work on the house first. Work on the foundation first. I hope that was cryptic. [Laughs.]
Lane's (Jared Harris) death last season seemed to really hit Don hard and he had a lot of guilt around it. Do we see that lingering with him as we go on?
I think with a couple of the big events in Don's life that had ended badly or obviously not the way he wanted them to end -- I'm thinking specifically of his brother's suicide, Lane's suicide and Joan's [Christina Hendricks] decision last season -- Don had the capacity to change those things and tried. He gave his brother money. He said, "Take this money. Get away from all of that and all of this. This will help. Go live your life. I can't be a part of it, but do that." And the brother went left, and went the other way and ended his life. That sat very heavily on Don.
With Joan's situation: "Joan, you don't have to do this. I will win this account. Please don't do this. I told everybody that I'm not OK with this." Unbeknownst to him, it had already happened, but he had the best intentions and he finds out later that it didn't matter. That sat very heavily. And then with Lane, he finds that Lane is doing this. He initially covers for him with Cooper [Robert Morse] and says, "No, no, no. That was me. I fucked something up. Don't worry about it. It's OK." He confronts Lane and says, "Here's your way out. You can't be here, but there's a way out of this. Trust me. It's easy to start over. I've done it a million times. You will be fine." And Lane doesn't take his advice so I think it does resonate in his life that he, in a lot of situations, is very good at convincing people to do what he wants and these three particular situations, life-altering situations, he couldn't. And that's an interesting observation.
You directed another episode this season. Talk a little bit about directing this season and the challenges of directing and acting and the schedule.
Yeah, directing was brought to me at the end of Season 3 and I said, "No, thank you." And then during the time between then and now, I saw John Slattery do it very capably. I saw Jennifer Westfeldt do it also very capably -- I'm talking about acting and directing at the same time. So I thought, "OK, I've now seen a couple of examples of this in action and I think I might be a little bit more prepared for the responsibilities of this." I did it last season and I did it again this season and it was as interesting to me this season. I had a lot more to do in my episode in this season as an actor, so it was a degree of difficulty more challenging in that respect, because you are completely of two minds on set.
It's a very, very difficult mindset to stay in, of watching one thing as a director and, especially if you're in the scene, watching one thing as an actor. I remember doing something with Ben [Affleck] on "The Town" where I would be like, "Wow, you are totally watching me as a director right now, not as an actor." It's a very interesting switch to be able to flip and he's very good at it and justifiably lauded for his talent. But I found it completely invigorating and a really, really interesting perspective shift on a group of people on a set, in a situation that I thought I knew intimately. and then you take your perspective from here and you turn it 180 degrees and you go, "Oh my God, I didn't see that whole side of it. That's crazy. There's a whole thing that's happening behind me too. That's nuts." And it's just that as an actor, your focus is constantly in front you and as a director, your focus is 360 degrees and that was, once again, fascinating. And I hope I did a good job.
"Mad Men" Season 6 premieres on Sunday, April 7 at 9 p.m. ET on AMC with a two-hour episode. On April 14, the show moves to its regular 10 p.m. timeslot.
PHOTO GALLERY
'Mad Men' Season 6 and 7
REAL LIFE. REAL NEWS. REAL VOICES.
Help us tell more of the stories that matter from voices that too often remain unheard.
BEFORE YOU GO