At a time when Lululemon leggings can too often seem like evening wear (they're black, right?), "Mad Men"' back this Sunday after a too-long absence' is a reminder that clothing can matter, if we want it to. As we move toward the final, seventh season, there are dangerous new currents at work: the lunacy of war and the assassinations of 1968 will surely thread their way into the clothing' and more consistently than the occasional sight of Greg's military uniform.
Knowing what little we know now about this season, all we can say for sure is that there will be at least a few Hawaiian shirts, and we look forward to them' because in the hands of the show's genius costume designer, Janie Bryant, any wardrobe element can be made amazing, relevant and hugely important. One more thing: There will be style lessons for anyone interested in upping her game in every episode, from the first scene to the last, and all are chronicled in this blog (for your reference).
1. Polka-dot party dresses can hugely accentuate a "tears of the clown" vibe.
Maybe this is why New Yorkers wear black to everything, including children's birthday parties? When you look like you're headed to a funeral, there's no chance your clothes will be more festive than you are. Especially when you're feeling like your husband just emotionally demolished you in front of all your friends.
2. Just gone through an emotionally harrowing experience and really want to relax? What you want now is a robe.
See: Jane, following her LSD trip/divorce initiation with Roger, and Joan, newly returned from her first official experience with prostitution. We just hope all that Sterling Cooper Draper Pryce equity was worth it.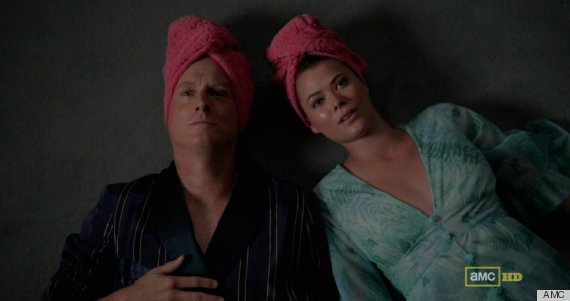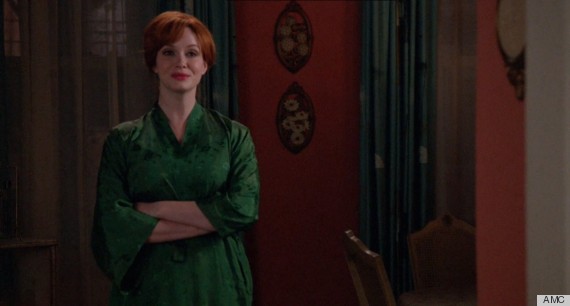 3. A smart hat and well-chosen accessories can lend dignity and gravitas to even the most emotionally fraught situations.
Here's Mona, confronting Roger over leaving her for Jane, and civil rights protesters, who've been water-bombed by the cretins at Young & Rubicam.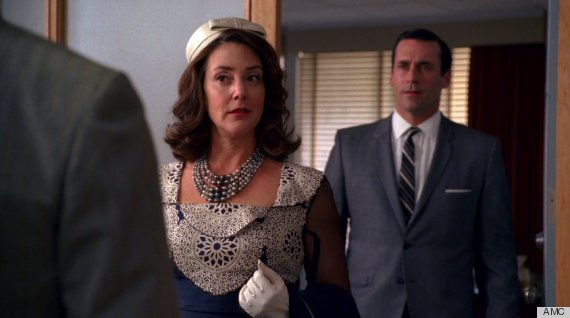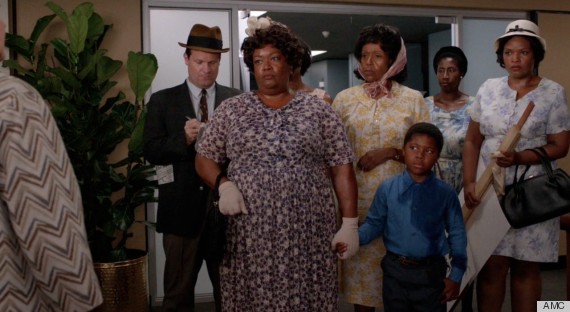 4. There's a time and a place for every fashion, no matter how outré. Even the ones that look like costumes from "Argo." You know, the sci-fi one, not the political thriller.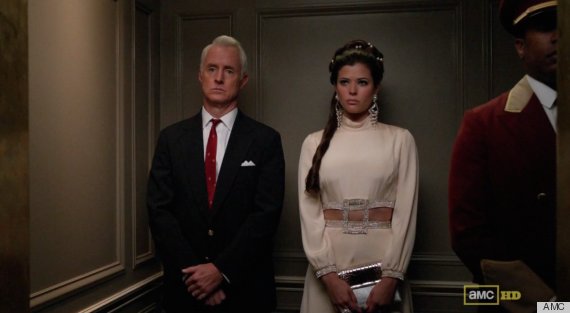 If the essence of fashion is understanding that there's a precisely perfect look for every occasion, Jane understands this better than anyone. Even if she's headed to an LSD party.
5. Color palette can reinvent a character.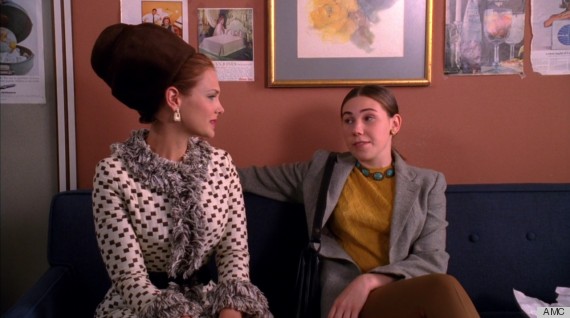 Like, literally, in this case. Here's Joyce, in a symphony of "Color Me Beautiful" autumnal colors: mustard, greige, and what appears to actually be the exact shade of rabbit poo. Now imagine her in unstructured pink, and presto, change-o: It's Shoshanna. Shocking, right?
6. Pregnancy can open up a whole new world of dressing options' including incredibly sexy ones.
It's true whether you're a fashion monster like Betty, who herself transforms into a veritable Fabergé egg for a party celebrating Roger's marriage to Jane (not coincidentally, the one at which she meets Henry Francis).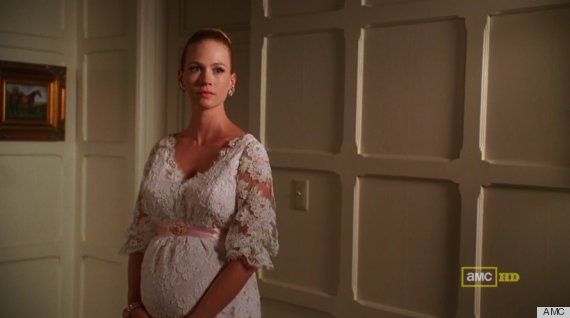 Or sweet Trudy, just doing right by Pete even when she's hugely preggers.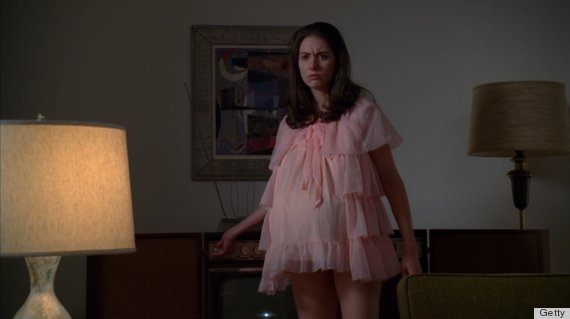 7. Know when you're dressing to undress.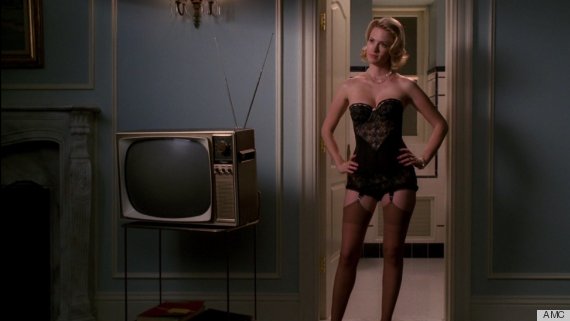 Betty's Valentine's Day 1962 dress was one of the most gorgeous looks that January Jones has worn on the show' but we're betting Don was at least temporarily more impressed with the underthings.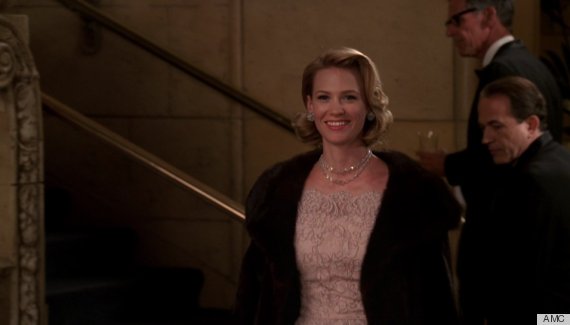 8. That said, as much as men love a mannequin, they're always going to be drawn to something real, nourishing, and comfy.
Time and again, Don is shown gravitating emotionally toward women who understand the fashion of comfort' whether it's Anna's bohemian beads and peasant blouse, or Suzanne in her track uniform from Bowdoin or smushy green cardigan.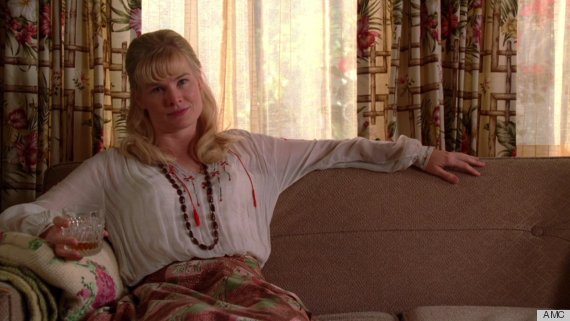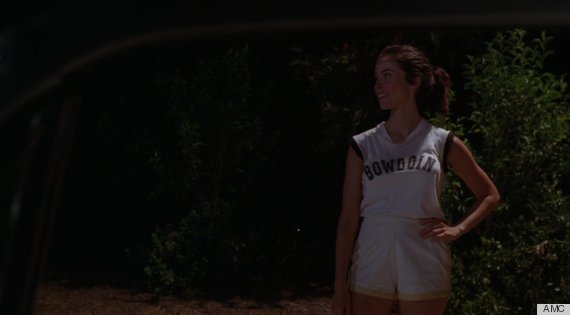 9. If ever in doubt, go for a floral headpiece and a big smile.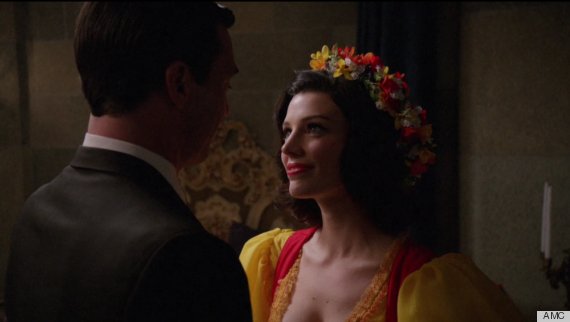 "Mad Men" Season 6 has a two-hour premiere on Sunday, April 7 at 9 p.m. ET before moving to its regular timeslot of 10 p.m. ET on AMC on April 14.