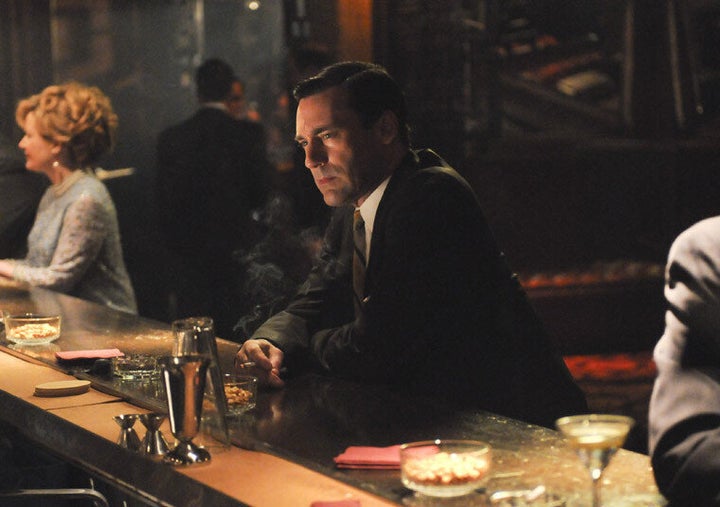 "You only live twice, or so it seems: one life for yourself and one for your dreams. You drift through the years and life seems tame, till one dream appears and love is its name."
Spoiler Alert: This article reveals plot details from "Mad Men" Season 5, Episode 13: "The Phantom." If you don't wish to know what happened in the episode, please stop reading now.
The polarizing fifth season of "Mad Men" closed out with a bit of Hollywood flair: the theme to 1967's James Bond film, "You Only Live Twice." Sung by Nancy Sinatra, the title track was named the best Bond theme on a 2008 edition of the NPR radio series "All Things Considered."
Beyond being an outstanding single -- with lyrics that seem almost retconned to the show -- the inclusion of "You Only Live Twice" in the "Mad Men" finale could be significant because of its timing. The James Bond film arrived in theaters on June 13, 1967, meaning the events at the very end of "The Phantom" might have occurred months after the other parts of the episode, which were focused around the Easter holiday.
While that might seem like splitting hairs, remember that "Mad Men" creator Matthew Weiner changed the closing song of the season premiere ("The Look of Love" by Burt Bacharach and Hal David) after critics noted that it wasn't released when the episode took place.
So, just when did Don Draper answer the loaded question, "Are you alone?" Listen to "You Only Live Twice" below, and speculate away to your heart's desire. After all, you've probably got plenty of time between now and season six.
Popular in the Community