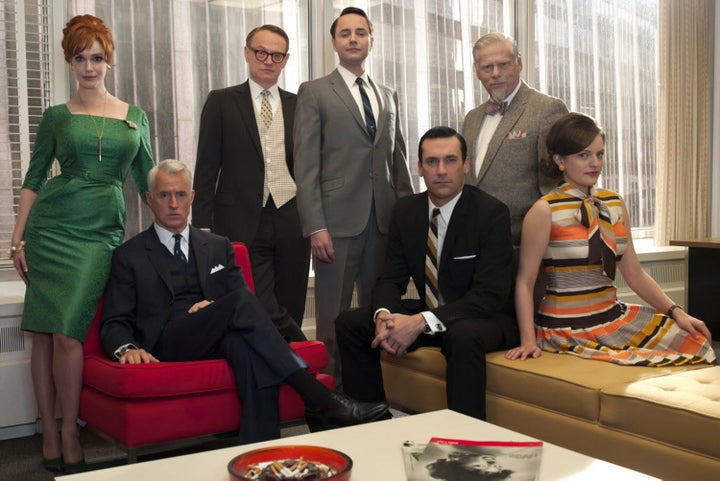 As the entire TV-watching nation reunited with Mad Men this week, there's another place tri-staters might go to get their fix of the 1960s: Broadway. The revival of Frank Loesser's 1961 Pulitzer-prize winning musical, How to Succeed in Business without Really Trying, is a brightly-hued New Yorker cartoon, where Mad Men's stylish, slick veneer leans towards the gothic. Both speak to our fascination with the moment before Women's Lib, before the Civil Rights Movement and before Stonewall. And both view that moment with a mixture of nostalgia and despair.

What is it that grabs a 21st century audience about the early 1960s? For feminist spectators, it's surely not Rick Santorum's dewy-eyed affection for the moment when women stayed at home, African Americans stayed in the back of the bus and gays and lesbians stayed in the closet. Rather, it's our simultaneous recognition of and distanced feeling with the moment. We watch these archaic images and retort, 'Women can be the heads of corporations, too!' 'African-Americans can own big houses in the suburbs!' 'Gays and lesbians can get married!'

Both How to Succeed and Mad Men present ruthlessly ambitious characters we love to hate. Don Draper, whose slick veneer more than cracked by the end of last season, has the same keen social intelligence and ability to read people as the young whippersnapper J. Pierrepont Finch in the musical. Both television and Broadway audiences shake their heads in wonder, admiration and disgust for these men who ably root out their competitors' weaknesses and position themselves to be the victor every time. It's a small leap from there to the Goldman Sachs of today, and there's no sign of a morally-committed outlier like GS's former executive Greg Smith at the World Wide Wicket Company or Sterling Cooper Draper Pryce.

The women characters also seem comfortably distant and familiar enough to make us feel anxious. Because How to Succeed takes place only at work, there is no Betty Draper stuck at home, bored and miserable and mean. The musical, instead, presents an array of working women, all secretaries of various stripes, who achieve power based on where their bosses stand in the company's hierarchy. No ambitious proto-feminist like Peggy Olsen graces Broadway's boards in How to Succeed, though. The female romantic lead, Rosemary, gets an instant crush on Finch and sings that she is "happy to keep his dinner warm while he goes onward and upward." This song is her first number and declares her key desires -- as do all first songs in Broadway musicals. Her sole objective through the show to to marry an enterprising businessman.

When audiences today gather eight times a week in the Al Hirschfeld Theatre and hear the female chorus sing to Rosemary, "Cinderella, don't give up the prince," they smile and cringe at once. But if nothing else, How to Succeed gives audiences -- especially the women and girls who make up more than half the audiences on Broadway -- something to talk about: Look how far women have come, they might note. How anachronistic is the woman whose best fantasy is to wait patiently for her man in New Rochelle and whose stage time is mostly spent moping or rationalizing why she is not getting enough of his attention?

Both Mad Men and the revival of How to Succeed lso struggle with their gay characters and ask audiences to do the same. Mad Men dropped Salvatore Romano (played by Bryan Batt) after the third season once his sexuality was discovered. As creator Matthew Weiner said, "I felt it was an expression of the times that he couldn't work there anymore." The original How to Succeed had no gay characters, but conventions of musical theatre require a clear and obvious villain, and a gay-seeming character fits the bill in 2012. Michael Uhry's over-the-top portrayal of Bud Frump, the hilariously nefarious nephew of the boss, steals the show every night as the audience takes enormous pleasure in rooting against him.

By way of guffaws, groans and applause, the Broadway musical audience expresses what they think about Bud and Finch and Rosemary, as theatre creates an instantaneous community. And already the "water cooler" conversations -- now via Twitter and on Facebook and Internet fan sites -- are abuzz following Mad Men's season opener last weekend.

Our attachment to and distance from the early 1960s is beckoned by both of these performances, the one created in a Hollywood studio in 2012 with the benefit of historical distance and the other composed in the 1950s, well before it was fashionable to critique the "company man." In both cases, performance compels us to think about the present as we look to the past. How far have we come and are we really moving forward?

Calling all HuffPost superfans!
Sign up for membership to become a founding member and help shape HuffPost's next chapter