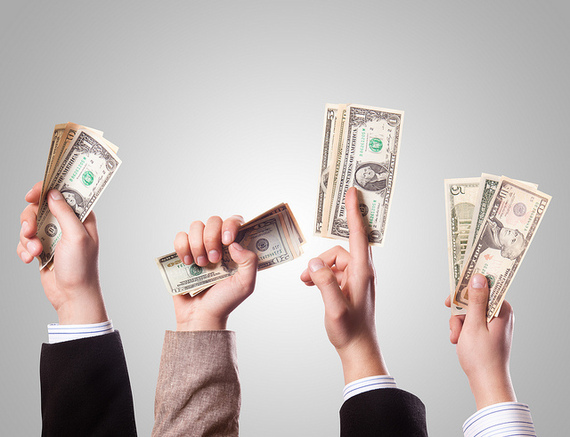 Photo courtesy of Flickr.
Cramer underperformed the S&P 500 index
The paper was co-authored by an MBA candidate and a Ph.D. candidate in statistics at the prestigious Wharton School of the University of Pennsylvania. They studied the complete historical performance of Cramer's Action Alerts PLUS portfolio from 2001 to 2016, which reflects many of the stock recommendations made on his Mad Money television program.
All you really need to know is their conclusion: "We find that Cramer has underperformed the S&P 500 since the inception of his portfolio and the inception of Mad Money even when controlling for leverage and other academic factors."
According to an article commenting on the study in Kiplinger's (aptly headlined "Jim Cramer's Stock Picks Stink"), from Aug. 1, 2001 through March 31, 2016, Cramer's Action Alerts PLUS portfolio returned a cumulative 64.5 percent, compared with 126.1 percent for the S&P 500 index, including dividends. Cramer's portfolio was also about 5 percent more volatile than the S&P 500.
The reported cost for a subscription to Action Alerts PLUS is $59.95 monthly or $299.95 a year.
Hapless followers who paid for Cramer's advice got the worst of two worlds: Significant underperformance with greater volatility.
The pitch for subscribers clearly indicates the purported benefits of learning about Cramer's stock-picking "insights." Here are some statements from the website:
"Jim Cramer shocked the investing world in March 2005 when he converted his Action Alerts PLUS portfolio into a charitable trust, with the goal of giving investors an invaluable real-time, real-world education. In one move, he allowed the average investor to see exactly how a Wall Street legend analyzes the market and what moves he makes."
"TheStreet's team of pros consistently provide the kind of insights, trade ideas and market calls that help investors like you stay ahead of the pack, no matter what."
The fact that Cramer has no stock-picking skill that could help investors "beat the market" is not new. My colleague, Larry Swedroe, wrote about it in May 2013, referencing another study. I have written about this issue many times, including in this blog.
Cramer apologists don't argue with the data (because they can't), but often claim he is "just an entertainer." The implication is that no one should take his stock-picking advice seriously.
This argument ignores the undeniable facts. Studies have shown that a buy or sell recommendation from Cramer affects the price of a stock in the short term. Clearly, at least in 2011 when the study was authored, some investors were following Cramer's stock-picking advice.
Cramer's celebrity status as a featured "expert" in the financial media is a constant infomercial for his subscription-based products. The prime motivation for subscribers to fork over almost $300 a year is their misguided belief that Cramer's "insights" can help them "beat the market."
Cramer has First Amendment rights
Cramer has the same First Amendment right to express his opinions that we all enjoy. There's nothing to stop him from asserting he has an expertise (or "insight") that could benefit investors -- even when this claim is demonstrably false.
Cramer appears indifferent to the harm his "advice" has caused investors. As he once stated, "God knows why, but there seems to be a market for this kind of idiocy." There's also a market for (and money to be made selling) many other things that could cause people harm -- like addictive drugs and alcohol -- but most of us wouldn't provide those things to drug addicts or recovering alcoholics.
It's been shown that Cramer has no stock-picking expertise (other than what you would expect from random chance). Yet he continues to feature his stock picks on Mad Money and to peddle his lucrative Action Alerts PLUS subscription service. At the very least, the disclaimer on Mad Money should be amended to include the following:
"There is no evidence that Jim Cramer's stock picks have outperformed a low-management-fee S&P 500 index fund for the period from 2001 to 2016 and significant evidence to the contrary."
While some may find his antics entertaining, the harm (and potential for harm) his advice causes is ample reason for not giving him a bully pulpit.
Dan Solin is a New York Times bestselling author of the Smartest series of books, including The Smartest Investment Book You'll Ever Read, The Smartest Retirement Book You'll Ever Read and his latest, The Smartest Sales Book You'll Ever Read. He is a wealth advisor with Buckingham and the Director of Investor Advocacy for The BAM ALLIANCE.
The views of the author are his alone and may not represent the views of his affiliated firms. Any data, information and content on this blog is for information purposes only and should not be construed as an offer of advisory services.
Support HuffPost
The Stakes Have Never Been Higher
Related
Popular in the Community