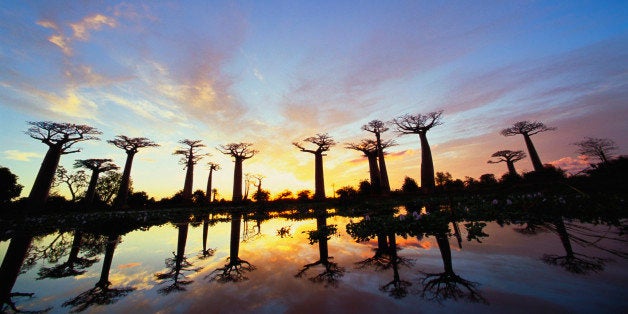 I would be dishonest if I did not admit that my husband and I started on this journey without more than a little trepidation. Madagascar was not on our "bucket list."
We had decided that once we retired, we would do a big trip each year. The first was to Southern Africa, specifically Botswana, Zimbabwe and Zambia. We have traveled to Africa a lot, but Ken had never been to Zimbabwe and it had been almost three decades since I had done work there for USAID.
Last year we went to China, Tibet, Nepal and Bhutan. Luckily we were there before the disastrous earthquake. And the trip was a dream come true. Ken and I climbed to the top of the ancient Potala Palace in Lhasa, the Seven-story palace in Nepal, and Paro Taktsang or Tiger's Nest in Bhutan.
After coming home, a supposedly routine cold turned into an earache, mastoid bone infection, meningitis, pneumonia and septicemia. The fragility of life became too real.
For a year I worked hard to regain my physical strength and stamina. Everyone had liked our guide in Southern Africa. Living in Botswana, Lisa Reed was a natural to lead the tour. She was also the first woman guide we had encountered. We received an email form Lisa that she was leading a trip to Madagascar, so we signed on.
Madagascar, an island off the coast of Africa, had once been part of a larger continent with Africa and India. Its subsequent separation led to the development of a unique set of ecosystems and the iconic mammal, the lemur.
I knew about Madagascar from my international development work, and it has long been a case study of the effect of rapid population growth on biological diversity. Today, the forest ecosystems exist at only 10% of what it once were. And the frantic pace of trying to find solutions to poverty and centuries of cultural and traditional practices that destroy the land are the most important issues facing the country today.
Madagascar is hard. This journey to understand the three major critical ecological zones, requires travel by plane, truck and boat. The local biologists and park managers are excellent. They are committed to getting the message of conservation out to the world.
The rewards are the delight of hearing the Indri (the largest lemur) calling in the forest, seeing the Diademed sifaka (another fuzzy lemur) swinging through the trees, and roaming the dark to catch sight of the nocturnal mouse lemur, the smallest. There are 126 species of lemur and new subspecies being identified as I write.
We saw the Fosa, a doglike tree-climbing predator of the lemur, which is rarely seen. There were hundreds of birds specific to the country like the Madagascar bee eater. We visited 1,800 year old baobabs unique to the country. And of course, in the wild was the rosy perwinkle, which can produce the drugs Vincristine and Vinblastine, used to treat cancer. It is only one of many plants that provide treatment and cures for disease.
As we ponder the current political arguments over domestic and international policies, I am struck once again at how small the world is and what wondrous magic it contains. You don't have to go to Madagascar to discover this. It can be as simple as watching a Cooper's hawk from your kitchen table. As you contemplate your dreams for the present and the future, be thankful for what you have and make sure that you support those public officials that share your dreams. Madagascar is not that far away.