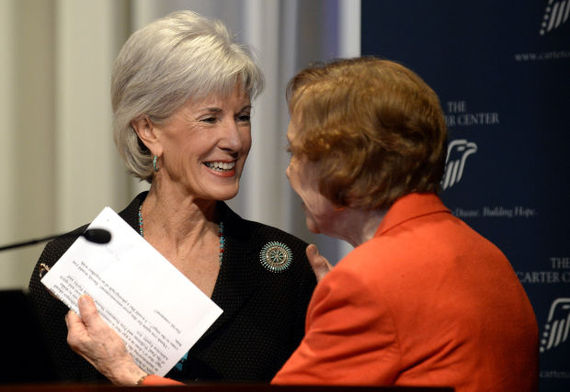 The keynote speaker for the Carter Center symposium was Dr. Steven Sharfstein, a leading mental health policy expert who worked closely with Mrs. Carter on passage of the Mental Health Systems Act of 1980. He began with a photo of our very first leader, Dorothea Dix, who advocated for the rights of the "indigent insane" through lobbying state legislatures and Congress to create the first generation of American "mental asylums" in the 1880's.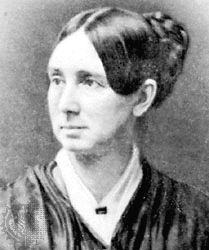 Yes, we have come vast distances in understanding and treatment of mental health challenges since then and it was a woman who started this revolution and our modern-day matriarch Mrs. Carter, who has been a key leader in carrying the torch for over three decades.
Over these years, Mrs. Carter has convened top thought leaders in mental health advocacy, academia, public health, policy and politics to share research, ideas and solutions. As she reminded us, "I've been working on mental health parity for over 33 years." That activism came to life with the new regulations serving as a symbolic crowning for Mrs. Carter's years of effort and passion. It inspired a rousing standing ovation when Secretary Sebelius announced the final parity regulations. The warm friendship was evident as they recalled family connections going back to the early '70s, when Jimmy Carter and Sebelius' father John Gilligan worked together as governors. And that first photo of our heroine Dorothea Dix was etched in our minds as we glimpsed another perfect snapshot when Secretary Sebelius and Mrs. Carter stood at the podium together - compatriots in this work, celebrating the progress on this monumental day.
Secretary Sebelius reminded us that our work is not complete and we need all hands on deck as we face challenges in the years to come. She honored Mrs. Carter when she acknowledged her work at The Carter Center as the place where all hands, hearts and minds have gathered to advocate and address our national public health crisis.
Thank you, Madam First Lady (Carter).  For more than a generation, you've been one of our country's leading voices on behalf of Americans living with mental health issues. 
Your advocacy on behalf of the Mental Health Parity and Addiction Equity Act, in particular - more on this in a moment - have made a tremendous difference.
I'm delighted to have this opportunity to join all of you at the Carter Center, here in Atlanta.  You know, Ray Charles famously sang about "Georgia on My Mind."  For nearly three decades this symposium has been Georgia for the Mind.  And year-after-year, the road to progress leads back to you.
Madam First Lady, if I could - I wanted to share a few of the words you wrote back in 2003, because they still resonate a decade later: 
"We know so much more today," you wrote, "and yet the problems are still very much the same, with one exception: recovery.  Twenty five years ago, we did not dream that people might someday be able actually to recover from mental illnesses.  Today it is a very real possibility." 
This hasn't happened on its own.  We've gotten to where we are today because of so many of you who are here at this symposium today, who've worked and advocated and fought so hard for so many years. I think we'd all agree that our work is not done.

Thank you, Madam First Lady for your steadfast advocacy. Through your heroic efforts, you have not only made it Georgia but now the United States for the mind.
REAL LIFE. REAL NEWS. REAL VOICES.
Help us tell more of the stories that matter from voices that too often remain unheard.