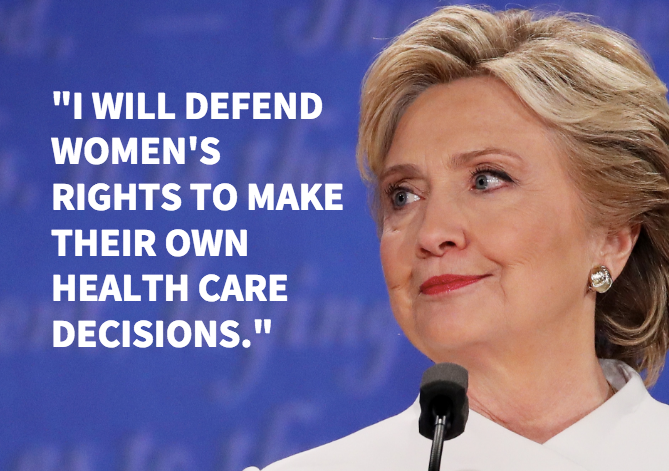 On Wednesday night, one presidential candidate disparaged a "nasty woman." The other showed Americans precisely why a Madam President's lived experience as a woman could prove invaluable in office.
During the third and (thankfully) final debate, Hillary Clinton spoke passionately about abortion rights and about the everyday sexism women experience.
There have been many presidential nominees who understand these issues from a policy perspective, but never before have we had a presidential nominee who could speak to either on a personal level. After 240 years, Americans watched a woman do both. 
Clinton, who has been a vocal supporter of reproductive rights and has openly opposed the Hyde Amendment, swiftly affirmed her support for the seminal 1972 Supreme Court decision as well as Planned Parenthood. Her answer drove home the idea that women are competent human beings capable of making personal, health-related decisions. (Watch below.)
The kinds of cases that fall at the end of pregnancy are often the most heartbreaking, painful decisions for families to make. I have met with women who toward the end of their pregnancy, get the worst news one could get, that their health is in jeopardy if they continue to carry to term... I do not think the United States government should be stepping in and making those most personal of decisions.
"You should meet with some of the women that I've met with. Women I've known over the course of my life," she said. "I can tell you the government has no business in the decisions that women make with their families in accordance with their faith, with medical advice, and I will stand up for that right."
As Slate's Christina Cauterucci pointed out, Clinton managed to effectively put a human face on abortion policy. "This isn't a theoretical situation that concerns some unknowable group of people, some demographic entity," Cauterucci wrote. "This is about women, about us." 
"Donald thinks belittling women makes him bigger," said Clinton. "He goes after their dignity, their self-worth, and I don't think there is a woman anywhere who doesn't know what that feels like."
It was a simple comment, but an effective one. It cut to the heart of how many American women have been feeling since 2005 hot-mic footage was resurfaced that showed Trump bragging about kissing and groping women without their consent.
"I don't think there is a woman anywhere who doesn't know what that feels like." 
When American women listen to Trump bragging about sexual assault, we don't recoil because his comments are lewd. We feel our stomachs drop and our heads spin because they feel familiar. Clinton acknowledged this reality, echoing sentiments Michelle Obama outlined in a speech last week.
Trump and Clinton articulated starkly different visions of America's future on Wednesday night. One future leaves 51 percent of the American population at the whims of a thin-skinned serial pussy-grabber. The other puts a highly intelligent, experienced, ambitious, Nasty Woman into the oval office.
If America opts for the latter vision, we will owe thanks to a united front of Nasty Women who have marched their humanity all the way to the ballot box. 
Donate below to support the groups Donald Trump has insulted.
REAL LIFE. REAL NEWS. REAL VOICES.
Help us tell more of the stories that matter from voices that too often remain unheard.
BEFORE YOU GO
PHOTO GALLERY
Twitter Takes Back Nasty Woman