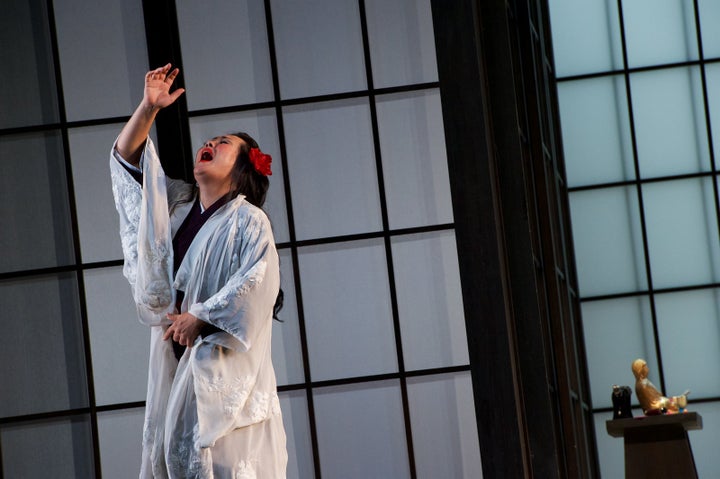 It isn't that often that you see a Japanese soprano perform in the title role of Cio-Cio-san. It isn't that often that a Japanese opera singer has studied in Italy with a talent like Raina Kabaivanska.
Nevertheless, in the Seattle Opera production of Madama Butterfly on Saturday, August 12th, the audience was treated to this relatively rare experience: Yasko Sato portrayed the lead character. The movements of Ms. Sato onstage were very subtle, and seemingly reflective of the culture that surrounded her as she grew up in Japan. Her movements across the stage had a lovely, flowing grace that stood out as she traversed the scene.
In the opera Madama Butterfly, so much of what the audience hears and witnesses onstage is through the eyes of Cio-Cio-san. In the Seattle Opera production Yakso Sato's combination of vocal ability, cultural heritage, and experience with the lead role made for a very convincing character. Somehow, her subtle movements expressed Cio-Cio-san's anguish very deeply, exaggerated it, and breathed life into the character.
In the singer's own words, "I resonate with Cio-Cio-san because of her pride and the fact that she is the daughter of a Samurai warrior in Japan. I like how she carries that dignity and pride, which speaks not just to a Japanese audience. It goes beyond cultural boundaries and speaks to us all as humans."
Ms. Sato certainly has considerable experience at singing the role. She debuted in the title role of Madama Butterfly in Sabadell with much success and appreciation from the critics.
Subsequently, she has had the opportunity to sing the role of Cio-Cio-san on a variety of occasions including venues in Italy such as the Teatro del Maggio Musicale Fiorentino, Teatro Sociale in Rovigo, and the Teatro Regio in Parma, as well as other international venues like Tokyo National Theatre, Theatre Megaron in Athens, and the Slovene National Theatre in Ljubljana.
In this recent Seattle Opera production, the rest of the cast supported the lead very well and the sets, which included paper-thin coverings on the sliding doors, framed the action very well. There was a scene with mock butterflies turned loose inside the house that was very eye-catching and mesmerizing, highlighting the theme. In fact, Yasko Sato exposed the soul of the rare and delicate Butterfly to the audience in her performance.
Related
Popular in the Community