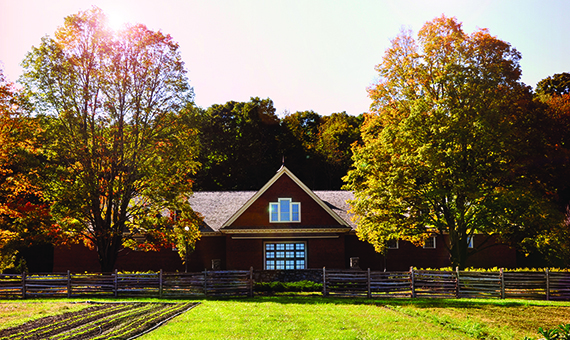 Today I'm writing not about a cookbook or a recipe but a food adventure.
You may have had the experience my wife and I shared last weekend. You enter a chateau-like structure [this one was almost brand new and quite gleaming]. Inside, subtly lit wooden shelves hold an army of bottles for a bevy of products ready to take home. In the adjoining food court, there are dishes and delights for you to enjoy. Further back, you walk through the production area past barrels stacked to the three-story ceiling. You see the gleaming stainless steel production machinery. Finally, in quiet, cozy back room, there is a counter with product samples for you to taste and compare.
Suzen and I were not relishing wine that day. Or one of the bourbon or beer craftsmen that dot the Hudson Valley. We were at Madava Farms in Dutchess Country relishing the Royal Crown Maple Syrup. Madava is 90 minutes north of New York City, off a back road in the rolling hills of horse farm country. The "Syrup Chateau" is only four years old but it's already one of the largest syrup producing facilities and is poised to become the biggest.
A trip to Madava is to experience both the historic old and the technologically new. Old because maple syrup was first discovered by Native Americans and taught to the very first settlers; maple syrup then became part of the cuisine, and even part of our politics and food legislation too. New because at Madava, you see the trend for modern syrup production: massive scale and 21st century technology at its best and "greenest."
You probably have a vision in your head of how syrup is made. Someone in a red-and-black plaid jacket on snowshoes, traipsing with a bucket from tree to tree to gather sap and then journeying to a small shack where stacks of wood are used to boil the sap down to syrup. It's a charming image and one that small producers do still use.
Madava Farms is different. Their 20,000 trees spread over 800 acres (Crown Maple has expanded its maple production throughout the Taconic Forest as well) would take an army of men to gather sap. Instead, gravity does the work. The trees are networked with over 200 miles of plastic tubing that collects the daily sap during the three week sapping season. Driving into Madava and seeing all the tubing linked among the trees is a rather striking vision. Oh, men are still needed to go out and repair the tubing. It's the squirrels. Those furry critters have sweet tooths and love to bite into the tubing to sample the sap with its 1-3% sugar content.
At Madava, there are no giant cauldrons of boiling sap. Instead, in Stage 1, huge state-of-the-art reverse osmosis machines remove 90% of the water -- a great non-heat technique that protects the delicate syrup flavor. The resulting concentrate then goes to Stage 2: a custom evaporator that completes the reduction to syrup. It takes 40+ gallons of sap to produce just 1 gallon of syrup.
With all that technology, it is still the Syrup Gods that determine the final product. That sugar content of the sap varies with each tree on each day and even by the hour. Sometimes the very light grade syrup is produced, sometimes the dark.
Remember that syrup has been involved in our political history? The early American colonists did not stop at syrup. The kept boiling to produce solid maple sugar. And many Americans preferred maple sugar to the white cane sugar from the Caribbean because that product used slave labor. The preference for light colored maple sugar, over the dark, led to a price differential for light maple syrup over dark that remains in place today. Although, if you do the maple syrup tasting at Madava, you'll probably be one of the 90% or so that want the darker, more flavorful grade of syrup on your pancakes.
Ah, that maple syrup of your childhood? Many of the popular products are based on corn syrup with just traces of real maple flavoring. That adulteration of maple syrup became a national problem. "Vermont" maple syrup seemed to be everywhere. Suspiciously everywhere. One calculation showed that if all that "Vermont" syrup was actually made in Vermont, then Vermont would have to stretch all the way west to Chicago. The Pure Food and Drug Act of 1906 put an end to those gross mislabeling practices.
Still, many of you have not tasted real, pure maple syrup. It's thinner on the mouth than the faux corn syrup types. Real syrup is surprisingly delicate to the palate. The transition is something like the journey from a $4.99 bottle of wine to a serious Bordeaux. You'll immediately sense the difference.
Until the 1930s, the United States dominated maple syrup production. But Canada has far outstripped the United States and now creates over 80% of the world production. Quebec produces 8 million gallons a year, Vermont just under a million, Ontario 400,000 gallons, and New York State 312,000 gallons.
This is where Crown Maple becomes so impressive. That Quebec flood of syrup comes from about 14,000 producers, for an average of 570 gallons per farm. This spring, Crown Maple produced almost 16,000 gallons of syrup. The facility at Madava Farms was scaled for ultimate production 8 times larger: 130,000 gallons. That's over a third of the entire existing New York state total. So, if you visit and take the production tour, it's very likely you'll be impressed. Small scale syrup production will surely always be with us. But Madava may be the forerunner for the 21st Century when we find ourselves enjoying maple syrup, not just on our pancakes, but as an ingredient with wide use.
If you happen to be in Dutchess Country some autumn weekend, you can sample the wines of the vineyards, enjoy the apples at local farmers market, and perhaps visit Madava Farms to experience ultimate maple syrup by Crown Maple, pure and sweet and perfectly lovely.
Oh, in their food court, you could try the Vegetable Panini with maple-marinated Portobello mushrooms. It's all very American.
For cookbook reviews and hundreds of excellent recipes, please visit Suzi's Blog at www.cookingbythebook.com. While you are there, you can learn how we use the kitchen for culinary teambuilding.