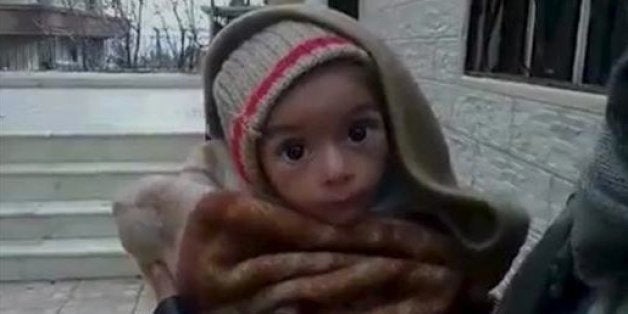 On Monday, residents finally received long-awaited humanitarian aid for just the second time since government forces and their Hezbollah allies imposed a siege on the town in July 2015.
One aid basket containing food and other essential supplies was delivered to each family and is meant to last them for a month. What will happen when families run out of food again?
'Aid is only a small part of the solution.'
"Aid is only a small part of the solution," Louay, a resident of Madaya, told me.
I interviewed Louay last week before the Syrian government allowed aid to enter the town. He told me that he last ate a proper meal more than a month and a half ago. He has been surviving mainly on water and leaves. Now, he says, he is relieved that his family has some food for the next month, but as long as the siege continues, there are no guarantees that aid will be regularly allowed in again.
"We did not cook a proper meal when we received the food basket," he said. "I am afraid that once we run out of food we are back to eating leaves."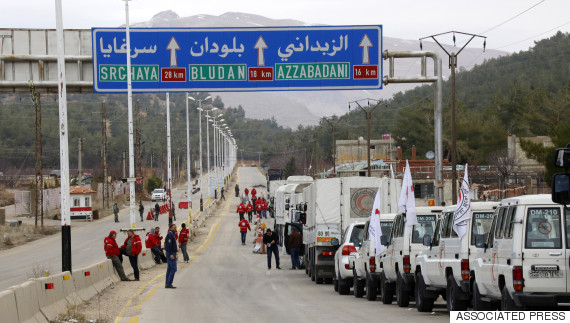 A convoy of vehicles loaded with food and other supplies organized by The International Committee of the Red Cross makes its way to the besieged city of Madaya. (AP).
Around 40,000 people in Madaya have been struggling to survive under siege for the past six months. Residents told me horrific stories of the daily hardship they endure. They described people living in Madaya as "walking skeletons." It took an international outcry for the Syrian government to finally allow U.N. humanitarian agencies and their partners to bring in aid.
Once again, the world witnessed the Syrian government's brutality in depriving people of basic food and other lifesaving supplies. "Left to die under siege," an Amnesty International report published in August last year, documents the use of starvation as a method of warfare in Eastern Ghouta, where at least 160,000 civilians have also been under a Syrian government siege since 2013, just 32 kilometers from Madaya. In 2014, Amnesty International highlighted the plight of nearly 200 civilians who had died from starvation and lack of medical care as a result of a siege on Yarmouk, just south of Damascus. The town of Daraya near Damascus has also been under continuous siege and relentless bombardment by government forces since 2012.
Several Eastern Ghouta residents told me that they had had limited access to food, fuel, water and electricity since 2013. They have been forced to rely on aid from local organizations. The siege has created a war economy whereby suppliers and non-state armed groups sell food and lifesaving necessities at inflated prices.
'We are trapped in a circle of death. You will either die from an airstrike or the lack of food.'
Mustafa, whose name has been changed for security purposes, and his family were smuggled out of Eastern Ghouta in October 2015 after paying thousands of dollars. I recently met Mustafa and his wife in Turkey.
"I am not happy that I left my home and my family," his wife told me. "But my son needed an operation. Hospitals do not have surgical supplies and the qualified doctors have left. The Syrian government will never allow us to leave so we did not have any option other than to use all the money we had left to pay smugglers."
Mustafa lost his brother, sister-in-law and niece in a missile attack on their home in August 2015.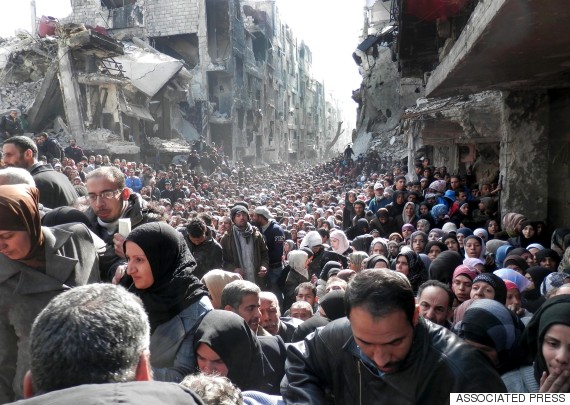 Residents of the besieged Yarmouk refugee camp near Damascus, Syria, queue to receive food supplies. (AP Photo/UNRWA, File).
"We are trapped in a circle of death. You will either die from an airstrike or the lack of food," he said.
Civilians living under siege in Madaya, Eastern Ghouta, Yarmouk and elsewhere in Syria are living in utter destitution. Their survival depends on the whim of the Syrian government and whether or not it chooses to give permission to allow humanitarian agencies to do their job. The government has only occasionally allowed aid convoys to enter the besieged residential areas around Damascus despite repeated calls from international and local human rights groups about the desperate need for aid in these areas.
Thousands more civilians have been besieged in Deir al-Zour by the armed group calling itself the Islamic State and in other towns, including Foua and Kafraya, by armed opposition groups. On Sept. 20, 2015, an agreement to implement cease-fires in Madaya, Foua and Kafraya was reached between the Syrian government and non-state armed groups. Sadly, but not surprisingly, both parties violated the provisions that would have contributed most to easing civilian suffering: humanitarian aid continued to be restricted and the injured were not allowed to leave. Civilians have been pawns in a deadly game between the warring parties.
Civilians have been pawns in a deadly game between the warring parties.
Louay and Mustafa feel lucky to have survived another day. For many others, their luck ran out before they were able to receive aid or escape.
Syrian civilians living in besieged areas have also lost faith that U.N. Security Council resolutions will do anything to alleviate their suffering. To them resolutions 2139 and 2165, which call for unfettered access to humanitarian aid and lifting of all sieges across Syria, have become merely ink on paper. All parties to the conflict have blatantly failed to comply with these demands.
The media have played a pivotal role in highlighting the suffering in Madaya, but this attention must not fade away. Such attention is crucial to help ensure that further aid deliveries are allowed into Madaya, as well as all other besieged civilian areas, and that ultimately these sieges are lifted once and for all.
Related
Popular in the Community