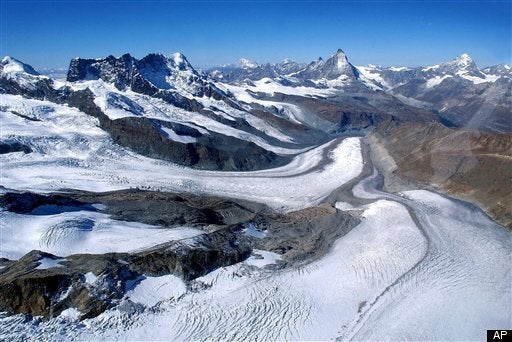 Like a giant shard of glass -- beautiful but dangerous -- the Matterhorn juts 14,688 feet above the Italian/Swiss border. It is probably the most photographed of the world's great mountains and attracts so many climbers that it's even more dangerous than it was before climbing became all the rage.
Crammed into the stuffy Hornli Hut (10,700 feet) with a bunch of excited climbers, I had slept fitfully for two hours in anticipation of what I thought would be a great summit day. My guide had cautioned me, though, that the mountain would be crowded and emphasized the importance of an early start to secure a spot near the front of the climbing pack. More than a hundred hopefuls would try the same knife-edged Hornli ridge, the most popular route, and there is room on the steep rock for safe passage of but one party at a time.
The Matterhorn can be scaled with intermediate rock-climbing skills, but if unexpected bad weather blows up, it tends to come from the back (Italian) side. If that happens near the top, it's trouble because, unlike many peaks, there is no "escape hatch" on the Matterhorn. You descend the same sheer face you just climbed. Even in good weather, the descent takes longer than the ascent -- six hours up, nine hours down. Not much room for error, which is why more than 500 people have died there, thrice the fatalities of Mt. Everest.
Over dinner the night before the summit push, I chatted with a British math teacher who had just scaled Russia's Mt. Elbrus, Europe's highest peak. He seemed an interesting character with a good sense of humor. A few hours later he would become a different person.
To climb fast, you must travel light. After dinner, my guide emptied my pack, discarding what was not absolutely necessary. Camera, gone. Spare water bottle, gone. For safety reasons we must reach the Solvay Hut (13,150 feet) within three hours of leaving the Hornli or turn around.
At 3:45 a.m., I dressed hastily and made my way downstairs for breakfast. Some parties had already left, their headlamp beams darting side to side in the eerie blackness outside. With so many people on the mountain, there was an air of urgency, unlike any early morning start I had ever experienced.
It was a cold, clear morning without a moon. Because of the steepness of the grade, the client/guide ratio on the Matterhorn is one-to-one; I would be roped to my guide from start to finish. The theory is that if a client slips, the guide's belay will save him.
After an exhausting climbing pace and fighting the crowds, we arrived at the Solvay Hut in two hours and 50 minutes, 10 minutes short of turnaround curfew. I was tired. But we were nearly two thirds of the way to the top, and there was plenty of light now, as the sun was rising and no clouds were in sight. After another hour of rigorous scrambling, we strapped on metal crampon spikes for the steepest part -- the summit block and its treacherous snowfields.
It was there I saw the math teacher again. He was descending one of the fixed ropes babbling, "They got me up this thing, now they've got to get me down!" Fear glazed his eyes, and for good reason. The fixed ropes above were a nightmare as climbers jostled each other. Descending climbers were bearing down on us. Others below were pressing us to move up. Our belay ropes were tangling with the fixed ropes and with other parties' belay ropes. Snow and ice compounded the mess. Finally, I muscled my way up the mangled fixed ropes. I was so tired I didn't care about danger anymore.
At 10 a.m. we arrived at the summit. The top of the Matterhorn is well, spectacular! It's 4,000 feet straight down to Italy on one side, the same distance to Switzerland on the other. Mont Blanc, about 35 miles away, sparkled in the morning haze. I rummaged through my pack for a camera, but remembered I had left it at the hut. Two Swiss climbers sensed my disappointment and offered to take my photo which, thankfully, they later sent me.
It was a long, painful descent, but the weather held and we regained the Hornli by 7 p.m. Over drinks that night, my guide confessed to hating this crowded mountain, having once witnessed a climber punch another in an argument over a fixed rope. The story confirmed my own opinion -- thrill or no thrill, I'll never climb that peak again. That said, I wouldn't trade the summit for anything.