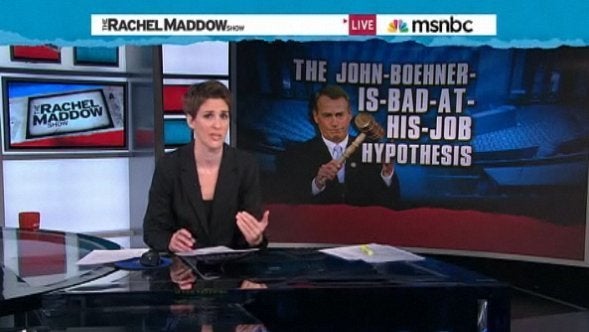 "I can't figure out why nobody else is doing this," she said. "I fully expect that this will be debunked, that there is something else going on here that i just don't see that will disprove my hypothesis, but we have been trying for weeks now on our staff to disprove it and we just can't."
That hypothesis? "I think that John Boehner is really bad at his job."
Maddow stressed she was not trying to attack Boehner personally, but was rather talking about his specific job performance so far.
"I think he is really outstandingly bad at his job," she said. "I think that everything he's done so far has--what's the opposite of the Midas touch?" His tenure as Speaker, Maddow continued, has seen "one disaster after another."
She ran through a long list of incidents that she said showed Boehner's bad leadership so far' including climb-downs on spending cuts, tussles with the Tea Party and other things that Maddow saw as major gaffes.
"Things are not working out for John Boehner," Maddow concluded.
WATCH:
REAL LIFE. REAL NEWS. REAL VOICES.
Help us tell more of the stories that matter from voices that too often remain unheard.