These aren't just Christmas movies: They're like Kay Jewelers commercials on steroids; movie-length advertisements for small-town America, capitalism and twinkle lights. There's so much Christmas magic packed into these two-hour (including commercials) movies that even the most hardened cynic will fall under the spell ― and many Americans have indeed fallen under the spell, making the Hallmark Channel, which airs little else this time of year, a ratings juggernaut.
As I've learned over the past few weeks, I have a lot in common with made-for-TV holiday movie characters. I enjoy Christmas carols and the smell of pine needles. I used to bake cookies with my mom every December and rush down the stairs on Christmas morning to ogle the presents spread under the twinkling tree. But until this year, I didn't watch Hallmark Christmas movies, maybe because my life now resembles the sad, beginning-of-the-movie heroine more than the inspiring end-of-the-movie heroine ― I grew up, moved from Indiana to the big city, got a fast-paced media job, and now live in a small apartment with zero working fireplaces. (Hallmark abhors a small apartment.)
Then, my coworker Priscilla Frank and I were assigned to watch as many made-for-TV Christmas movies as we could in one week.
The plan: Watch as many made-for-TV Christmas movies (via Hallmark, Lifetime, Ion and Netflix) as we could cram into one calendar week, taking note of the special characteristics of the genre.
The motive: Find the root of the mysterious power and allure of low-budget seasonal holiday entertainment ― and maybe, just maybe, rediscover the holiday spirit we've lost over the years.
As the week began, two jaded New York journalists prepared to immerse ourselves in a world of towns called "Evergreen" and "Cookie Jar"; to go on a bender of tree lightings, snowball fights and mistletoe kisses. Would this be our Christmas miracle?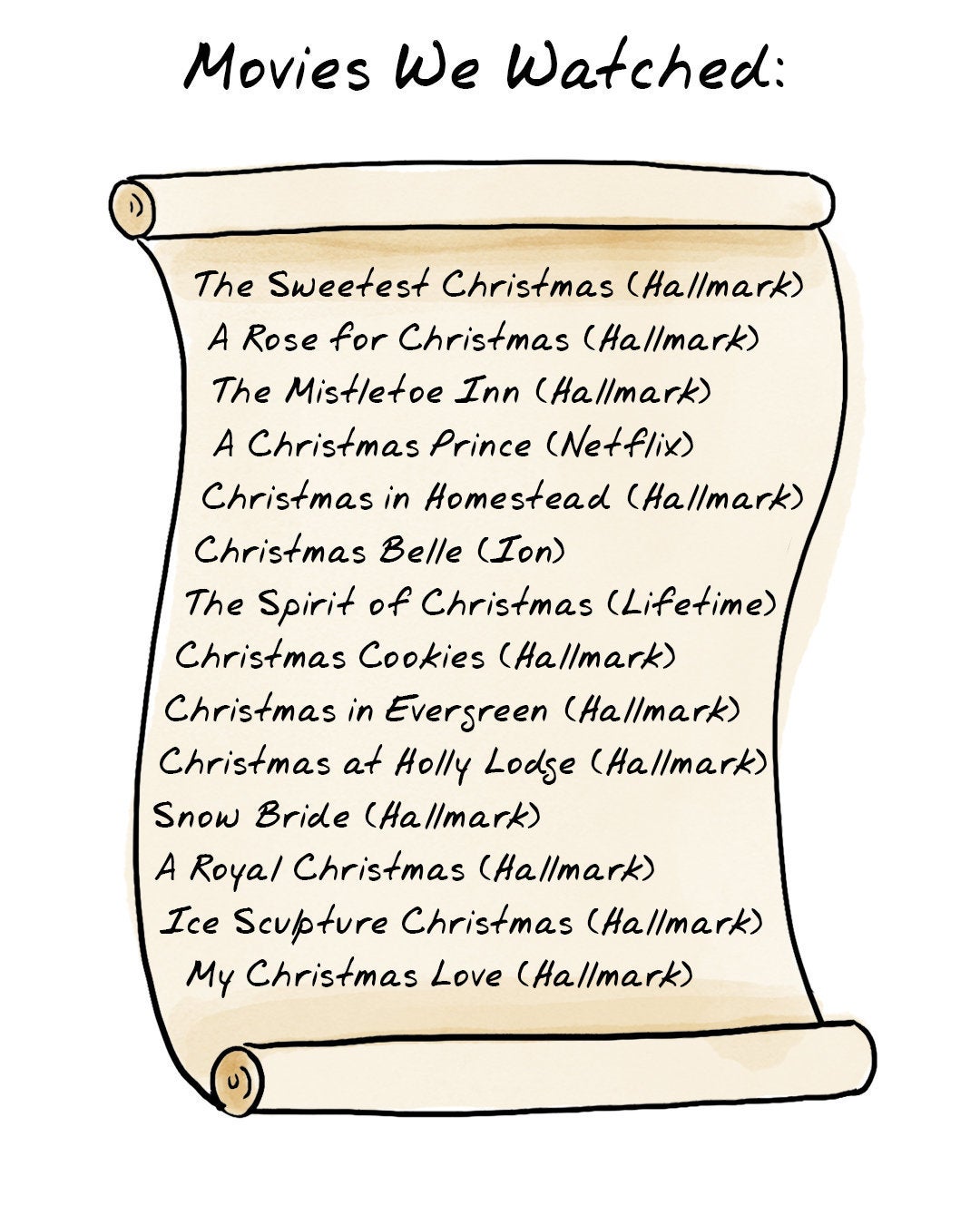 The first thing you'll learn, upon tuning to the Hallmark or Lifetime channel for some movie watching, is what happened to all the former "Mean Girls" actors, minor TV stars and less-successful sisters of Hilary Duff: They've been making movies about radio DJs, dog-walkers and bakers who fall in love under a perpetual shower of fake snow.
A few notable favorites from the 14 movies we viewed: Lacey Chabert (2), Rachel Boston (2), David Alpay (2), Alicia Witt (1), and Haylie Duff (1).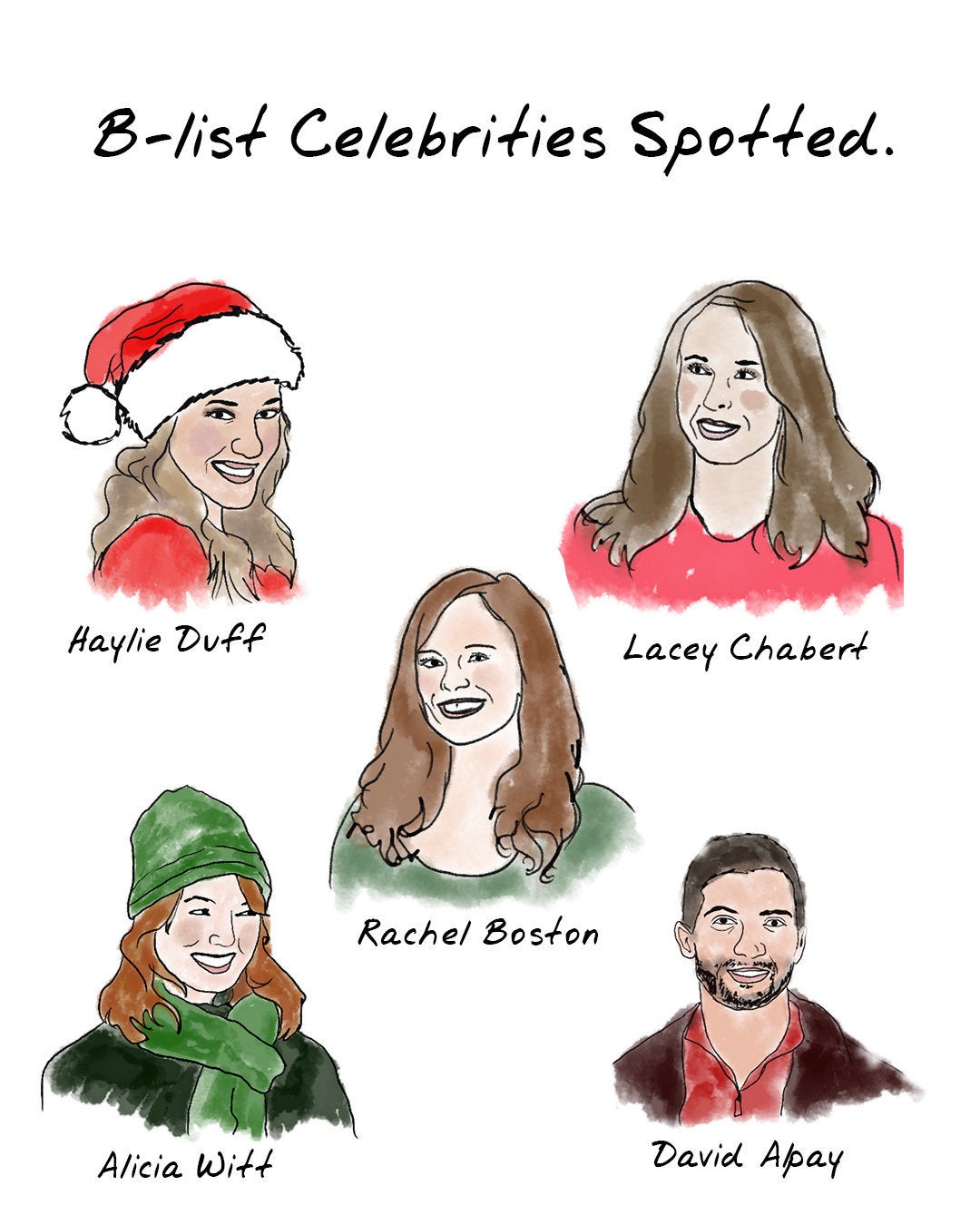 The next thing you'll notice is the bland aesthetic. Made-for-TV Christmas movies are deeply suspicious of anything modern, elegant, tasteful or different. The Hallmark Channel, in particular, is directly targeting the kind of people who are outraged by insufficiently Christmassy Starbucks cups; each movie is an explosion of red ribbons, green boughs, jingle bells and multicolored string lights. The sets of these films are littered with mistletoe sprigs, which pop up in all sorts of improbable places, like in office elevators (seems like a good idea).
The decorating principle of these films is, more is more. Why have one tree when you can have three? Why have a home at all if you're not going to drape it in tinsel and litter it with Santa figurines every December? If you think Christmas decorations that aren't red and green count, you are tragically mistaken. No one with true Christmas spirit would ever decorate in gold and white, as many made-for-TV movies make abundantly clear.
There are no compromises when it comes to festive decor. And certainly no decent person would put up a fake tree. People in Hallmark movies are always demonstrating their giving nature by spontaneously purchasing Christmas trees for other people ― a gift that's really a way of saying "the fact that you didn't put up standard Christian holiday decorations is a character flaw."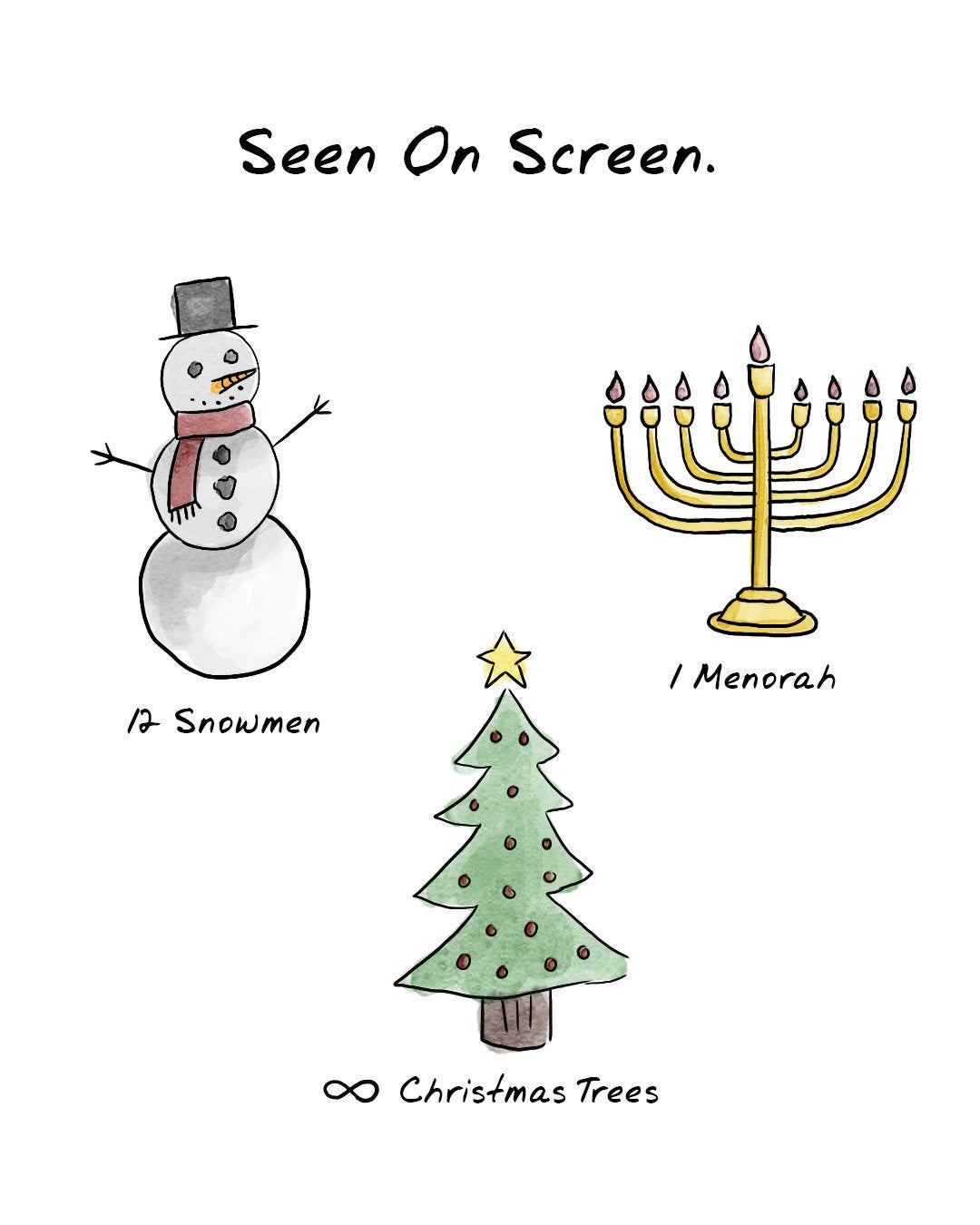 And it absolutely is, in this universe, a character flaw. In made-for-TV holiday movie world, only three types of people exist: good people who love Christmas, bad people who dislike Christmas, and confused people who have forgotten they love Christmas. The moral logic of a Hallmark movie revolves entirely around appreciating the holidays. People who love Christmas are rewarded with love; confused people are shown the way toward embracing Christmas again, at which point they are also rewarded with love. People who dislike Christmas are punished, either by being abruptly dumped or by having their business plans thwarted.
By the end of my first day watching Hallmark movies, I felt depressed. Everything around me seemed gray and faded in comparison with the winter wonderlands I saw on screen. Plus, I was starting to feel like I didn't deserve love. How did I even manage to land my husband without a shared devotion to the birthday of Christ? Sure, he's Jewish, but still. To ease my mind, I commandeered him to help me buy, drag home, set up and decorate a Christmas tree ― my first in years, and his first ever. Holiday achievement unlocked!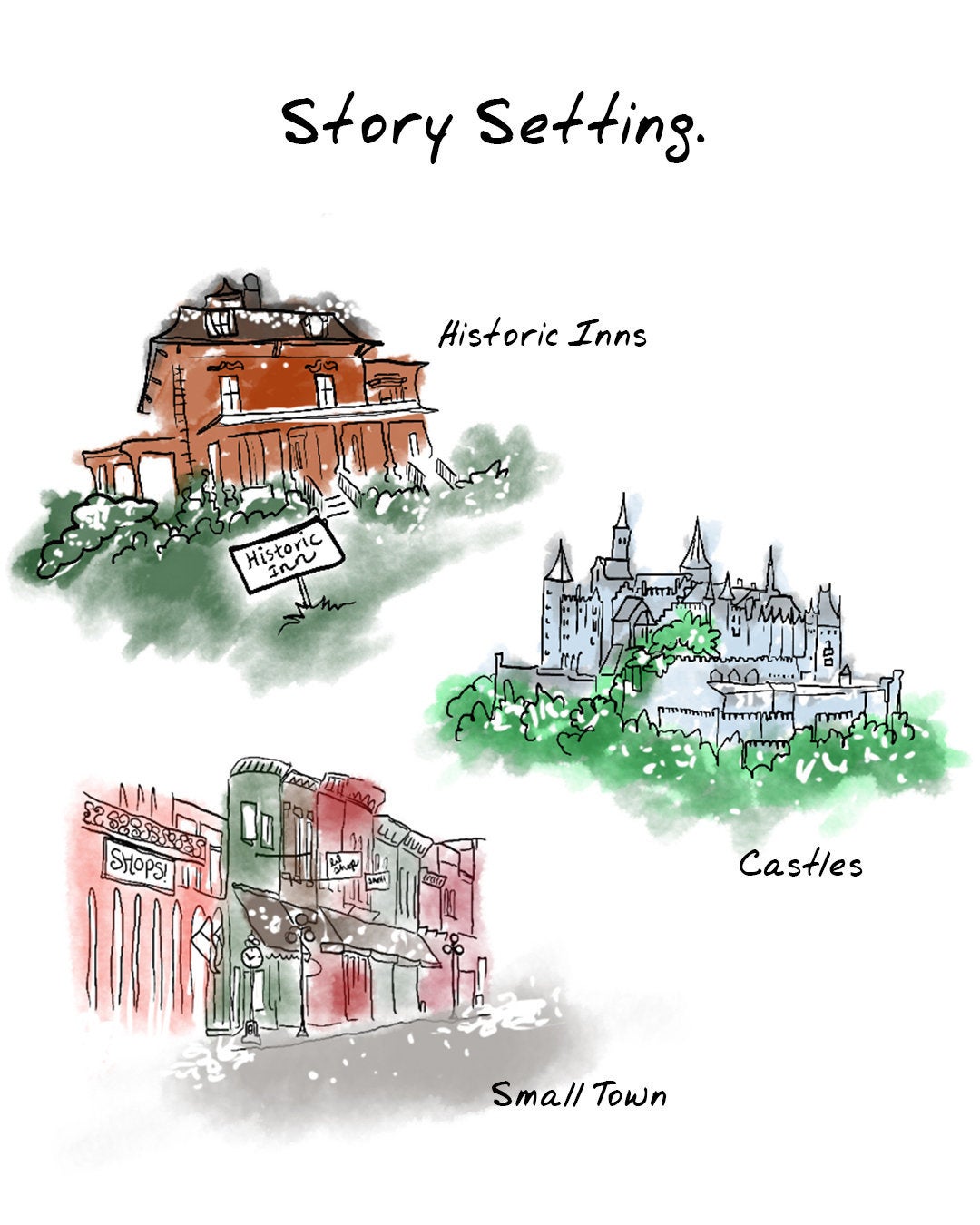 Made-for-TV holiday movies are all about reveling in that real Christmas atmosphere. The decorations are a must, but for maximum impact, you'll need a quaint, wintry setting. Historic inns, accordingly, are a made-for-TV holiday movie standby. A large percentage of these films are set entirely or primarily in bed-and-breakfasts, lodges and inns.
Often, these inns are explicitly Christmas-themed, with names like "Mistletoe Inn" or "Holly Lodge." Perhaps the very narrow window in which this theme is in season for tourists explains why these establishments often seem to be financially strapped and in need of a Christmas miracle. It's also interesting to note that rooms always seem to be available over Christmas for a journalist, developer or executive snowed in by an unexpected blizzard, despite the fact that this is peak season for an establishment called "Gingerbread Inn."
There are a few other acceptable locales for a Christmas movie ― a shopping mall or a department store, for example (the better to bask in picturesque holiday sales numbers), or a Christmas tree farm. But Priscilla and I mostly encountered two other settings during our week-long binge: a small town, or a castle in a tiny European sovereign state. Like a historic inn, these handily signal homespun wintry charm or regal wintry elegance, respectively.
About the latter setting: We can authoritatively report that a disproportionate number of made-for-TV movie characters are princes. Two of the 14 male love interests we observed were next in line for the thrones of tiny European monarchies. This kind of twofer allows viewers to simultaneously enjoy a Cinderella fantasy and a Christmas romance fantasy. Though Hallmark movie starlet Meghan Markle (check out her Fourth of July flick "When Sparks Fly"!) ended up living a royal Christmas fantasy, this basically never happens in real life. Just FYI.
Yet royalty is really only the tip of the iceberg when it comes to Christmastime romantic fantasies. In "The Spirit of Christmas," a lonely lawyer falls for a hot ghost who haunts a historic inn. (The genre features at least as many romantic leads who are supernatural beings as it does people of color.)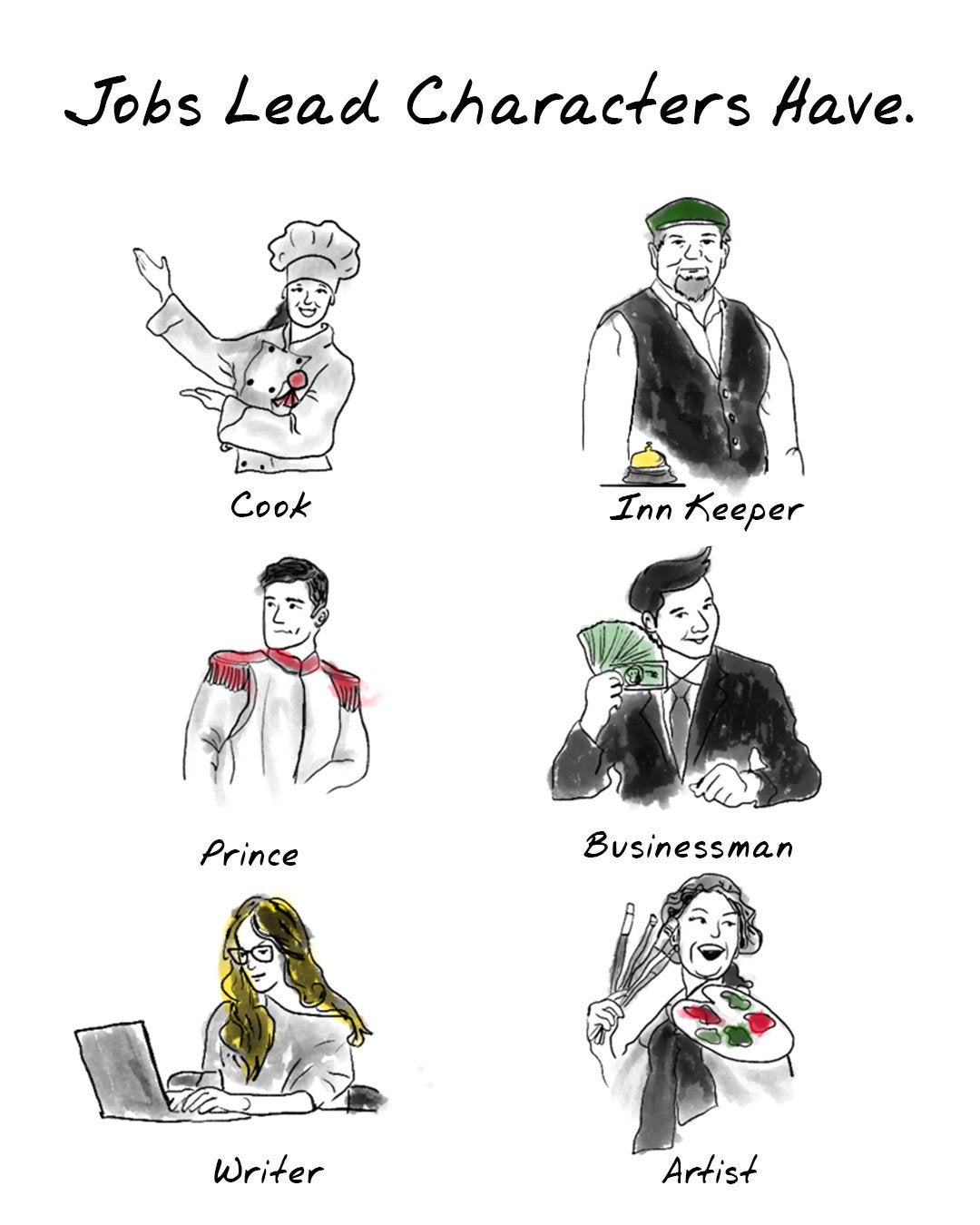 Realism, clearly, is not the raison d'etre of a made-for-TV Christmas movie. To be fair, basically any profession can form the theme of a movie ― we viewed "Christmas in Evergreen," which is about a small-town veterinarian and a doctor, and "Ice Sculpture Christmas," which is about, er, ice sculptors ― but many protagonists have a cozy job, like "romance novelist," "baker" or "innkeeper."
These are often juxtaposed with jobs that are coded as soulless and money-grubbing, such as "real estate developer," "lawyer" or "movie star," to signal that this cynical man or woman has lost touch with what really matters. For example, in a film about an innkeeper falling in love with a real estate developer, one of the romantic leads needs to rediscover the Christmas spirit in order to open up to love ― but we won't reveal which one! For that, you'll have to watch "Christmas at Holly Lodge." Enjoy.
Halfway through the week, I notice that I've replaced all of my usual listening (podcasts about murder; Carly Rae Jepsen) with various "Christmas mixes" on Spotify. If I were a character in a Hallmark movie, I would be a lonely woman who left her roots for a big-city career, and now tries to fill the Christmas-shaped hole in her life with a $15 bucket o' ornaments from Kmart and Death Cab for Cutie holiday cover jams. Priscilla appears to be holding up better ― but Christmas will get her in the end.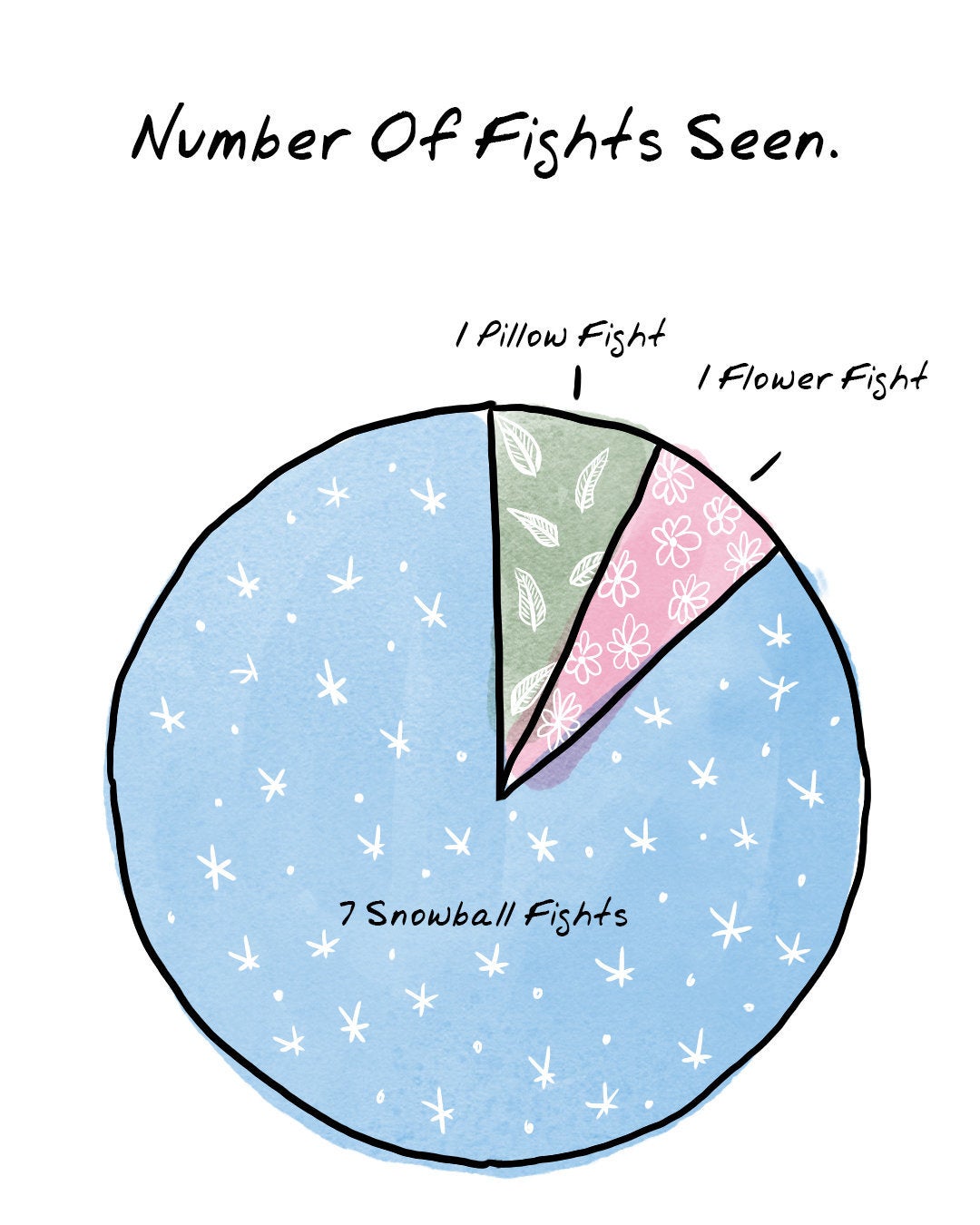 Extrapolating from my own experience, most Americans spend their holidays sprawled on the couch, watching hours of TV in sweatpants and eating marshmallow fluff directly from the jar. This is, surprisingly, not a Hallmark-movie-approved activity. The following pastimes are acceptable ways to enjoy the Christmas season, according to made-for-TV movies: snowball fights, snowman constructing, tree decorating, attending ceremonial tree lightings, ice skating, sledding, cookie baking, present shopping, and sleigh rides.
Hallmark movie protagonists dash feverishly from tree lots to skating rinks to shopping malls, stopping now and then to help strange children finish their snowmen. They often spend hours outside, under gently drifting snowfall, wearing thin wool coats and loosely draped scarves. They never allow themselves to shiver. Christmas, in these movies, looks exhausting.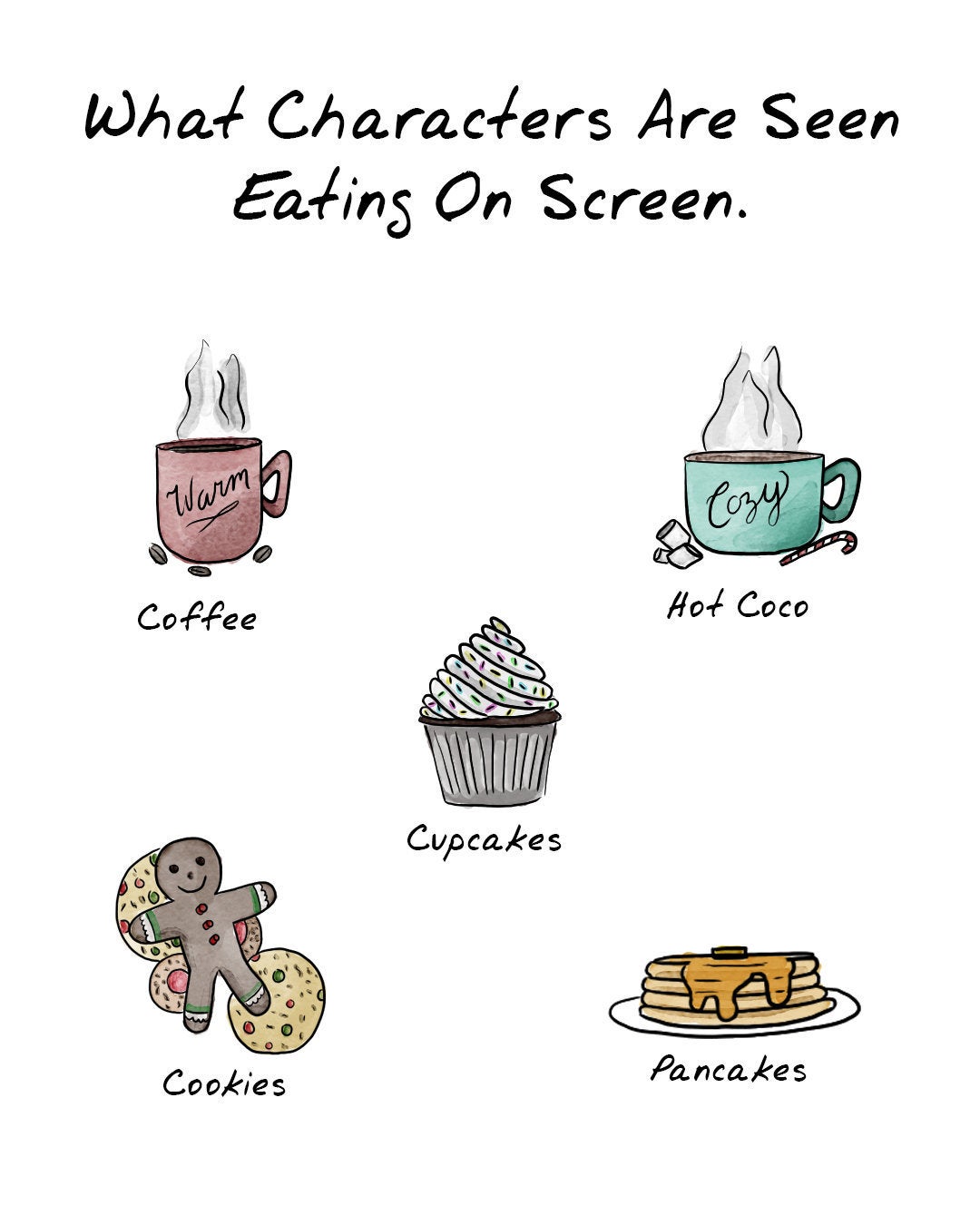 To fuel these festive frolics, made-for-TV holiday movie characters follow a strict diet of hot cocoa, coffee, iced cookies, cupcakes and pancakes. Alcohol rarely features in these films; instead, characters often treat love interests to flirty mugs of hot chocolate or grab coffee together at ungodly hours of the night. Slim 30-year-old women nosh on gingerbread throughout the day, and start every morning with a huge sugary breakfast. It's now my single goal in life to eat like a Hallmark movie heroine and still look like one.
But these holiday movie protagonists do not have it easy. Aside from struggling to pay the mortgages on their historic inns, or working long hours to build a prize-winning gingerbread house, these leads usually have at least one dead parent, a fact often revealed in a line like, "I guess Christmas just hasn't been the same since Mom died."
This artistic choice cuts down on casting ― non-dead parents are often estranged, typically because they're the kind of sociopaths who never celebrated Christmas with their kids ― and provides a veneer of emotional depth to the narrative. Often Mom died at Christmas (nothing of importance ever happens at any other point in the year in the Hallmark universe), compounding the psychological trauma that will be efficiently repaired by the end of the movie.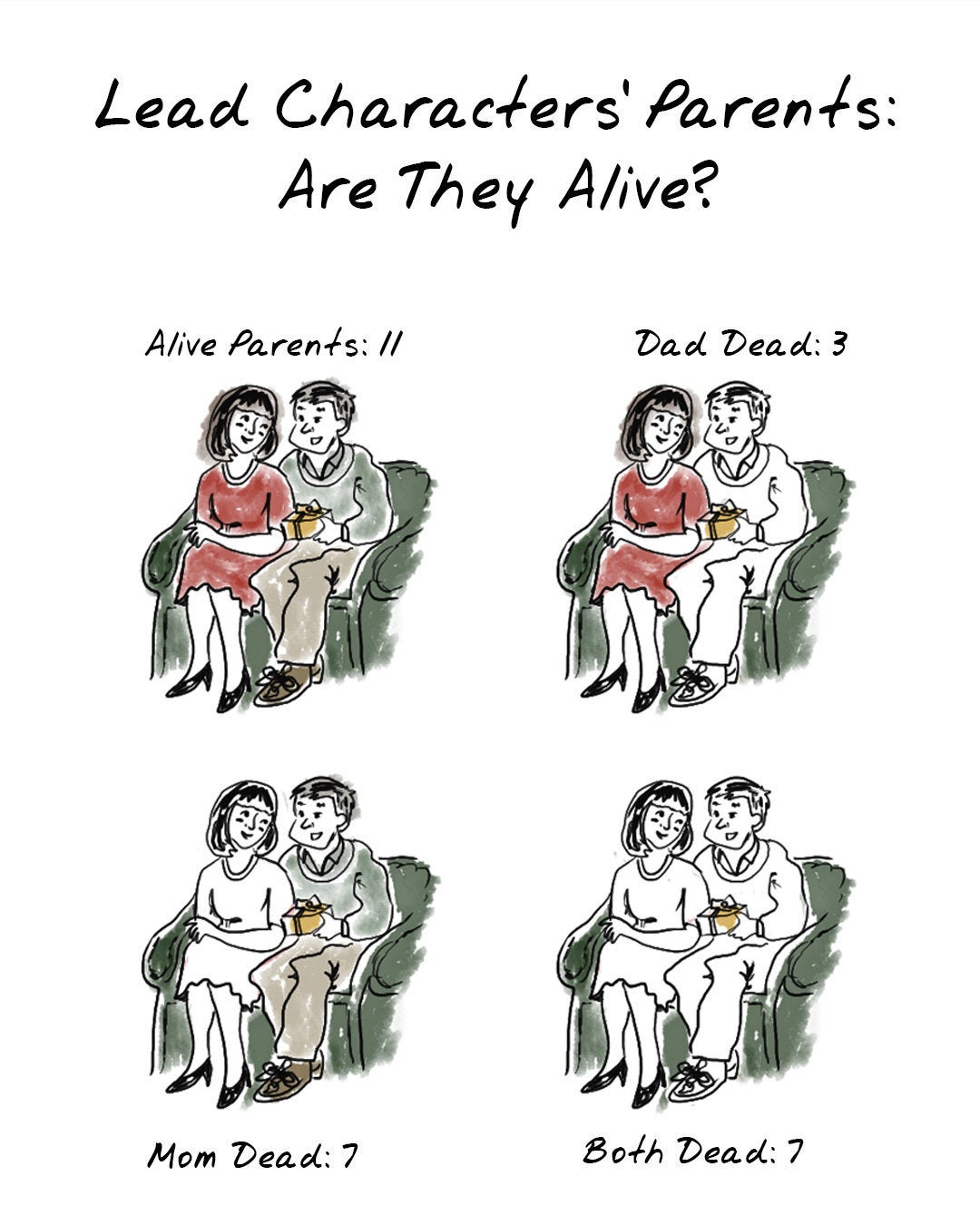 On the last day of Christmas-movie watching, Priscilla and I decided to binge together. At this point, we had already watched 11 movies, and I could feel the Christmas magic working its way through my veins. Even the weather played along. It snowed steadily throughout the day, and I hummed carols as I rolled dough for sugar cookies with green frosting. I made us steaming mugs of spiked cider, and we curled up on the couch to watch "A Royal Christmas," "Ice Sculpture Christmas" and "My Christmas Love."
And that's when a Christmas miracle finally came for us, upending everything we thought we felt about Christmas, and specifically about made-for-TV Christmas movies. We didn't think we had it in us to love a made-for-TV Christmas movie ― they're so bland, the characters so thinly drawn, the dialogue so corny, the acting so wooden it's reminiscent of porn intros. The idyllic image they push of some mythical prelapsarian America, where everyone is white but has one black friend and Christian and lives in a small town and just wants to make an honest living with their hands, is exceedingly dishonest and, if you don't fit into those categories, pretty infuriating. The correct function of most made-for-TV holiday movies is to provide background noise while you dust the cabinets.
Then we saw "My Christmas Love," starring Meredith Hagner ("Search Party"). Hagner is a revelation, adept as always at playing airhead millennials without being grating or alienating. Her character, a romance-obsessed children's book author, should, by all rights, be intolerable. She starts receiving the "Twelve Days of Christmas" gifts and becomes consumed with figuring out who is sending them to her; whoever it is, she assumes this is her true love, ignoring that fact that she OBVIOUSLY should be dating her handsome, lovable illustrator who adores her. The concept is absurd to the point of insulting. But Hagner's infectious energy and flawless comic timing elevate the movie to a whole new level. I'd buy a DVD and watch it every year!
And just like that, we rediscovered the magic of Christmas. Now please excuse me, I have a batch of gingerbread men to decorate.
CORRECTION: A previous version of this story misstated the title of "Christmas in Evergreen" as "Evergreen Christmas."
Support HuffPost
The Stakes Have Never Been Higher
Popular in the Community