With the rise of artsy, entrepreneurial websites like Etsy, there is little wonder why those with the knack to knit took to cashing in on their craft. With so much competition, how does one stand out in a big way? The answer is in the question! Think big. Think bigger than big, think Giant!
Giant Knitting has been taking the country by storm. With the use of oversized needles, (often longer and thicker than one's own arm) and extra chunky super soft yarn, some artists have made blankets fit for a King (Kong).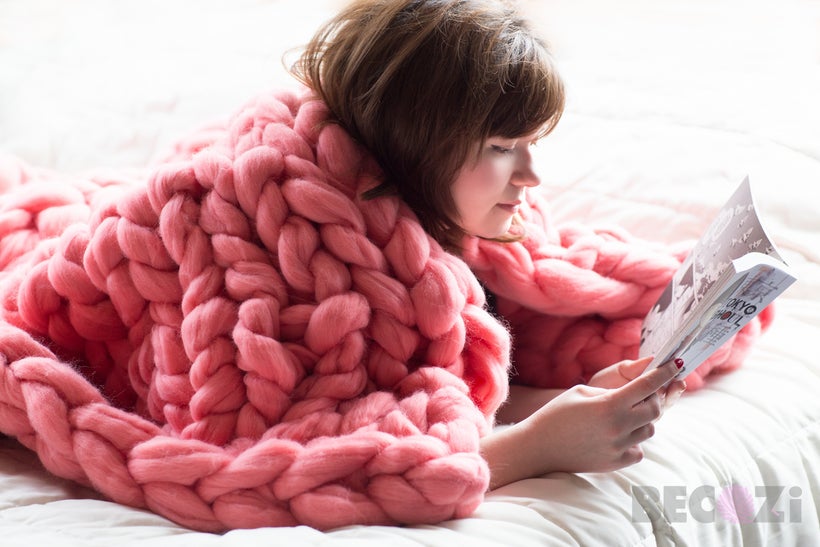 My name is Larissa Koedyker and I am a Michigander with a passion for giant knitting. I am a founder of BeCozi, which specializes in chunky knitted Merino wool blankets, accessories and knits. When I first learned about giant knitting, I also realized that it was very popular in Europe but not as much in US.  As I became interested in giant knitting with super chunky Merino wool yarn, I started looking for places to purchase it. All I could find was a few places in the US with very expensive prices.  The rest of the offers were on Etsy from overseas crafters. That is how the idea of my own studio for giant knitting was born. The name of it - BeCozi - reflects my desire to share with other people how extremely comfortable and cozy the Merino wool blankets and knits are. 
BeCozi offers their product on BeCozi website and Etsy. BeCozi's products are all American made right in West Michigan with fast shipping to anyone who might be interested in buying something already made, or starting their own giant knitting adventure.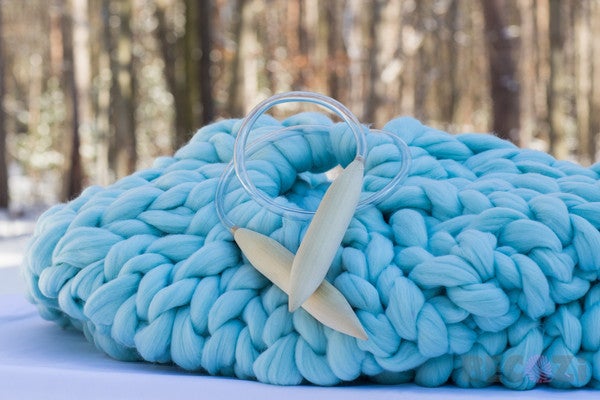 So, how does one knit those gigantic blankets and knits? Some choose to make their own giant needles, whiles others, like me, choose to use what they have on hand, LITERALLY!
I love hand knitting, I actually have quite a unique way of hand knitting all my items. But it all depends on what is more convenient for each person creating these huge stitched pieces of Art. Some prefers needles and for those we have giant wooden needles at our store.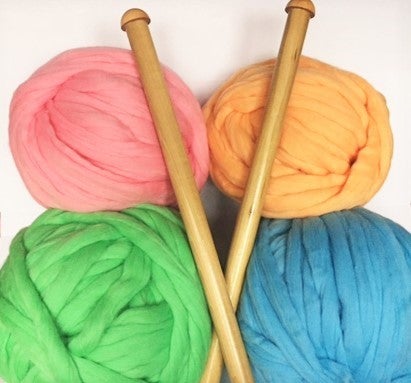 The other large aspect in this craft is the material. The most common type of material used for giant knitting is the 100% Australian Merino wool. This fiber is amazing due to the fact that it is hypoallergenic, moisture-wicking, and even antibacterial!  It is the only wool that makes you feel warm on cold day and cool your down on warm ones. This wool used for giant knitting is not sold in regular retail stores because of its size, it can be found only in a couple places online. BeCozi online store is one of them.
Aside from the equipment being huge, the technique of making a giant blanket might be even easier as compared to their normal sized counterparts. This is the primary reason that giant knitting has been so popular. It provides a wonderful new and exciting item to make, maintaining that awesome feeling of making things with your own two hands twice as fast as usual knitting!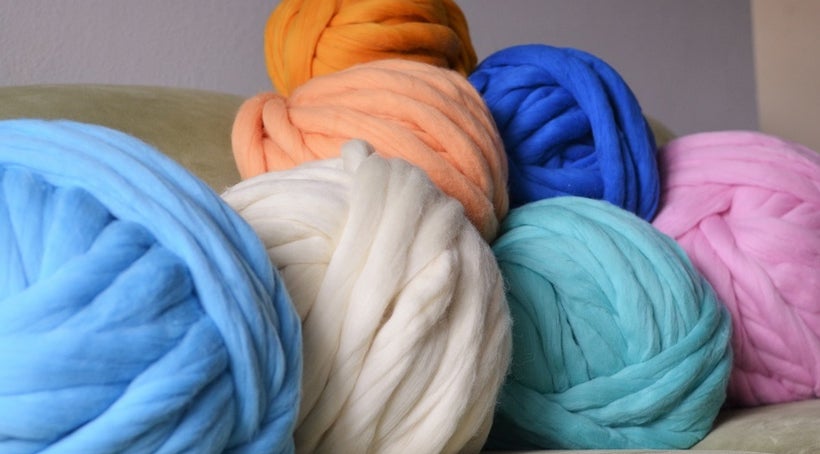 As giant knitting continues to grow in popularity here in the States, I love to share the fact that there are other talented artists in America. Etsy is the place where a majority of American craft lovers look for giant knits and Etsy became so international that people in the US have no idea about our local, American artists. Some of the oversees artists selling on Etsy have been mentioned in American press which puts our American artists in a shade. The American artists are making the same and even better giant knitted products as oversees crafters without waiting a month or two for delivery and cost of overseas shipping. I would love American people to learn about their own talented artists: they live in different states, make wonderful products and they deserve to be recognized for their amazing job. Manuosh, based out of New York, boasts their handmade yarns are all individual and unique. Their skeins are colored with an all-natural dye, and take roughly an hour to produce. Broadwick Fibers from Colorado offers amazingly beautiful hand knotted area rugs.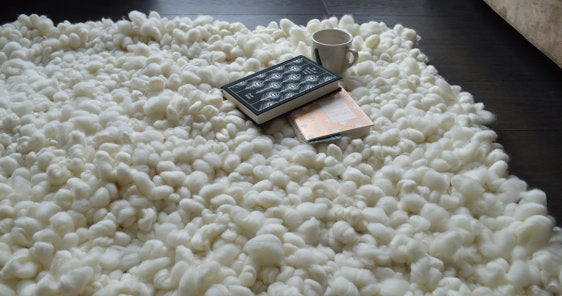 Others like LisaDeeOriginals from Florida, making Merino wool blankets and knits, has been featured in BetterHomes & Gardens magazine.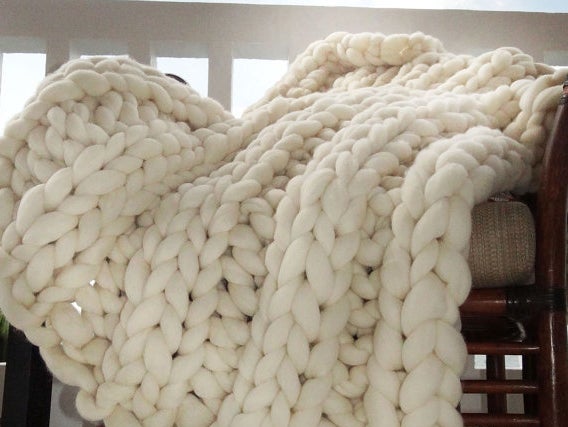 Lily and Peabody, another American artist from San Diego, California. They have a alternative to Merino wool: a blanket made from soft and silky bamboo fiber.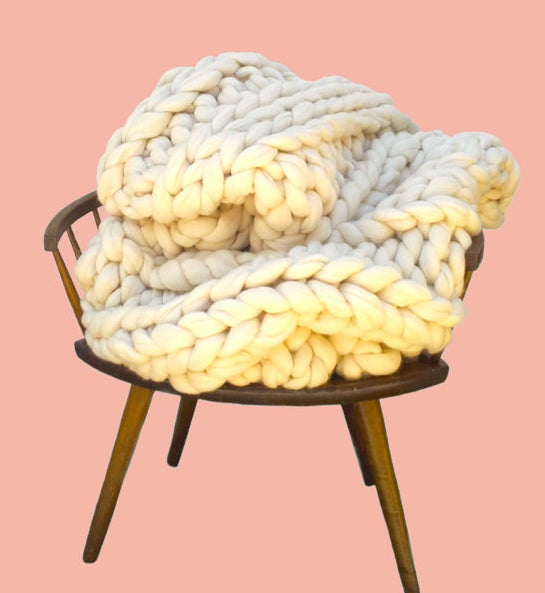 I am using my passion for chunky knitting to share this giant art with the world, with BeCozi as my platform. I hope American people will learn about the American artists making beautiful chunky knit Merino wool blankets and knits.
Support American small businesses, buy American products!
Calling all HuffPost superfans!
Sign up for membership to become a founding member and help shape HuffPost's next chapter
This post was published on the now-closed HuffPost Contributor platform. Contributors control their own work and posted freely to our site. If you need to flag this entry as abusive,
send us an email
.