 Ben Walters was unimpressed the first time he stepped into a Chinese factory.
"It was incredibly primitive," he said. "Safe but small, and using antiquated equipment. The education of the staff and management was pretty low."
Walters was searching for a manufacturing facility to make shoes for his footwear company, Ospop. And while that initial visit left much to be desired, in the six years since he's been able to find much better factories, examples of a trend toward improved manufacturing practices and labor conditions in China.
Now, Shanghai-based Ospop works with "totally state-of-the-art" factories that are cleaner, bigger and better organized, Walters said. Even the company's name pays tribute to the countless workers who power China's unstoppable manufacturing industry: Ospop stands for "One Small Point of Pride," a nod to the hard-working laborers who make and inspire the design of its rubber-soled work shoes.
The biggest difference since he started production in China is the quality of the management, Walters said. Top executives down to the managers overseeing line workers now understand customers' needs and are able to keep a close eye on production standards.
Technological advancements and increasing regard for safety and quality standards mean Chinese manufacturing has made profound strides over the past decade. Within China, improvements are being driven by external pressure from global retailers that have their products made in Chinese factories, and by a growing labor rights movement, led by workers who are demanding more freedom and better treatment in the workplace.
In recent years, momentum for change has been building, and Chinese manufacturers' progress is undeniable, said Joe Baladi, head of consulting at the Leo Burnett Institute of Behaviour in Singapore and author of The Brutal Truth About Asian Branding.
"Manufacturing standards have certainly improved over the past decade," said Baladi. "Working conditions have also improved, relatively speaking."
Yet products manufactured in China -- from cars to children's toys -- still can't escape the debilitating reputation shared by consumers in much of the developed world, a reputation that causes problems for even well-meaning brands.
American consumers associate Chinese manufacturing with the terms "mass produced," "cheap" and "poor safety standards" more than anything else, according to a report from JWTIntelligence, a trends research center.
The country's history as a hub for international brands looking for low-wage labor has "led to a scar" on its image, even though China is no longer a go-to location for cheap manufacturing, said Jessica Vaughn, senior strategist for JWTIntelligence. Most consumers haven't had particularly awful experiences with Chinese-made products, but "they're carrying on the perception," she said.
Moreover, China's manufacturing reputation is hamstrung by attitudes that go beyond perceptions of bad product quality and workplace safety, according to Baladi, who said there is an "ill-defined malaise" about the Chinese manufacturing sector in the Western world because China is a growing, non-democratic superpower.
According to the JWTIntelligence report, 70 percent of Americans remain wary of China because of its status as a communist nation, even though the country has adopted many free-market policies in recent years. Baladi said the tension is amplified by the complicated, lengthy legacy of Sino-Western relations, with each controversy -- from Chinese hacking scandals to college application schemes -- stirring new negative emotions amongst Americans.
Walters, the Ospop owner, agreed. "It seems the bulk of negative sentiment has moved from distrust of product to something more political," he said.
That means even socially conscious companies that manufacture their wares in China can find themselves tainted by the country's reputation.
California-based fashion brand Stewart+Brown, which touts itself as an "ethical" apparel company, used to manufacture a small portion of its clothing in China. First, it had clothes made in Hong Kong, but over time, production shifted to the mainland as factories struggled to meet capacity demands and manufacturing costs rose.
Company co-founder Howard Brown turned to a factory used by the outdoor clothing brand Patagonia, which is famous for its devotion to environmental activism and an ethical supply chain. The facility was the first green energy factory on the Chinese mainland.
Although he took extensive precautions to find an ethical factory, Brown immediately felt the fallout of the new "Made in China" label.

"We had some customers who don't buy anything that's made in China," he said. Some green and eco-friendly stores flatly refused to carry anything made in China, including Stewart+Brown's clothing, an embargo that Brown said had a "tangible impact" on the company.

Brown said he never witnessed any labor abuse problems in China firsthand, but quality issues and misinformation from his suppliers forced him cease production there. The company continues to make cashmere clothing in Mongolia and certified organic cotton sweaters in Peru.
China still has significant flaws in its manufacturing practices, like the notoriously grueling work days in factories like Foxconn's, which manufacture millions of Apple's glitzy phones and tablets. These problems can be avoided, Brown said, but foreign companies must be meticulous when selecting which plants they agree to do business with.
"The stigmas exist for a reason," he warned. "You should be really careful if you're manufacturing over there."
But some experts say that Americans have already come to terms with Chinese manufacturing, even if they don't want to admit it.

Martin Lindstrom, a branding consultant and the author of Brandwashed: Tricks Companies Use to Manipulate Our Minds and Persuade Us to Buy, said American consumers accept a strong Chinese manufacturing sector as a reality. After all, Americans purchase Chinese-made products every day.
"Americans have gotten used to the fact that everything is Chinese," said Lindstrom. "You are not accepting it emotionally, but rationally you are."
Before You Go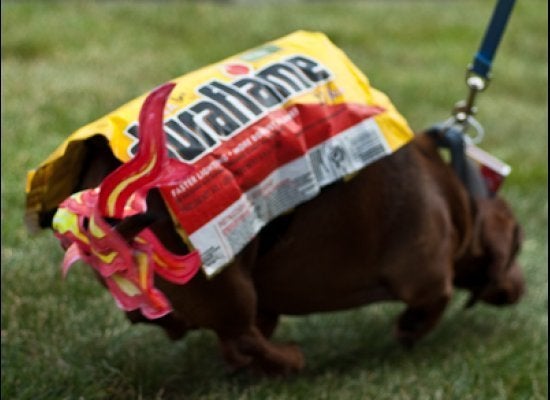 Ten Products Surprisingly Still Made In America
Popular in the Community