From factories to runways, showrooms to sample sales, fashion is woven into New York City's cultural DNA. The heart of the industry is in the Garment District, the cluster of blocks spanning 34th to 40th Streets between Broadway and Ninth Avenue. Currently the City of New York is considering a proposal to change the zoning in the Garment District that protects manufacturing uses, and to move some existing businesses into a single building -- decisions that would transform the industry and the neighborhood.
The Design Trust for Public Space, a nonprofit devoted to improving New York City's public realm, has partnered with the Council of Fashion Designers of America to create Made in Midtown, a study of how the industry works and why it's an integral part of the City's economy, identity, and sense of place. The project website, madeinmidtown.org, launches in June. Each week until then, we'll post a short profile that provides a behind the scenes look at the fashion world, and reveals how an industry inseparable from New York continues to thrive.
"At Anna Sui, thinking I've always wanted a pair of silver glitter showgirl shoes," New York Times fashion critic Cathy Horyn Twittered from Sui's fashion show last February. "You know that feeling?" For the Detroit-born Sui, a voracious magpie of styles and influences raided from the thrift-store of history, this unerring ability to play upon desires consumers may not have known they had -- the fashion dictum of "knowing your girl" --has helped transform her company into a global force, equally at home on the runways as in Target, with a string of boutiques and a dozen licenses ranging from fragrances to her own "BoHo Barbie."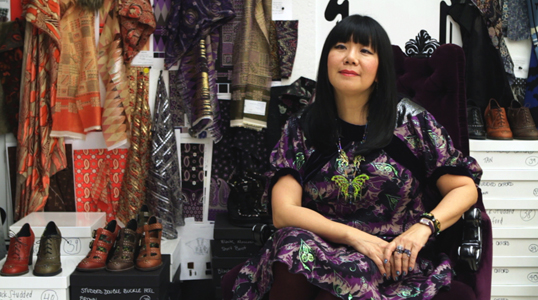 While her reach and influence are felt across the world, Sui's story began in the Garment District and continues there to the present day, as she chats in her lacquered black and purple studio on 39th Street, surrounded by filigree samples, snakeskin boots, and the polychromatic clamor of swatches and prints on the inspiration boards that inform her latest collection. "As long as I can remember I've always wanted to be in fashion," she says, remembering days of clipping from fashion magazines, studying with Talmudic intensity the Parsons School of Design ad in the back of Seventeen magazine.
Fashion school kept Sui only until her junior year, when she landed a job at Erica Elias' Charlie's Girls. "I was her only assistant designer, and she gave me my own room with two sewers and a woman who did the draping," Sui says. "We had five divisions, even the license to Dr. Suess. I could be very experimental." As with many young designers, she learned the trade by finding her way around the Garment District. "My boss was very tough. Whenever she wanted to see fabrics, I had to show her everything available," Sui says. She became an expert at scouring the garment district for just the right fabric -- at just the right price. "I think that became key to my career," she says. "I learned where the resources were. I learned how to use what would work. Like sometimes you'd fall in love with a purple and white gingham, but maybe the minimums were too high, but then you'd remember that somebody else could do a special color or had it available too."
These skills -- and the firms in the Garment District -- became essential when she launched her own company in 1981. So did another ineluctable asset that is bred by physical proximity in New York's fashion industry (and indeed in New York itself): the power of connections. She sold her first pieces at a friend's booth at a trade show; during her first visit to Paris' fashion shows, a friend from Parsons introduced her to Madonna. "When we sat down," Sui recalls, "she said, 'Anna I have a surprise for you. I'm wearing your baby doll dress.' That really gave me confidence. Here's somebody who could have anything she wanted. If she chose mine, maybe I could really compete."
While she laments that the contraction of the industry in New York has made it "harder to put together a collection," she still finds local production essential for her process. "That's the luxury of having your workrooms right here," she says. "You're able to make a selection and try it and see what works." Inspiration, she says, is often sequential. "When you're working on a collection, one piece leads to the next. If you have to wait a half month for something, you lose that much momentum." And there is no substitute for having the garments in front of her, in her hands. "It's not a flat medium you're working in -- when you gather a piece of fabric, because of the thickness of it or the loftiness or the bounceability of it, you never know how it's going to react," she says. "It's so much easier when you can touch it. That's what we do. We manipulate fabric."

Popular in the Community