From factories to runways, showrooms to sample sales, fashion is woven into New York City's cultural DNA. The heart of the industry is in the Garment District, the cluster of blocks spanning 34th to 40th Streets between Broadway and Ninth Avenue. Currently the City of New York is considering a proposal to change the zoning in the Garment District that protects manufacturing uses, and to move some existing businesses into a single building -- decisions that would transform the industry and the neighborhood.
The Design Trust for Public Space, a nonprofit devoted to improving New York City's public realm, has partnered with the Council of Fashion Designers of America to create Made in Midtown, a study of how the industry works and why it's an integral part of the City's economy, identity, and sense of place. The project website, madeinmidtown.org launches in May. Each week until then, we'll offer a behind the scenes look at the fashion world, and reveals how an industry inseparable from New York continues to thrive. Today we profile Shana Tabor, owner, and Brook Backman, team leader of In God We Trust.
"Fashion was always something I wanted to get into," says Shana Tabor, founder of the Brooklyn-based boutique In God We Trust, "but on my own terms." This is not mere bravado. Tabor eschews the wholesale fashion market, instead selling direct from her stores; she manufactures her garments in-house or in New York's Garment District; and in the midst of a recession she has just opened her fourth store, this one in Greenpoint, Brooklyn (joining her other stores in Williamsburg, Soho, and the Lower East Side).
A graduate of New York's Fashion Institute of Technology in 2000, Tabor finds New York itself to be a foundational influence. "I think that anyone would be lying if they told you that living here, working here, designing here, that street fashion isn't a huge contribution to that," she says, speaking from her Greenpoint storefront, where handmade jewelry jostles with New York City-produced lines like the vintage-inspired chambray ties by The Hill-Side. The street's "collective unconscious" comes to her, even in her sleep. "There is something to be said for the fact that you see someone wearing something on the street enough times, the idea actually becomes more comfortable with you."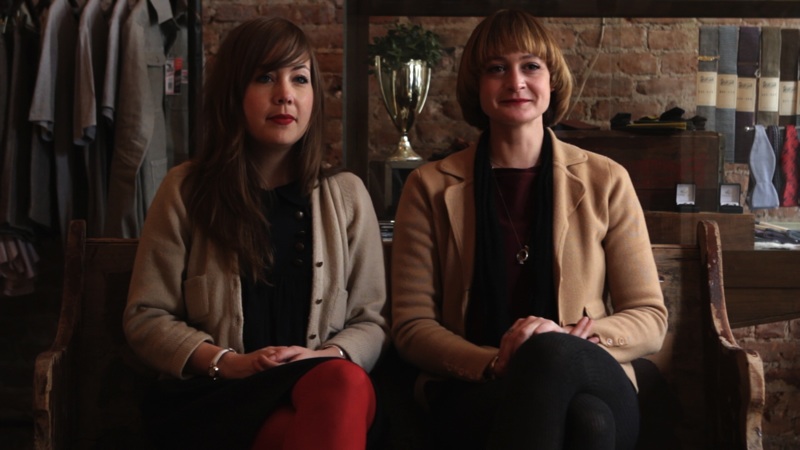 Making and selling clothing locally has become an integral part of her story. "We were wholesaling to other places, but for now we're just doing it in our stores," says Tabor's business partner Brooke Backman. "We can work more immediately, have more product for our stores, so we don't have a bunch of overstock. Because we work in the Garment District, if we do sell through on something, we can put it into production again and have it in our stores in a few weeks." Tabor also notes the presence of specialty services, like grading and marking (creating different sizes of a given garment) or people who work with leather -- "people who have machinery I'm never going to be able to afford" -- as well as access to a wide range of fabrics. Without the district, she says, "where would I go -- Jo-Ann Fabric on Long Island?"

Although her new Greenpoint space has room for a studio, with a pattern table and sewing machines, Tabor still frequents Midtown. "I love days when I'm in the Garment District, going up on an elevator to some place like a fabric showroom or a dye house, and the door accidentally opens on a different floor, and you're like, 'What are you guys doing in here?'" she says. "It's amazing -- all of that stuff is above street level, and you have no idea what's going up there until the door accidentally opens. People can walk around there and see the ten scummy fabric stores, and have no idea that ten floors above are people who have jobs making stuff."

While she first turned to the Garment District out of necessity, she now views it through an ethical lens. Of designers who shift their work overseas, she says, "I don't know how they can feel good about themselves, to let an area that built them, that made them grow into what they are -- to let that die because they can get 20 more cents making something across the world."
Find Made in Midtown on Facebook to connect with project updates, events and photos.