From factories to runways, showrooms to sample sales, fashion is woven into New York City's cultural DNA. The heart of the industry is in the Garment District, the cluster of blocks spanning 34th to 40th Streets between Broadway and Ninth Avenue. Currently the City of New York is considering a proposal to change the zoning in the Garment District that protects manufacturing uses, and to move some existing businesses into a single building -- decisions that would transform the industry and the neighborhood.
The Design Trust for Public Space, a nonprofit devoted to improving New York City's public realm, has partnered with the Council of Fashion Designers of America to create Made in Midtown, a study of how the industry works and why it's an integral part of the City's economy, identity, and sense of place. The project website, madeinmidtown.org, launches in June. Each week until then, we'll post a short profile that provides a behind the scenes look at the fashion world, and reveals how an industry inseparable from New York continues to thrive.
Jason Wu, slim, casually dressed, and inexplicably alert after returning to New York on a red-eye from Uruguay, is describing his recent visit to the Smithsonian to watch his one-shouldered, intricately embroidered dress be inducted into the museum's collection of dresses worn by the nation's First Ladies -- and to meet the current White House occupant who wore it. "It was an out-of-body experience," he says. "To think that at age 27 I'd have a dress that would outlive me, that would be studied and looked at." At the ceremony, First Lady Michelle Obama observed that Wu, a Taiwanese emigrant who came to the U.S. after a peripatetic spin around the globe, was "living the American dream."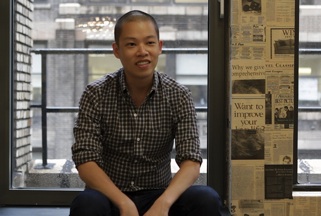 In that respect, Wu is spiritually at home in New York City's Garment District, a place where countless immigrants have risen from floor-sweepers to factory owners, and where generations of young designers have come for inspiration -- and to test their mettle. It was also the place, as Wu recalls, that one cold November he and his seamstresses worked round-the-clock to "make something really beautiful happen" -- i.e., the inaugural gown -- "in a matter of weeks." Wu, whose first exposure to the Garment District came as a young Parsons student on a sourcing assignment, notes "it's really rare to find a place where you could do everything from find trim to get a coat or an evening dress made, to finding button, snaps, and zippers -- everything from A to Z in making fashion happen."
Which is why, he says, when it came time to find a new studio, this newly ascendant designer -- a household name virtually overnight who has been touted, among other things, as the "next" Oscar de la Renta -- moved, as he put it, "deeper into the garment center," where he now resides in a 9,000-square-foot studio and workshop. Sitting in a room whose walls are papered with the peach-colored pages of The New York Observer, Wu says, "I can't think of anywhere where I could go two blocks away and find a hand sewer that can drape a dress miraculously in less than 48 hours." And though already prominent enough to have a camera bearing his name, Wu is young enough to recall his days of working out of his apartment, as well as his informal education in commercial production in the Garment District. "When I first started, I needed to find out how to grade a garment, from size 0 to size 12," he says, "and I remember finding a grader who walked me through the process. Coming out of school, I really just knew how to make one garment."
While other designers, from the emerging to the more established, have found success in other parts of New York City, Wu says his first choice was to stay in Midtown. "All my resources are here. It would only make sense for a designer who's very hands-on to be in the midst of where it all takes place," he says. "This is where the magic happens."