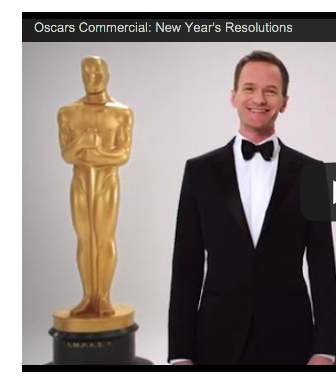 The 2015 Academy Awards will be announced by Host Neil Patrick Harris. (Photo courtesy of The Academy of Motion Picture Arts and Sciences)
The 87th Academy Awards will be announced on February 22, 2015, and New York City, which promotes itself like crazy as a desirable location for shooting movies (the film industry brings literally billions of dollars to the city every year), has got some skin in the game. So, as former New York Mayor Ed Koch famously used to ask, How are we doin'? It's a question that Birdman himself, played by Michael Keaton in a flick that's a contender for Best Film, seemed to be wondering about as he strode half-naked through Times Square.

This year, three different films with "Made in NY" creds are up for the coveted Oscars, according to the New York City Office of Media and Entertainment. And a slew of other New York productions have recently won other awards.
2015 Awards for Movies Made in New York City
Birdman or (The Unexpected Virtue of Ignorance) leads the pack in nominations for the 2015 Academy Award for Best Picture, with nominations as follows:
Outstanding Actor in a Leading Role, Michael Keaton
Outstanding Actor in a Supporting Role, Edward Norton
Outstanding Actress in a Supporting Role, Emma Stone
Outstanding Cinematography, Emmanuel
Outstanding Directing, Alejandro G. Iñárritu
Outstanding Sound Editing, Martin Hernández and Aaron Glascock
Outstanding Sound Mixing, Jon Taylor, Frank A. Montaño and Thomas Varga
Outstanding Original Screenplay, Written by Alejandro G. Iñárritu, Nicolás Giacobone, Alexander Dinelaris, Jr. & Armando Bo
Of course, the competition for Best Picture is fierce. Other contenders for this year's award are: American Sniper, Boyhood, The Grand Budapest Hotel, The Imitation Game, Selma, The Theory of Everything, and Whiplash.
Two other Made in NY movies are up for consideration for Oscars in other categories. Begin Again (which has wonderful shots of iconic New York City sites) is on the short list for Outstanding Original Song with Lost Stars, with music and lyrics by Gregg Alexander and Danielle Brisebois. And Julianne Moore is up for Outstanding Actress in a Leading Role, for her stunning performance in Still Alice, about a have-it-all New York professional woman who discovers she has early-onset Alzheimer's.
The Oscars may be the name of the game for the average audience, but the film industry finds many ways to decorate itself. Made in NY movies and TV shows that won other awards included Birdman (winner of several Golden Globes and 2015 Screen Actors Guild Awards), The Affair, The Normal Heart and Drama on TV (all Golden Globe winners in various categories), and Orange Is the New Black (honored at the annual Screen Actors Guild Awards). Finally, the 26th Annual Producers Guild Awards this January honored Birdman, Orange Is the New Black, and also The Tonight Show Starring Jimmy Fallon, and that stoop-sitter's delight, Sesame Street.
New York City Woos Film Industry
Since the mid-20th century Pleistocene era when New York's sophisticated mayor, John Lindsay, first realized there was money to be made by streamlining the logistics of filming in New York, the Big Apple has become increasingly savvy about working to attract filmmakers. But the competition is tough as profit margins shrink. So, New York lures filmmakers in a thousand clever ways, including with such services as a huge online catalog featuring enticing images of city-owned sites from beaches to bridges to courthouses. The logic is simple: the city can shortcut its own red tape, and after that....well, it's New York, who could resist?
Oscar night is coming up. How are we doin'? Stay tuned.
Calling all HuffPost superfans!
Sign up for membership to become a founding member and help shape HuffPost's next chapter