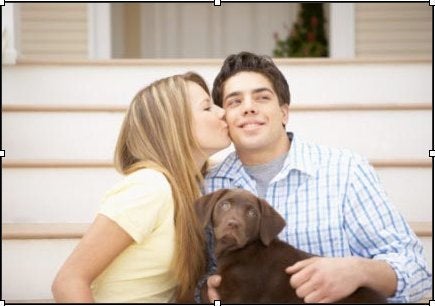 As Steve Martin's character Harris K. Telemacher says in the film "L.A. Story," when it comes to love, "There's someone out there for everyone -- even if you need a pickaxe, a compass and night goggles to find them." Online dating sites have tested this theory, offering ways for the passionate, the lonely and the lovelorn to connect in increasingly unusual and intimate ways from greater geographical distances.
More than 40 million singles in the United States look for love on social networking sites or through some type of online dating service annually, according to a study conducted by Match.com -- the nation's No. 1 dating site, responsible for 30 percent of marriages that developed from online relationships -- in conjunction with marketing and social media research firm Chadwick Martin Bailey. Of the approximately 11,000 people surveyed about a year ago, 20 percent were in a committed relationship with someone they met through an online dating or social networking site. The same percentage of singles had dated someone they met online for at least three months.
And that success rate means big business, not just for Match and other household names, but for smaller, niche dating sites. Although Internet dating was considered desperate and even a bit creepy as late as the mid-1990s, the online dating industry is now worth as much as $4 billion worldwide, according to IntelliCorp InTouch's Jason Koeppe, who also calls it "the new mega-industry." And as we see more of our friends' personal lives broadcast on Facebook and Twitter, online dating and friend-finding has not only become mainstream but also a huge business opportunity for entrepreneurs with an interest in matchmaking.
From the innovative to the bizarre to the extremely specific, here's a look at a few sites that are capitalizing on unique niches and helping people hook up with like-minded companions.
DateMyPet.com touts itself as the "leading online dating website created exclusively for pet lovers." Profiled by "Good Morning America," "Live! With Regis and Kelly" and other outlets, the site targets single and attached pet owners who want to chat, share resources or meet, whether for a platonic walk, puppy love or something more.
London-born entrepreneur Robert Yau started the site in Silicon Valley. While walking his rescue dog Hershey in local parks, he observed people meeting and bonding via their pets. "That's the power of our pets," he says. "They provide a common link, an understanding of who we are. The folks I met on these walks ranged from longtime happily married couples to singles. Though their lives are very different, they share a love for animals. And it surprised me how many of their [prior] dates and relationships ended because the other person [didn't share] their love for pets. When the decision came to choose between the partner or the pet, it was a no-brainer for the majority. The pet won."
Yao has also noticed that "single and looking" animal lovers who don't own pets would prefer to find others that share their affinity. Thus, the motto for the website is, "If you want to date me, you have to date my pet." Date My Pet runs on funding from private investors and is free for its users.
Trek Passions and the Passions Network
Whether you're just having trouble with tribbles or looking for a mate who wants to live long and prosper with you, you'll probably find your match -- or at least someone that knows how to say "I love you" in Klingon ("Qaparha'") -- at Trek Passions. This free personals and social-networking community helps Star Trek fans and other sci-fi enthusiasts find friends, romantic relationships or convention buddies. It features chat, e-mail and message boards.
Trek Passions is part of a network of 150 individual niche online dating and social sites called the Passions Network. Founded by Michael Carter, the network is broken down into different sites by typical categories such as religion, political leanings, ethnicity and sexual orientation, but also by unusual niche sites like "Stache Passions" (for the mustachioed and their aficionados) and "Zombie Passions." "Each site can work as a standalone site," Carter says. "But the beauty of the network is that members don't have to define themselves in only one way or by joining only one site. Most people pick and choose to create their own personal menu of communities that best represent who they are as a person. It's up to the member to decide which sites and which groups of people they are most interested in interacting with."
Trek Passions was part of the original 100 sites that launched in mid-2004 in New York. While Carter does not release site-by-site statistics within the Passions Network, he says it's in the top third of his most popular sites. "The idea behind the entire network and each individual site is that it should be easier to break the ice if you share something in common," he says. Whether you're a swinging Single Romulan Female (SRF) with a thing for Single Male Vulcans (SMV), or a Single White Female (SWF) with a passion for saving the environment, there is a place for you on Carter's network.
The Passions Network runs on an ad-supported model and uses Google Adsense to help deliver targeted ads that fit with the interests of each member. Carter's company also enjoys many affiliate relationships with specific sites that helps him further hone his advertising. For example, Trek Passions, Nerd Passions and Gaming Passions share a relationship with Nerdy Shirts. He has partnerships with Amazon and promotes other outside dating sites that share themes with his. "We think everyone wins when advertising is targeted. Advertisers seems to like our network because they can easily target very specific demographic groups. And members like it because they are not being bombarded by ads for products they have no interest in."
Carter adds, "Truckers see trucking ads on TruckerPassions.com and Native Americans see ads that speak to them on NativeAmericanPassions.com. And if you happen to be a nerdy, Native-American trucker, you will see ads that speak to you differently on each site in your account as you move around the network."
FounderDating is a site designed for people seeking a slightly different union. No, it's not a dating site for lovesick entrepreneurs, but rather a company that hosts events for people looking for a partner with whom to start a business. Jessica Alter and Saar Gur started the Silicon Valley company based on the idea that one of the most difficult parts of starting a company is finding someone who shares your ideals and wants to embark on a new business venture. The idea is to potentially match those with different but complementary skill sets and backgrounds -- for example, a brilliant coder and a marketing guru -- to bring an entrepreneurial idea to fruition as co-founders.
According to the company's website, Alter and Gur got the idea for FounderDating because they were personally frustrated by the difficulties entrepreneurs often had building successful professional teams. "We have met countless uber talented people who want to become entrepreneurs but haven't yet found the right co-founder(s)/team or idea to work on," it reads. "We believe finding the right fit is of the utmost importance and don't want to see anyone walk away from entrepreneurship because they don't have the right partner." As with any successful matchmaking service, its goal is to help introduce people to each other with great chemistry -- in this case professional synergy -- that can help entrepreneurs "lower the hurdles to company creation."
The FounderDating event invitations are extended only to professionals looking for serious business relationships. Since business partners often spend more time with each other than with their significant others, especially during company creation, FounderDating event attendees must want to work on real projects that are not just about jobs or careers, but about their genuine passions. To keep the quality of participants high, prospective event attendees are required to fill out a detailed application form listing their skills, previous work experience and three professional references.
The original version of this article appeared on AOL Small Business on 2/10/11.