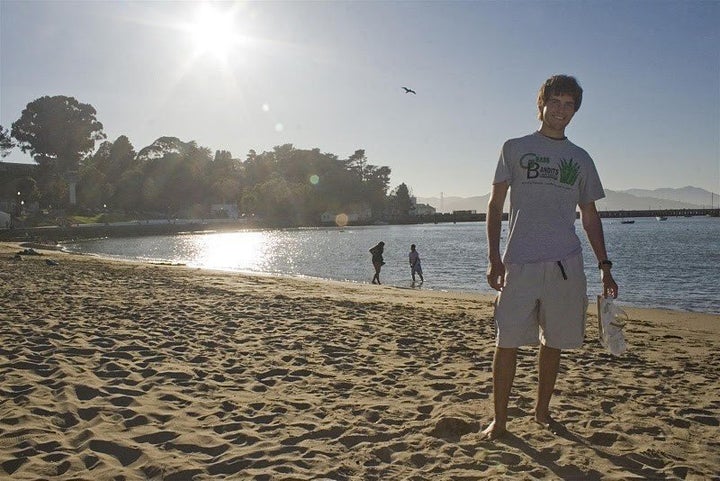 Justin Labdon had a simple goal: To become a beach bum.
Almost a decade ago, when Labdon lost his job in the technology industry, he left Boston to visit his parents on Cape Cod, and the experience transformed him. After a weekend of sailing with his folks and enjoying the sun, he began reconsidering the "suit and tie career path" he had been on.
Labdon, now 39, wondered if there were a business he could start that would let him live and work in Cape Cod. Around the same time, he noticed some rusty and tattered beach chairs in his parents' garage and thought that maybe the world needed some upscale, handmade, customized beach chairs. That's when he started Cape Cod Beach Chair Company.
Labdon is part of a rich legacy of entrepreneurs who have found inspiration at the beach. As far back as 1667, Englishman Robert Wittie developed a seawater tonic that he sold to the masses, insisting it would help cure gout, worms and other sicknesses. But it wasn't until the 1920s that the beach industry started resembling what it is today. As the affluent and middle class started working less and vacationing more, the beach began to beckon -- and ever since, entrepreneurs have been looking for the perfect beach-related product, just as surfers look for that perfect wave.
Labdon got his start by purchasing a $200 sewing machine, sewing fabrics and developing a design. "I was bartending at night and making wooden beach chair parts in my garage," he says. Today, his Cape Cod Beach Chairs sell for $100 to $150 and are mostly made and sewn locally, with everything assembled at Labdon's headquarters on Cape Cod. The company now has seven employees and $600,000 in revenue.
Jennie Larsen, 38, and Nicole Ramirez, 34, run a company that can best be described as a bit shady. And that's the point. They're co-founders of The Beach Masters, a Payson, Utah-based company that makes the Shade Wagon. Hatched in 2009, their all-in-one beach wagon is one of those "why didn't I think of that?" gadgets -- a cart that hauls an umbrella, a cooler and pretty much anything else a family would want to take to the beach. The sisters came up with the idea because they were weary of looking for shady spots along parade routes and at water parks.
But getting the product developed for the beach wasn't a walk in the park. "Finding all of the components of the wagon -- the undercarriage, umbrella, the stadium seats -- and manufacturing was tough," Larsen says. "When it came to setting up accounts to buy and mass produce the wagons, no supplier wanted to sell us the undercarriage in small quantities."
They eventually convinced one supplier to take a chance, and now they're making a big push this summer. They relaunched their product in June 1, after spending a year redesigning some features, to make the wagon lighter and less expensive. "We're really excited about the coming year," Larsen says. "We feel we're finally ready." The Shade Wagon sells for $499 to $649.
Sand has always posed a bit of a challenge for beachgoers -- and an opportunity for entrepreneurs. Jimmy Tomczak is the CEO of Ann Arbor, Mich.-based Tombolo, which he founded last year to manufacture paperfeet, a sandal made out of old billboards. Tomczak, 23, felt there was a need for inexpensive, light, eco-friendly footwear that someone could slip on, before, say, shuffling from the sand to the car. He wanted shoes that still made the user feel as though they were barefoot.
Unlike the barefoot-like shoes such as Vibram Five Fingers, which cost about a hundred bucks, Tomczak wanted a lightweight counterpart that wasn't wildly expensive and yet weren't cheap, clumsy flip-flops. Paperfeet retail for around $30.
"Since paperfeet are made with locally sourced billboard vinyl that would otherwise end up in a landfill, the manufacturing is most efficient when done as locally as possible," Tomczak says.
However, "finding a way to cost-effectively prototype, test, and produce the sandals here in Michigan was a challenge," Tomczak says. "There aren't too many 'eco-beach adventure gear companies' -- and definitely not flip-flop businesses -- started in the Midwest, and you'll find even fewer companies that manufacture in the United States using local, ethical labor and materials that reduce carbon impact."
Manufacturing beach products may be harder than it looks, but so is marketing them. After all, while states like California and Florida may be in a perennial state of sunshine bliss, much of the country only has a small window to get out an enjoy them. Still, some entrepreneurs are finding that all is not lost from September until April.
Tomczak notes that plenty of people travel to warmer climates during the winter and for spring break, and the slow months are pretty busy, since October through February is a heavy retail-buying season for summer products.
Meanwhile, Larsen says that in the fall, they'll be marketing The Shade Wagon as the perfect product for tailgating at football games. When the holidays hit a little later, they'll be running "Christmas in July" ads, and during the really slow periods, they'll be focusing on their commercial branch of the company.
"We can completely customize the wagon, any color, and do full wraps for promotional companies or resorts," Larsen says. "For instance, Labatt Beer is giving away three of our Tailgating wagons on their website in September. We will be putting the Labatt Beer logo on the umbrellas and wagons to customize for their company. So it's not just a wagon for people with kids. It's an outdoor, recreational dream for anyone who loves anything outdoors."
The sad truth about owning a company that makes its home on the beach? It isn't vastly different than manufacturing, selling and distributing in any other industry.
"I had a vision of being on the beach all the time surrounded by a bikini-clad staff," Labdon says, wistfully.
Of course, it didn't quite work out that way. In fact, the more successful a beach company becomes, the less likely the founder is to get the chance to enjoy the sand and surf along with customers.
"I spend much less time on the beach," Labdon says, "than people would imagine."
The original version of this article appeared on AOL Small Business on 7/1/11.
Related
Popular in the Community