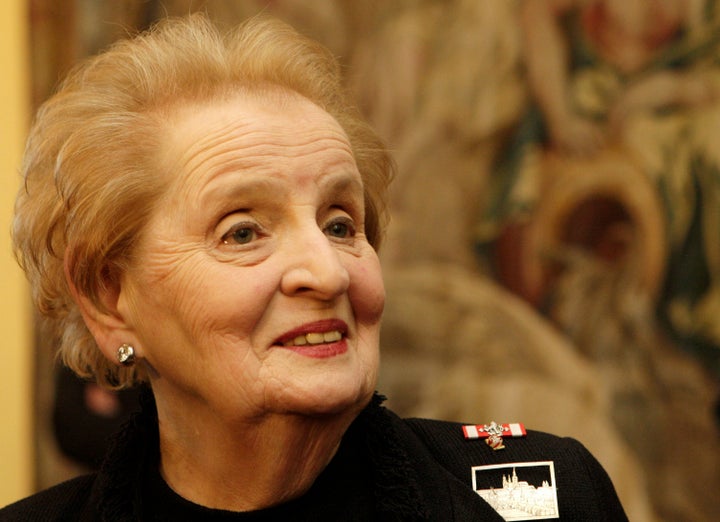 Madeleine Albright had her work cut out for her when she took the stage to deliver a commencement address at the all-women Scripps College in Claremont, California, on Saturday. 
"There is a special place in hell for women who do not help each other," the former secretary of state said in February, in reference to female voters not backing the female Democratic presidential candidate. Albright has used that line many times over the years, but she nevertheless apologized for using it in a commentary on who people have chosen to support in the primary race.
Catherine Chiang, the senior class speaker who spoke before Albright at commencement, closed her speech by saying, "if there's a special place in hell for us, magical, radical, change-making us, then so be it."
When Albright took the stage, she offered a twist on her "special place in hell" line: "Rest assured," she said to Chiang, "there is a special place in heaven for anyone who speaks truth to power."
Albright addressed this sort of division in her remarks, urging graduates to seek out and listen to people they disagree with.  
"Instead of choosing to read or to listen only to the people whose views make you the most comfortable -- which is becoming easier and easier to do -- choose instead to study those who make you the most upset," Albright said. "Instead of surrounding yourself with friends whose experiences are similar to yours, reach out to people whose life stories are unknown."
Toward the end of the speech, she added: "Above all, I ask you to understand that there is an enormous difference between entering into an argument for the purpose of proving how smart you already are -- and engaging in research and discussion for the purpose of stretching your mind and giving free rein to your conscience."
Calling all HuffPost superfans!
Sign up for membership to become a founding member and help shape HuffPost's next chapter