 But for all the talk of Romney's trouble among women voters, no Democrat has put it in the terms that former Secretary of State Madeleine Albright did in an interview with The Huffington Post on Monday.
"I'm not sure I'm going to state this exactly right," she said, sitting amidst a sea of convention-related activity and daytime wine drinkers in the Westin hotel lobby in downtown Charlotte. "But I think there are some who believe they are actually protecting women, you know, and that it is better for women to be taken care of. I think women want to take care of themselves, and I think having a voice in how that is done is very important. And frankly, I don't understand -- I mean, I'm obviously a card-carrying Democrat -- but I can't understand why any woman would want to vote for Mitt Romney, except maybe Mrs. Romney."
Albright then revised her pool of rationally thinking female Romney supporters to include his five daughters-in-law, an obvious but hardly generous expansion. Even with the rhetorical flair, however, Albright's comments reflect a genuine disturbance that many Democrats -- women and men -- feel about the tone of the discussion of women's issues during the course of the campaign.
The former secretary of State, who has been an outspoken advocate for women in the workplace, said she found the assertion by Missouri Senate candidate Rep. Todd Akin (R-Mo.) that a rape victim can shut down her body to avoid pregnancy to be "one of the more outrageous" comments she's witnessed in her 75 years.
"It was appalling and disgusting," she said. "But if I may say so, the things that he said in one form or another are in the Republican platform. So [while Republicans are] saying he is a nutcase and they have to move away from him, they did not move away from their platform."
Her reference was to language in the GOP platform that outlaws abortion even in cases of rape or incest. It's a policy that Romney's running mate, Rep. Paul Ryan (R-Wis.), has embraced throughout his career, before distancing himself in the wake of Akin's remarks. Romney has always supported such exceptions. Even so, Albright argued, he had "become captive to a party that does in fact think that women should not have voices."
This is about as harsh an indictment as has been leveled by a major Democratic figure at the Republican Party and its nominee. And in conjuring up images of women being pushed into figurative (if not literal) silence, Albright invited some obvious pushback. The current state of the economy hasn't exactly allowed women to warm up their vocal cords.
"I'm guessing the millions of American women unemployed, underemployed or constantly worrying about filling the gas tank or put food on the table can think of a few reasons to make sure Barack Obama isn't our president for another four years," said Kirsten Kukowski, a spokesperson for the Republican National Committee.
Aware of the gender gap, Romney's campaign gave several Republican women primetime speaking roles at his party's recently completed convention, including his wife, Ann, who spoke about the trials that came with their marriage and raising five kids, in addition to declaring in one of the convention's more indelible moments, "I love you, women."
It will, in all likelihood, take a bit more than a few speeches in support of Romney to make up the ground among women voters. A TIME/CNN poll of likely voters found Obama beating Romney by 12 and 10 points among women in Florida and North Carolina, respectively.
Support HuffPost
The Stakes Have Never Been Higher
Before You Go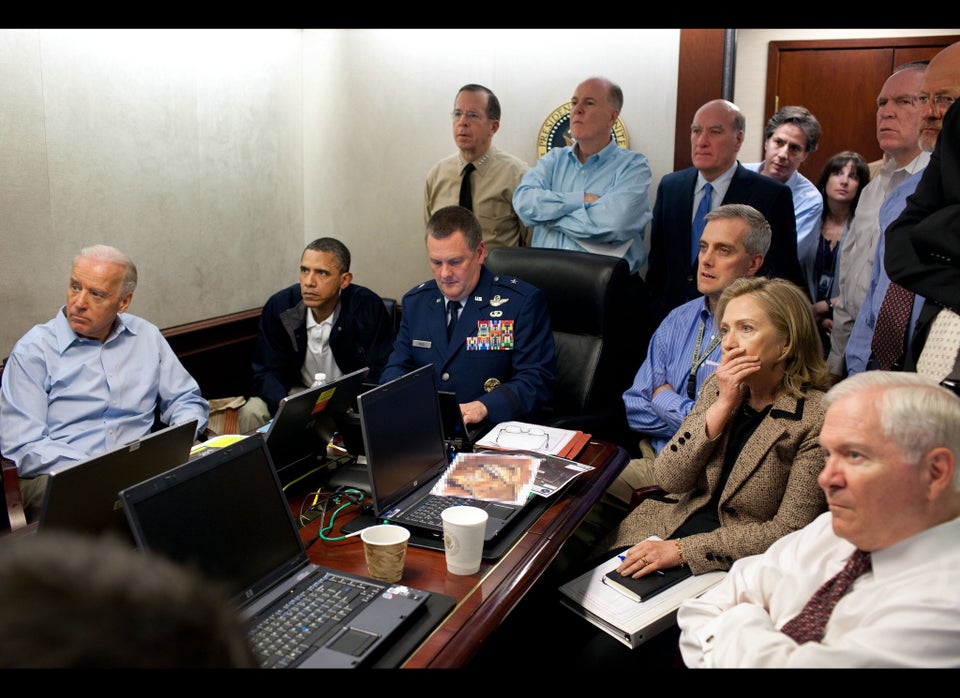 Most Iconic Photos Of Obama's First Term
Popular in the Community