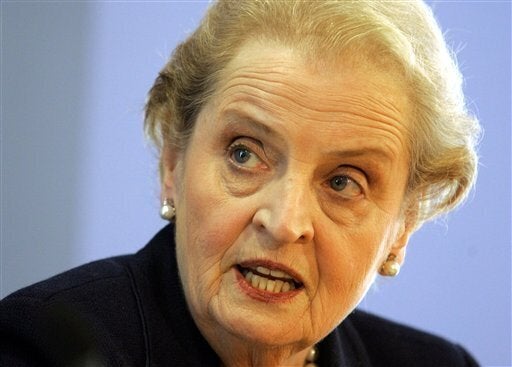 On a balmy September afternoon, Madeleine Albright, the first woman to serve as US Secretary of State, addressed an overflowing crowd at Bryn Mawr College. The line of students and guests waiting to hear Albright stretched across the sweeping campus lawn. The room filled so rapidly that students sat on the floor; others were turned away. The all-female school, one of the "seven sisters" colleges, is located in Bryn Mawr, Montgomery County, Pennsylvania, one of the affluent Philadelphia suburbs that is a crucial battleground in this year's presidential election. Until recently, Montgomery County was a Republican stronghold, but this year Democratic voter registration surpassed that of Republicans in the county.
In her remarks, Albright wasted no time in endorsing and praising Democratic presidential candidate Barack Obama. She described how he called her during the primaries, when she supported Sen. Hillary Clinton, and asked for her support if he became the nominee. Forcefully explaining that "We are desperate for new leadership," Albright said she is honored to support and help Obama. She talked about her new book, Memo to a President-elect, that discusses issues the next president will have to face, and why she believes Obama is best prepared to tackle those issues and lead.
According to the former secretary of state, there are five key foreign policy issues facing our country: how to fight terrorism; the proliferation of nuclear weapons and technology; how to restore the good name of democracy; how to deal with the negative aspects of globalization; and how to handle global warming, energy and the international food crisis. She described terrorists as "killers" and explained that by calling our fight against terrorists a "war on terrorism," we have given "killers" the name of "warriors" and in doing so, have also given them a dangerous mythical status they do not deserve. The Iraq War, Albright believes, will go down as the greatest foreign policy disaster in American history. She criticized not only the Bush administration's unilateral, but also their "uni-dimensional" approach to foreign policy, one that focuses on one region while ignoring crises in the rest of the world from the brutal dictatorship of Mugabe in Zimbabwe to the menace of Chavez in Venezuela. The next administration, she asserted, needs, "on day one to begin on issues involving Israel and Palestine." With two "hot wars" on our hands, Albright described the kind of diplomacy the U.S. must pursue. Although many perceive diplomacy as a chess match, she said it is more like billiards where one ball hits another in a chain reaction. Rather than one clear move at a time, diplomacy involves many pieces moving at once.
"I want a 21st century president," Albright said, "Barack Obama is the man who is looking forward...with an integrated approach that is principled."
Without calling the Republican vice presidential nominee by name, Albright was loudly applauded when she said to the nearly all-women audience, "I am not going to vote for plumbing," dismissing the idea that Hillary Clinton's supporters would shift to Sarah Palin simply because they are both women. Reminding her rapt audience of what's at stake, Albright explained, "This election is vital to the composition of the [Supreme] Court." To further emphasize her point, she described sitting with Hillary Clinton at Invesco Field when Obama gave his acceptance speech and how at the end of the evening, Hillary enthusiastically encouraged everyone to work for Obama, telling them, "Go out there! We need a new team [in the White House]."
If the McCain team believes the pro-life, anti-gun control Palin will attract the soccer moms in suburban Philadelphia, they need to remember that the savvy women in the Philadelphia suburbs are largely pro-choice and pro-gun control. To paraphrase Albright, they are not going to vote their plumbing; rather they will vote on the issues pertinent to their lives.
Popular in the Community