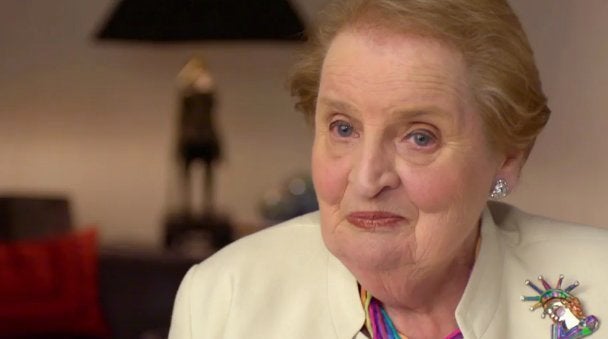 As I placed Madeleine Albright's book in her hands at the book signing, as many before me just had, she looked up and said, "Who should I make this out to?" "Rania," I said. She paused: "I once had a student by that name..." I smiled. "That's was me..." Her face lit up and we briefly reconnected.
In a recent interview, Former U.S. Secretary of State Madeleine Albright reminisced about what she had aspired to teach women at Georgetown University in the 1980s. I was fortunate to be one of those students -- working at that time on a Master's of Science in Foreign Service degree. I often reflect on what she taught me and how it has guided me throughout my career.

Know what you are talking about
Secretary Albright taught us that we HAD to know, in detail, the subject matter of any work we were or would be involved in. She shared the level of preparation she had undertaken throughout her career. She talked about how sometimes women are "tested" by the press, colleagues, negotiating partners and even other women.
In class, Ms. Albright was very tough on us. She asked the most detailed questions about weapons, foreign policy decisions, historical negotiations and current events. As I read recent reviews from students of her current courses, I smiled in recognition: "she expects a lot... the course is very challenging... the faint-hearted need not apply, many hyper-intelligent A students crumble ..."
Hold your tongue, miss the opportunity
Ms. Albright pushed us to speak up in class -- right in the middle of a discussion -- rather than thinking we should wait to make our point at a later time, or "when the time was right." She taught us to listen carefully, to look for the opportunity to interject our perspective and to interrupt if necessary to make sure that our opinion or information was part of the discussion.
What we have come to clearly know now, Ms. Albright knew well back then: Self-promotion and asking for what you want and need are among the most essential keys to a woman's advancement and success. She not only strongly encouraged us to campaign for ourselves, but she gracefully modeled how to effectively do so.
I graduated from Georgetown in 1984, and since then have taken these lessons and shared them with and modeled them for women globally. The wisdom of Madeleine Albright reminds us to be well prepared with facts, figures and details; to make known our opinions or perspectives on matters related to our work; to listen carefully during discussions and look for opportunities to interject or interrupt; not to just raise our hand waiting patiently, hoping someone will ask for our opinion and lastly, to know what we want in a meeting, for our career and in business.
What I learned from Madeleine Albright was to speak up and ask for it. Try it. You'll be delighted with the results.
Related
Popular in the Community