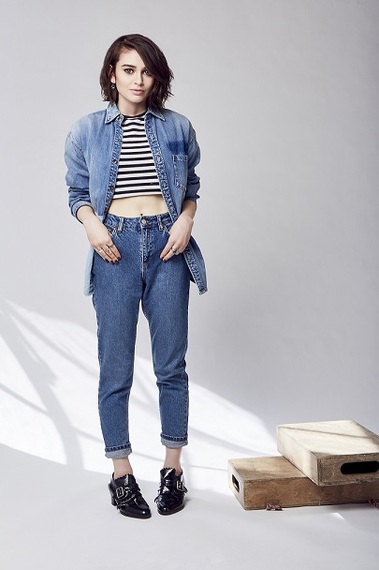 View the trailer for Madeleine's latest film, Holidays, with Kevin Smith and Seth Green.
Madeleine Coghlan's Instagram.
You know what I like about actress Madeleine Coghlan? She's honest about her age.
Oftentime I see actors who give an age range, instead of their exact age, because they think that if they give an exact age, they'll be pigeonholed.
Well, not Madeleine. This 20 year-old girl is a breath of fresh air.
Madeleine got her start in acting at a young age when she attended an audition with her mom, also a Hollywood actress. She was booked on a commercial at five years old and continued to audition and perform in stage productions throughout middle school and high school. Since graduating from high school, she has continued to pursue her passion full time and can be seen in shows such as Nickelodeon's Wendell and Vinnie and the famed ABC series Castle.
Madeleine is currently studying acting at Groundlings in Los Angeles and occasionally takes classes at UCB. She loves comedy and drama equally and alongside acting, loves to develop and write characters.
You were recently at the 2016 Tribeca film festival. Tell us all about it.
Tribeca was amazing! The trip really was a whirlwind and each day was packed with different interviews and events. There was a fun pre-party before the premiere where we got to reunite with the cast and crew from the different segments of the film. The day after the premiere, we got to shoot at the Getty Images Portrait Studio for Entertainment Weekly and that was pretty exciting as well, because there are so many iconic photos from that studio.
Your newest venture is the host of Radio Disney's skit show Maddy and Chase. How did you become involved in this project? What can we expect?
A while ago, my friend Chase and I wrote some sketches and put them up on YouTube. It was mostly just our friends who would tune in, but we were lucky enough to get the opportunity to come in to Radio Disney and create a similar style of show there. We're working with with an amazing team of talented people who help us develop and produce this content. We're going to be releasing an improv based video each week, doing skits with different guests, playing characters. It's fun to be involved in something so different from Holidays. I love switching back and forth between comedy and drama.
You're a vegan, correct? A lot of people mix up 'vegan' with 'vegetarian.' Please explain the difference and why you chose to be a vegan.
I am a vegan, which means I don't eat any animals or animal byproducts like dairy or eggs. My mom raised me a vegetarian so I grew up with an understanding of the cruelties in the meat industry. As I got older, I became curious about the dairy/egg industries as well, and once I found out more about the inhumane practices, I decided to go vegan. After I went vegan, I started cooking more as well, and I'm lucky living in LA, there are so many amazing vegan restaurants.
Do you have any siblings?
I have a younger brother who is 15.
For your movie Holidays, you filmed shots in a public pool. Did you get extra pay for getting wet? Where was the pool?
I didn't get extra pay for getting wet, but I really enjoyed it. I worked with a stunt coordinator who helped me get comfortable with the diving and the underwater scenes. It was like getting a mini scuba lesson during filming.
Give us some family history.
My dad is from Australia, and the name "Coghlan," is Irish. I'm not named after anyone, but my parents wanted to give me an old fashioned name. I don't think they realized how perfect that would be, as they ended up with a daughter who fancies anything vintage.
You're an animal lover and have a St. Bernard named Dorothy. Who takes care of her while you're working 10+ hours a day? Is she named after Dorothy from the Wizard of Oz? Why a St. Bernard? Is she a rescue?
Dorothy is my girl! She is a 115-pound Saint Bernard who sports a pronounced under bite and loves to swim. She is the beauty and the beast. I love going on hikes with her whenever I can and yes, she is a rescue! When I was little, I always wanted a Saint Bernard because I knew they were rescue dogs and I wanted a big dog to protect me. I felt like naming her after Dorothy from the Wizard of Oz because it was one of my favorite movies as a kid. I went as Dorothy for Halloween maybe six years in a row, and to this day, I still have a pair of ruby slippers in my size.
What's the best and worst memory you have of your childhood?
I have a lot of great memories from my childhood but I think one of the best has to be when I ended up on the same flight to Australia as my favorite childhood music group "The Wiggles." I think I still classify it as one of the biggest thrills of my life. As for the worst memory, I think it was when another dog brutally attacked my dog. She had to spend almost a week in ICU and we didn't know if she was going to make it. She's a fighter though and she's as fearless as ever.
What are you addicted to?
I would say I'm addicted to working and being busy. I can get a little frantic when I have downtime, even if it's only an hour out of the day. Cooking and working out are good outlets for me to channel my stress and energy, and I know I need to get better with being able to just relax, but it's definitely tough for me.
Do you have a significant other?
I don't have a significant other unless you count Dorothy. I enjoy spending time with interesting people who are honest and can make me laugh. In any relationship, I think you should be able to learn from your partner. I like being around people who are versed in a variety of different subjects, and who also don't mind me constantly dressing in theme.
Anything else you'd like to say?
As an animal lover, I'm a big supporter of NKLA, which stand for No Kill Los Angeles. It's an organization that is working to end the killing of animals in shelters.
REAL LIFE. REAL NEWS. REAL VOICES.
Help us tell more of the stories that matter from voices that too often remain unheard.