When we last checked in on the Democratic primary race in the 5th Illinois House District, incumbent Ken Dunkin had received $240,000 in campaign help from a Super PAC connected to Gov. Bruce Rauner. His opponent, Juliana Stratton, had received $70,600 in direct donations, mostly from unions.
In a race that's become a test case in the Michael Madigan vs. Bruce Rauner proxy war over unions and the political balance of the Illinois House, the $240,000 spent on Dunkin's behalf by the IllinoisGO committee -- which, as a Super PAC, can't coordinate with or donate directly to a candidate -- meant that campaign contribution limits no longer applied in the Dunkin-Stratton race.
That was on Jan. 31. We should have waited a day to run those numbers.
On Feb. 1, Dunkin, a seven-term incumbent who angered his fellow Democrats last summer and fall by not supporting two bills important to them, received a $500,000 donation from the Illinois Opportunity Project, which describes itself as "an independent research and public policy enterprise that promotes legislative solutions in advance of free markets and free minds."
What's a conservative, Libertarian group doing donating to a traditionally liberal Democrat like Dunkin?
"IOP decided that a substantial financial commitment is warranted to support State Rep. Ken Dunkin against the onslaught he is facing from House Speaker Mike Madigan and his public sector union allies in the March primary election," the IOP wrote on its website.
The Illinois Opportunity Project is not a Super PAC. It's a 501(c)(4) non-profit, and is not prohibited from direct donations to candidates. And because the IllinoisGO Super Pac had spent more than $100,000 in support of Dunkin, the state's $10,800 limit on corporate donations to candidates no longer applied. (To complicate things, IllinoisGO has a companion 501(c)(4) that can donate directly to candidates.)
Stratton, meanwhile, also benefited handsomely from the lifting of contribution limits. On Jan. 31, she had received $70,600 in union support. Since then, campaign records show nine donations totaling more than $586,000 for a total campaign fund of $715,000.
The largest donation was $138,900 from AFSCME Council 31's political action committee. Dunkin's non-vote on a bill to limit Rauner's power in contract negotiations with AFSCME Council 31 was among the actions that earned Dunkin the enmity of Madigan and many of his fellow Democrats.


The campaign funds of Rep. Ken Dunkin, D-Chicago, and his primary challenger, Juliana Stratton, recorded some of the highest donations of the 30 days before Feb. 24, 2016. (IllinoisSunshine.org)
Under Illinois' campaign contribution limits law, union donations to candidates normally are limited to $10,800.
Another front on the Rauner-Madigan proxy battle is in the downstate 50th Illinois Senate District, which includes part of Springfield and stretches south and west to the Mississippi River.
Incumbent Sen. Sam McCann, R-Plainview, angered Rauner in August when he was the lone Republican to vote in support of a bill to weaken Rauner's position in negotiating with AFSCME Council 31. (It was the same bill that Dunkin refused to support in the House.) McCann defended his vote, saying he has more public union members in his district than any other state senator.
Rauner has endorsed McCann's challenger, Bryce Benton. Rauner's Super PAC, Turnaround Illinois, in January gave $1,818,000 to Liberty Principles PAC, which reports having spent more than $1.35 million in support of Benton.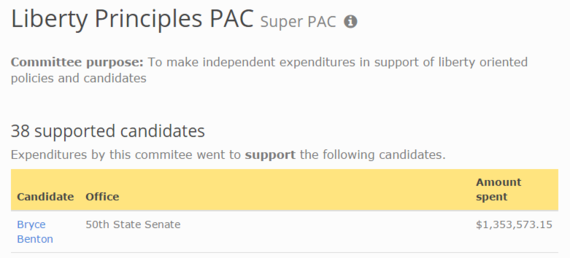 Liberty Principles PAC has spent more than $1.35 million on behalf of Bryce Benton in the 50th Senate District Republican primary. (IllinoisSunshine.org)
There's a connection between the support for Dunkin and Benton: Dan Proft, a conservative talk radio host and 2010 Republican gubernatorial candidate, is chairman of Liberty Principles PAC (which is providing heavy support to Republican Benton) and co-founder of the Illinois Opportunity Project (which gave $500,000 to Democrat Dunkin).
Unions have gotten behind McCann, though their donations don't compare to the support Liberty Principles PAC has given Benton. McCann reports $337,000 on hand, $227,000 of which has come since Jan. 1 and mostly from unions.
Last week, the campaign finance website Illinois Sunshine summed up the money situation through mid-February:
Just one month before the March 15th Illinois Primary, both political parties in Illinois have amassed major war chests to aid their goals of upsetting (or defending) the balance of power in state government. The Democratic side, consisting of Senate, House, Leadership, and Party Committees, currently holds over $34 Million. Illinois Republican funds, consisting of those plus the Governor's committee, currently have over $28 Million ready to spend. The top three Super PACs in the state, each with an individual balance of over $1 Million, have a total of $16 Million in the bank.

This all amounts to nearly $80 Million in cash on hand between both parties. This is in addition to the $17 Million already spent in the first month and a half of 2016.
And we're not even in the stretch run to the March 15 primary yet.
The Dunkin-Stratton race already has broken the record for spending in a primary. As the Rauner-Madigan proxy war moves to the general election season after March 15, expect to see numbers like you've never seen in Statehouse campaigns.
Be sure to bookmark Illinois Sunshine and keep an eye on the money in your local races. You can't control the media storm headed your way, but you should at least know who's paying for it.

Related
Popular in the Community