LISA By now you know that Lisa Madigan will seek a fourth term as attorney general rather than challenging Pat Quinn for governor. Perhaps most interesting in all this was her stated reason for not seeking the state's top office: "I feel strongly that the state would not be well served by having a Governor and Speaker of the House from the same family and have never planned to run for Governor if that would be the case." Read more here.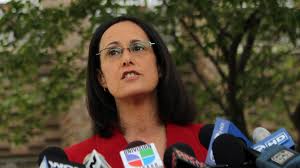 FALLOUT Madigan's decision means a whole lot to a whole lot of statewide races in 2014. For example, which office will Lt. Gov. Sheila Simon seek now that attorney general isn't open? And that's just one. There's lots more here.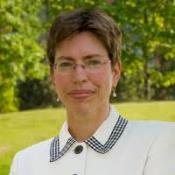 METRA MESS Political pressure on personnel decisions. A secret memo detailing alleged cronyism. A $700,000 payout to keep it secret. The writer of the memo all too willing to accept the payout and stay silent. All of this at a poorly run railroad that abuses its passengers with fare increases and bad service. There's so much cause for outrage in the Metra scandal that we don't know where to start. But we do anyway. Every taxpayer in Illinois helps fund Metra and needs to be aware of what's going on there. Find out here.
STOP IT Tired of your tax dollars supporting secret deals and a privileged class of the politically connected? Don't put up with it. Join us to demand an end to cronyism.
QUINN WINS Many lawmakers last week derided Gov. Pat Quinn's suspension of their paychecks as a stunt. But a poll shows Quinn's move was a big hit with voters. It was exactly the kind of action on which Quinn has built his political career, writes Capitol Fax publisher Rich Miller. He breaks down Quinn's big score in this week's column.
ILLINOIS INTEGRITY Illinois ranks high on the Better Government Association's new Integrity Index, but don't let that fool you, says BGA President Andy Shaw. "The states with the worst reputations and sorriest histories of political corruption face strong demand to clean up their acts, so they pass new laws and strengthen old ones to create a framework of integrity," Shaw says. "But just because laws are put on the books doesn't guarantee that states are enforcing them effectively to prevent wrongdoing from occurring." Illinois passed a ton of new campaign and ethics laws during and after the Blagojevich years, and it ranks third in the nation for integrity. This is a bit like getting an A in effort in ethics class for Illinois. It's a great study and you can find out more here.
TWEET OF THE DAY As noted here before, some of the best Twitter accounts are the fake ones. Here's one from this morning from @PatQuinnsBrain reacting to yesterday's news from Lisa Madigan: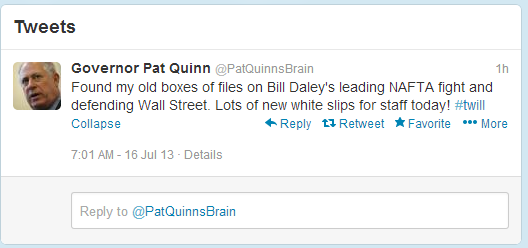 7 TO KNOW We scan the news so you don't have to. Here are the top news stories in Illinois reform and political news today. You can always find links to the day's news from around Illinois in the Daily Tip-Off section of our website. Here are today's top picks:
7. Imprisoned former governor Rod Blagojevich's legal team filed an appeal of his conviction and prison sentence. (Chicago Tribune)
6. Comptroller Judy Baar Topinka said the state's backlog of unpaid bills is less than it was one year ago but is expected to grow significantly. (Rockford Register Star)
5. Ousted Metra CEO may finally testify to the Regional Transportation Authority. (Crain's Chicago Business)
4. Metra is hiding information originally on the memo that was written by ex-CEO Alex Clifford. (Daily Herald)
3. A political newcomer emerged as the first GOP challenger for the 2014 race against U.S. Sen. Dick Durbin. (Chicago Tribune)
2. A petition drive is under way to get politics out of the legislative district-mapping process. (Chicago Sun-Times)
1. Two Madigans holding two of the state's three most powerful positions was too much. But was Lisa the right Madigan to step away from one of those positions? (Chicago Tribune)
REAL LIFE. REAL NEWS. REAL VOICES.
Help us tell more of the stories that matter from voices that too often remain unheard.