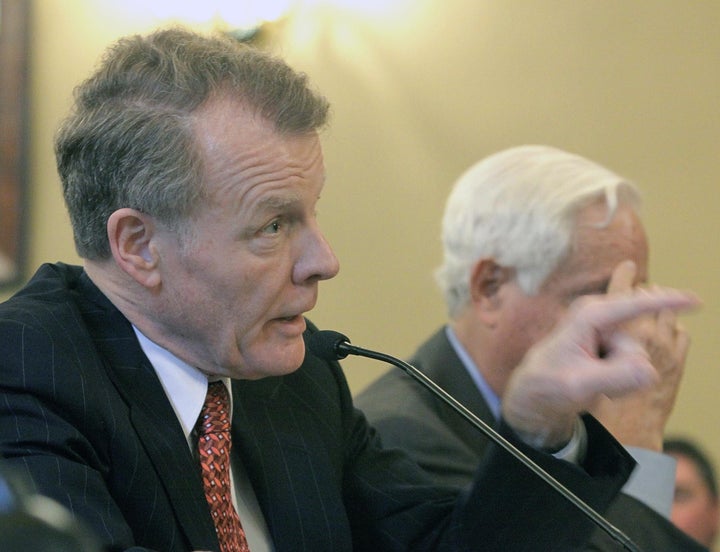 A Chicago Tribune investigation revealed Wednesday that House Speaker Michael Madigan used his influence to gain admission for relatives of his campaign donors at the University of Illinois.
According to the report, Madigan pressed the university to admit 28 students over three years. 23 were admitted, including ten who had been turned down or were likely to be turned down. Seven students came off the wait list after receiving Madigan's support.
In a statement released to the Tribune, Madigan repeated his assertion that he helped students he felt deserved admission "without regard or consideration as to any political relationships or campaign contributions."
Steven Yonover has donated $51,800 to the Democratic Party of Illinois, which Madigan chairs, since 1998. He has also given over $47,000 to Madigan's campaign coffers and those of his daughter, Attorney General Lisa Madigan.
In 2008 and 2009, three of Yonover's relatives were admitted to the University of Illinois. One of them, reports the Trib, "had the lowest possible rating given by the admissions office."
Another "Madigan request" came through on behalf of Steven Hensley, a longtime supporter who circulated petitions for Madigan's campaigns. From 1997 to 2009, Hensley gave $20,375 to the Madigan machine. When one of Hensley's relatives was listed as an alternate at a University of Illinois-Chicago graduate program, a push from Madigan got the relative admitted.
What's more, Hensley's relative received more than $32,000 in taxpayer dollars as a scholarship from the speaker himself.
The Tribune investigation is a follow-up on a major clout scandal the paper broke in May 2009. That story, entitled "Clout Goes To College," detailed a so-called "clout list" kept by the university that denoted applicants who were supported by influential politicians.
The most notorious case at the time was that of a relative of Tony Rezko, the now-infamous real estate developer who was convicted of having corrupt ties to ex-Governor Rod Blagojevich. The 2009 investigation revealed that Blagojevich lobbied university president B. Joseph White on behalf of Rezko's relative, who was then admitted despite the admissions office's plan to reject him for mediocre grades and low ACT scores.
That story also mentioned Madigan's involvement in the clout lists. But today's piece reveals for the first time the specific students Madigan lobbied for, and where they stood on the admissions totem pole before and after his involvement.
Rich Miller, author of the Capitol Fax blog, expressed some doubt over how serious the Tribune's allegations were:
Madigan's personal campaign committee has raised over $12.4 million since January of 2002, which appears to be the earliest year of contributions in the story. So, the U of I contris would be less than one percent of the total amount he raised in just that one fund over the years.

"Still," Miller admits, "the appearance isn't good."
Related
Popular in the Community