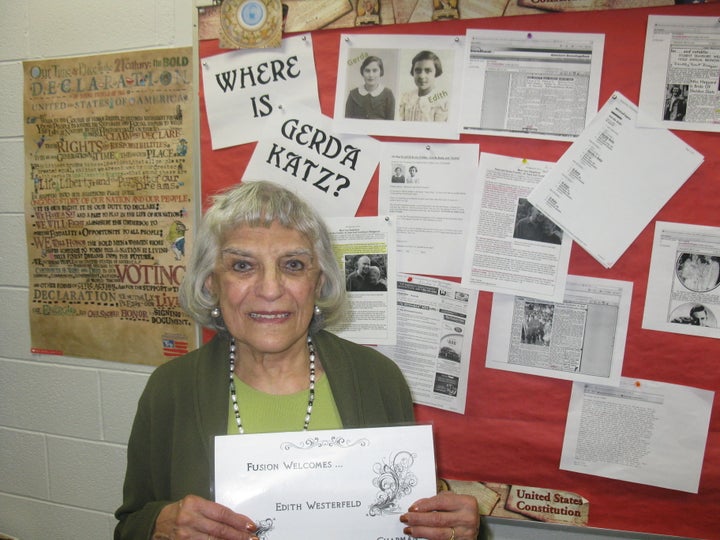 While most students learn about Nazi Germany through books and movies, Naperville, Ill. middle schoolers have done real detective work to reunite two Holocaust survivors after 73 years.
Madison Junior High eighth graders used Google, Facebook and databases of newspapers to bring together Edith Westerfeld of Skokie, Ill. and Gerda Katz of Seattle. The two met on a 10-day voyage fleeing Germany for the U.S., according to the Chicago Tribune.
The students learned about the two women's strong bond after Westerfeld's daughter Fern Schumer Chapman came to speak at the school, according to the Daily Herald.
Chapman says she had tried to find Katz but hadn't had luck. That's when Jessica Deutsch stood up and said:
And it was on, with students Casey Smith and Kyle Jensen leading the research effort. The students found a community newsletter in Seattle about Katz and her 60th wedding anniversary. They emailed, called her and got word that she'd be thrilled to meet Westerfeld, according to the Tribune.
Catie O'Boyle, social science chair who helped with the research, tells the Herald she was inspired by both the story and the students' persistence.
"But I was just as moved when I went back to my classroom full of 14-year-old social networkers who still believe nothing is impossible."
Katz and Westerfeld are finalizing plans to meet in Seattle. At a school reception Friday, Westerfield thanked the middle schoolers with tears in her eyes, the Herald reports.
"We've tried this but we were not successful in finding her. Maybe we would have in the future but you did it overnight with your modern technology that an old lady like me doesn't have."
Calling all HuffPost superfans!
Sign up for membership to become a founding member and help shape HuffPost's next chapter