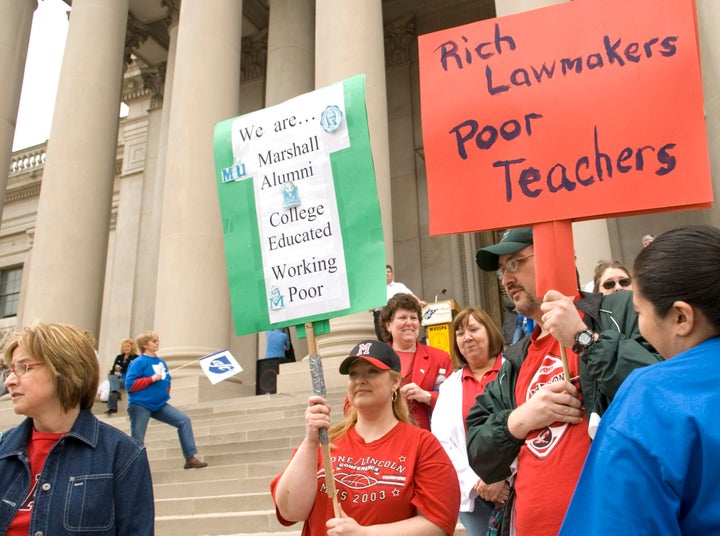 After standing at the forefront of massive, unprecedented protests over collective bargaining and workers' rights on their home turf earlier this year, members of the Madison Teachers Union and other labor leaders will join forces with the Chicago Teachers Union in a pre-Labor Day, pro-teachers rally Wednesday.
NBC Chicago reports that the union will be joined by several neighbors to the north including Madison Teachers Union President Peggy Coyne, Madison Firefighters Union President Joe Conway and Building Trade South Central Wisconsin Executive Director Eric J. Cobb and others in their Southeast Side event Wednesday afternoon.
"To that we say thanks but no thanks," Lewis continued in a statement. "Rather than negotiating through the press and setting up political committees, CPS needs to sit down with teachers and paraprofessionals who are in our schools every day and come up with a better plan. Other school districts have found ways to lengthen the school days by good planning, and we welcome doing that as an interim step while we negotiate."
"Every child, every year who's in the Chicago Public School system is cheated 10,000 minutes compared to the national average. … Just think about that accumulating over time," Emanuel said, as reported by the Sun-Times. "I cannot wait for a high-class debate and discussion and agreement about, 'Is it more math? Is it more history?' ... That is a high-class debate that we should have and a discussion and an agreement."
While the battle over wages and collective bargaining rights continues, the CTU did agree with Brizard about implementing a more rigorous curriculum for the 2012-2013 school year, the Chicago Tribune reports. During a Tuesday luncheon, Brizard announced plans to use the Common Core State Standards curriculum in Chicago Public Schools. The national initiative aims to improve performance by "favoring comprehension and analysis over rote memorization," the paper reports.
Though the state of Illinois had already been using the Common Core curriculum, CPS just got on board.
Popular in the Community