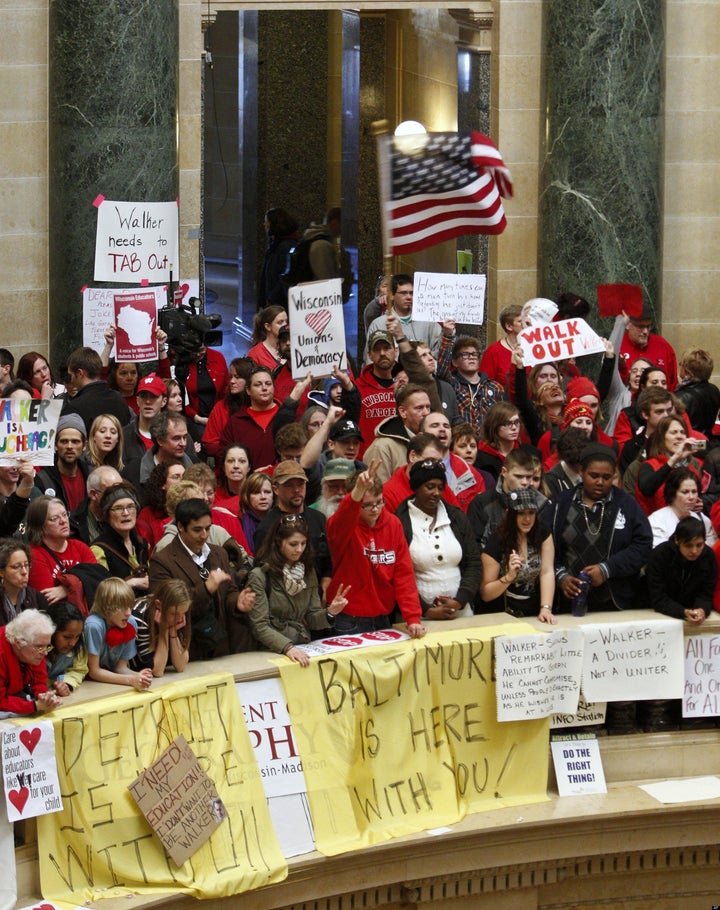 MADISON, WIS -- For the past ten days, tens of thousands of union protesters have swarmed the state capitol building in Madison, Wis. to protest Republican Governor Scott Walker's proposal to yank collective bargaining rights from some public-sector unions.
But it isn't just students from the University of Wisconsin protesting alongside the nurses, teachers, and trash collectors Walker has directly targeted. Police officers and firefighters have joined the demonstrations even though Walker exempted them from his bill, and private sector workers from near and far have entered the fray as well. They see Walker's proposal not as an attempt to save the state money but as an attack on unions.
"Union workers support union workers," said Tom O'Grady, a 60-year-old sheet metal worker from Local 565 in Sun Prairie, a Madison suburb. O'Grady told HuffPost the same thing that many other union workers did: If they don't stick up for public union workers today, they'll lose their own bargaining rights as private union workers tomorrow. "Walker screwed up," O'Grady said. "He put magnets in our shoulders."
Walker's comments during a recorded prank call suggest the Republican governor is skeptical of such union solidarity.
"I don't normally tell people to read the New York Times, but the front page of the New York Times has got a great story, one of these unbelievable moments of true journalism, what it's supposed to be objective journalism," Walker said to his prank-caller, who he thought was a billionaire campaign donor. Walker explained that the Times left Madison and filed its story from Janesville, about 40 miles southeast of the capital.
"The lead on this story is about a guy who was laid off two years ago, he'd been laid off twice by GM, who points out that everybody else in his town has had to sacrifice except for all these public employees, and it's about damn time that they do and he supports me," Walker continued. "And they had a bartender, and they had every stereotypical blue collar worker type they interviewed, and the only ones that weren't with us were people who were either a public employee or married to a public employee."
But this college town has been awash with stereotypical blue-collar workers who are not public employees or married to public employees, and they nevertheless think Walker's union proposal is the pits. Almost every wall inside the capitol building is plastered with anti-Walker posters and signs, and the rotunda has been filled with protesters non-stop. The sound of drums and chanting reverberates throughout the entire building. Scores of police officers watch over the scene, almost all of them wearing earplugs. The officers seem to smile at everyone who meets their eyes.
The protesters haven't been bused in from afar. Gary Langley, a 56-year-old electrical engineer who works at the Concourse Hotel in Madison, told HuffPost he walked to the capitol building to protest on Monday, his day off, after seeing a flier posted at work.
"I support my union brothers and sisters," said Langley, who said he's a member of the Workers United Local 66. "What bothers me most is the teachers. Wisconsin is number two in SAT scores. States without collective bargaining for teachers are the bottom five."
Langley said the collective bargaining fight makes him think of his 30-year-old son. "I put him through college. He had great teachers," he said. "I want our students to have the best teachers they can possibly have."
On Thursday morning, a group of 20 iron workers from around Wisconsin and the Midwest, all of them wearing hardhats, marched up to the state capitol on Thursday and scoffed at the idea that they were not directly affected by Walker's proposal.
"You can't target one group and exempt another group, because we're all tied together through a union," said Rick Kraft, 50, an iron worker with the Local 98 in Cedar Rapids, Iowa. He said iron workers had been protesting in Madison since last Tuesday. "We're all union protesters."
O'Grady said he was moved by the sight of huge numbers of people showing their support, particularly some of the young folks crashing at the capitol overnight.
"It's humbling," he said. "We see all these kids, they may never have a union job, and they're here every night for us? It's very humbling."
Popular in the Community