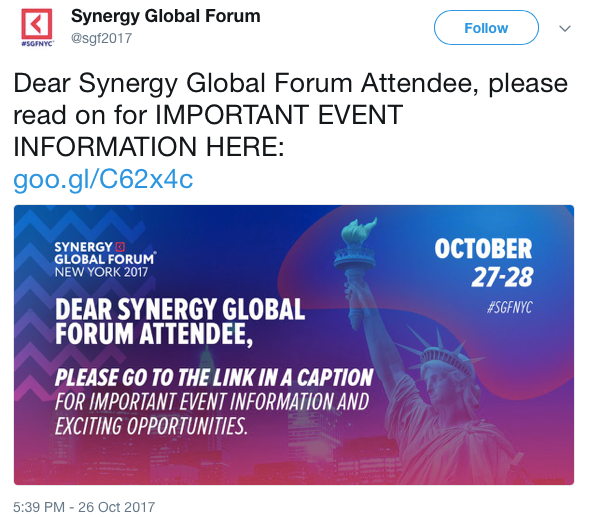 (Note: This article has been rewritten three times due to both sides continuing to offer conflicting information)
The Synergy Forum, a two-day conference being held this weekend at the Theater at Madison Square Garden and featuring such luminaries as Sir Richard Branson, former GE chairman Jack Welch, Wikipedia founder Jimmy Wales, Wolf of Wall Street's Jordan Belfort, and actress/philanthropist Robin Wright, bills itself as "A Master Class in Disruption." That's apparently exactly what the event attendees got, as the entire event was botched beyond belief, from start to finish.
Aimed at forming a global conscience of CEO's and executives committed to clean/green energy solutions, as well as creating a better workplace environment across the board, the event was thrown out of whack before it even began, as hundreds of ticket holders, some of whom paid up to ten thousand dollars for a V.I.P. package, were unexpectedly forced to wait in line for up to an hour and a half in order to be re-ticketed due to a few rows being removed in the Theater by event organizers.
Actually, event organizers claim it was MSG who removed the rows just days prior, claiming they have no control over their 'renovations,' while MSG says the organizers removed the seats a week before.
In any case, whether it was a day before or a week before, the only notification sent to attendees was a tweet telling them to "get there early, as configuration had changed." No emails or texts were sent directly to ticket holders alerting them of a potential long wait.
Several friends in attendance (they paid around $400 for a standard ticket - a 50% discount) expressed their fury to me in a barrage of texts, as they encountered one ridiculous situation after another; i.e., ushers who had no idea when anything was starting/ending, and speakers not listed on the updated agenda, while ones scheduled to appear, like Mr. Belfort, spoke much later than their scheduled time.
Meanwhile, after waiting an hour and a half to get inside, and being forced to dump their Starbucks at the entrance, as well as missing the opening of the conference, my friends arrived to find people already sitting in their seats. At which point the ushers told them to "Just sit anywhere."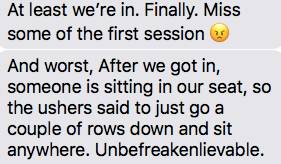 Another reached out and said his nightmare began before the event even started, as the event site sent him someone else's ticket and he was lost when it came to looking for the event timeline.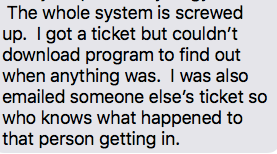 Still another commented on the lack of support by the event organizers.

And still another commented on the unnecessary waste of space that forced the re-ticketing in the first place.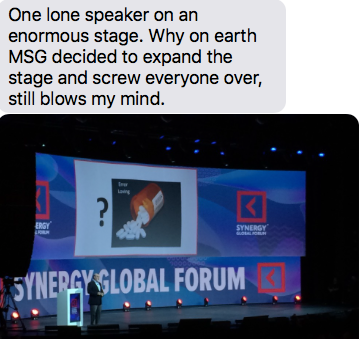 To be fair, MSG reps say they had nothing to do with the event and that the entire situation was caused by the event's organizers. They released this statement:
"The Madison Square Garden Company hosts hundreds of events each year without incident. MSG did not produce the Synergy Global Forum or play any role in its marketing, and is not responsible for issues resulting from the promoter's management of the event or the promoter's failure to follow pre-agreed ticketing procedures."
On the other hand, Synergy reps claim MSG was responsible for "ushers falling asleep, disappearing, allowing people to sit anywhere, etc."
The back and forth has been quite surprising, as each side continues to blame the other for what ultimately amounted in a bunch of conference-goers getting screwed.
Keep in mind, this is a summit featuring the best of the global thinkers.
To the players on both sides: You're producing an event featuring over a dozen of the world's brightest minds, yet you can't figure out how to work together to problem solve? Or, simply accept responsibility for your screw-ups?
Event organizers should pay very close attention to the speakers (whomever shows up, that is) over the next two days, as they seem to be in need of this seminar more than the attendees. Seems a lot of these issues could have been handled better by first year biz majors at a school that advertises on the subway.
Before we build flying cars that run on dog poop, how about we figure out a way to let those planning on attending an event know if there are any unexpected issues they need to be aware of? And, at the very least, if all else fails, how about a simple apology?
Popular in the Community