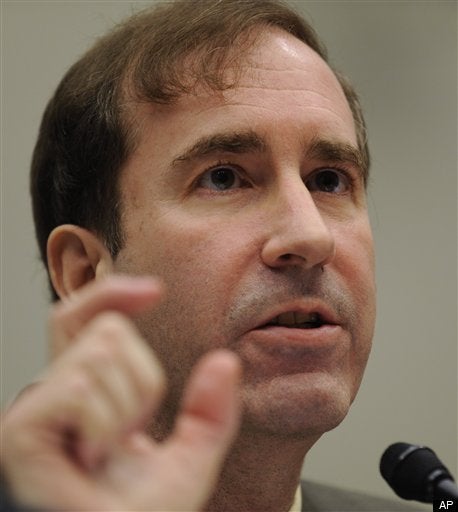 In an explosive new book, Bernie Madoff whistleblower Harry Markopolos tells the inside story of how he uncovered the $65 billion fraud, claims that he exposed State Street's alleged fraud of pension funds and admits that he considered the idea of killing Madoff if he was ever threatened by the Ponzi schemer.
The mild-mannered fraud investigator's new book, "No One Would Listen", is set for release next week, with a foreword by short-seller and Greenlight Capital president David Einhorn who calls Markopolos a "hero."
Super-Whistleblower's Other Cases
Or you can just call Markopolos the super-whistleblower. Among the revelations in the book, he writes that the Madoff case is just the tip of the iceberg of his multiple probes of financial shenanigans:
"The very first whistleblower case that I developed became the first of my cases to be unsealed" -- when California's attorney general, Jerry Brown, charged the State Street Corporation last October with a $56.6 million fraud against the state's two largest pension funds, announcing that he hoped to receive $200 million in overcharges and penalties.
The amount was only the tip of what my team and I believe was nothing more than a fraudulent iceberg. Basically, our complaint alleged that the bank has executed more than $35 billion in currency trades for the pension systems since 2001, and what foreign exchange traders were doing was falsely claiming that buy trade orders were made at or at near the highest exchange rates of that particular day, while sell orders were executed at or near the lowest exchange rates of the day, allowing the bank to pocket the difference. It remains to be seen whether the bank will choose to go to a jury trial to prove its innocence or will settle the matter before it goes to trial.
Asked to confirm Markoplos's claims, the California AG's office sent the following statement to Huffington Post:
"A qui tam case almost always involves a significant number of people who work behind the scenes to develop the case and expose the fraud. Because of the importance of protecting whistleblowers, it's our policy to not disclose or discuss specific or possible whistleblowers in a case."
Markopolos reveals the multitude of other cases he's working on, some of which involve health care fraud (he says the health care industry "makes Wall Street look honest"):
Truthfully, my career aspiration is to prove that a drug with more than a billion dollars in annual sales is actually killing Americans and citizens across the globe, that in the clinical trials the dangers of this drug were revealed, and that the executives knew about the dangers and went ahead and marketed it anyway. I've been working on this case for a few years now without much success, but I hope someday I'll be able to find a key witness and get this case filed with the Department of Justice.
Under Pressure: 'I Was Going to Kill Him'
Markopolos wields a bludgeon when it comes to the Securities and Exchange Commission, which effectively ignored his several complaints about Madoff, even after he provided the agency with detailed files of his findings. He goes into detail to describe his frustrating encounters with SEC employees, who usually didn't understand what he was talking about. And he even places ultimate blame with the agency if anything dangerous happened to him or Madoff:
In one of the book's most startling passages, Markopolos reveals that if he felt threatened, he was prepared to kill Madoff himself:
If he contacted me and threatened me, I was going to drive down to New York and take him out. At that point it would have come down to him or me; it was as simple as that. The government would have forced me into it by failing to do its job, and failing to protect me. In that situation I felt I had no other options. I was going to kill him.
One of the most shocking aspects of the book is how many people were warned or informed about Madoff's apparent fraud. The typically-circumspect Markopolos and his team actually told several reporters, investors and government officials about their suspicions.
Markopolos claims that at a lecture series at the JFK Library in Boston, he gave his Madoff file to then-New York Attorney General Eliot Spitzer, whom he greatly admired. "I decided to personally deliver my material to him." He took some odd precautions out of extreme paranoia about his identity being leaked to Madoff by printing our his entire submission, putting on gloves to avoid leaving any fingerprints and put his submission inside a 9X12 manila envelope inside another 10X13 envelope.

As Spitzer finished his speech, he handed the envelope to a library staff member and said, "Can you please make sure Mr. Spitzer gets this?... "Of course," she said. "It's important, I added."
That didn't go too far, writes Markopolos:
There is no evidence that Eliot Spitzer ever read my submission. I don't even know for sure that he got it. But he never acted on it. Maybe this was a tactical error on my part. I should have realized that few people take anonymous submissions seriously.

In an email to Huffington Post, Spitzer responds:
"I do not believe we ever received anything from him - - directly or indirectly. I wish we had. As he says, according to your email, he didn't give the documents to me. We followed up on every lead we received, and many of our cases began from anonymous tips."
SEC Response: Blank Looks, Coldly Polite
The SEC proved equally inept when it came to Markopolos's other cases. He claims he gave the agency 20 cases of market timing, which proved that various companies had stolen billions of dollars from investors. The SEC, Markopolos says, turned down all of them. One of his examples included a huge mutual fund that had monthly turnover percentages in its international equity funds of 1,100 to 1,300 percent range per month.
Markopolos is withering in his dismissal of just about every SEC employee whom he approached, including New York Branch Chief Meghan Cheung -- "the strongest impression that I got from her was that I was bothering her" -- and Assistant Director Doria Bachenheimer. The notable exception was Ed Manion in the SEC's Boston office who "was more determined to expose Bernie Madoff's scheme than I was," but was stymied by jurisdictional issues.
When he first brought his concerns -- and a voluminous file -- to the SEC in 2000, Grant Ward, the agency's New England regional director of enforcement, was woefully unprepared to handle the assignment, writes Markopolos. "As I explained this massive fraud to Ward, it very quickly became clear he didn't understand a single word I said after hello... if blank looks were dollar bills, I would have walked out of that room a rich man. He was coldly polite, but he didn't ask a single probing question. I never knew if that represented a lack of interest, a lack of comprehension, or simply a desire to go to lunch."
Even his buddy, Manion, was devastated with Ward's non-response. When Markopolos asked him if he thought Ward got it, Manion replied: "Not one single word of it."
For years, Marokopolos took extra precautions, out of concern for the safety of his family. He says he lived under a death sentence, terrified that his pursuit of Madoff was putting his family in jeopardy since billions of dollars were at stake, "and apparently some of that money belonged to the Russian mafia and the drug cartels - people who would kill to protect their investments... So I wouldn't start my car without first checking under the chassis and in the wheel wells. At night I walked away from shadows and I slept with a loaded gun nearby..."
He started carrying an lightweight Model 642 Smith and Wesson everywhere he went and asked the local police department in his small town of Whitman, Massachusetts for 24/7 protection.
In addition, his wife got her handgun license, he upgraded the alarm system around his house and imagined the ways that Madoff's hit men would kill him: "if Madoff wanted to kill me he was going to use professionals, and that meant a double-tap with two bullets to the back of my head."
Media Failure: Didn't Anyone Want a Pulitzer?
And Makropolos slams the media, expressing his incredulity at their lack of initiative. In early March of 2002, Markopolos claims he sent a copy of his SEC submission on Madoff to a senior reporter at Forbes but it was ignored. "The lack of serious interest was astonishing. I think the editors at Forbes, like so many others we were to encounter, were victims of their own hubris... In fact, I suspect that the only way he would have taken it less seriously was if it had been written in crayon. He was just too smart to recognize the truth."
Two reporters who did stories on Madoff were MARHedge reporter Mike Ocrant, who become an integral part of Makropolos's team and Barron's reporter Erin Arvedlund, who followed up on Ocrant's original story. But Markopolos was frustrated that both stories failed to make a ripple, especially at the SEC. And he attributes the agency's deafening silence to the fact that they never read the stories because they don't have a publication budget, "meaning staff members have to pay out of their own pockets for any industry material," including even the Wall Street Journal.
The Most Tragic of Ironies
The most poignant part of the book involves Markopolos's tragic failure to prevent French money manager Thierry de la Villehuchet from losing billions to Madoff -- and then committing suicide weeks after Madoff's arrest. In the bitterest of ironies, Markopolos first learned about Madoff in 2000 from de la Villehuchet, spurring Markopolos's decade-long obsession.
When the Frenchman bragged about how his funds were handled by Madoff, who guaranteed him an amazing one to two-percent monthly return, that raised eyebrows and Markopolos and his associates began to dig into Madoff.
Within minutes of scanning Madoff's numbers, Markopolos says he knew he was a fraud, telling one of his associates, "There's no way this is real. This is bogus". The more he looked, the more problems began emerging as "clearly as a red wagon in a field of snow... and that's when we began chasing Bernie Madoff," writes Markopolos, who has a fondness for colorful metaphors.
Markopolos and his associates repeatedly warned de la Villehuchet over the next eight years to no avail. At one point, when they warned him and questioned his faith in Madoff, de la Villehuchet said, "If I'm wrong... Then I'm a dead man," explaining that he had invested billions from Europe's wealthiest families in Madoff.
Markopolos says he wept on and off for three days when he learned that de la Villehuchet had slit his wrists with a boxcutter:
"And truthfully, I've never stopped wondering if I could have saved his life."
Related
Popular in the Community