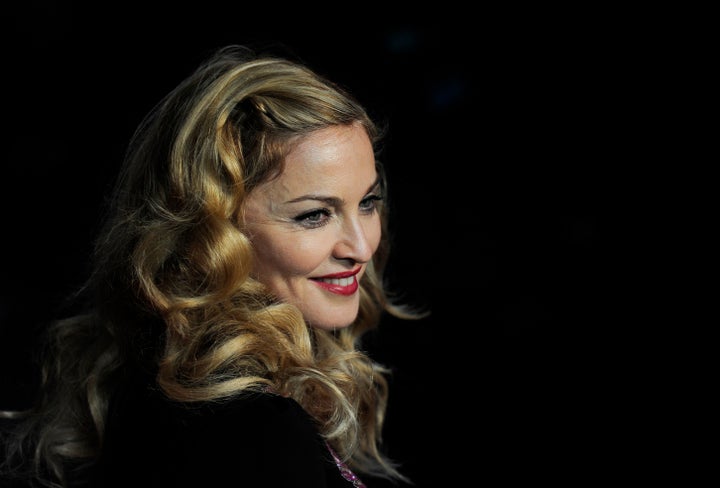 The turn of the year brings with it the usual slate of retrospective pieces -- notable stories of 2011 that, more often than not, were of a sensational variety: Osama Bin Laden, Penn State, Steve Jobs, the Arab Spring. The more circumscribed world of music and religion had its notable events too, even if the sensationalism was -- as might be expected -- relatively subdued. My pick for the top story of the year: Madonna and Opus Dei.
In April 2011, The Daily Mirror reported that Madonna -- sexually charged '80s popstar turned formidable performer, songwriter, director, author, businesswoman and philanthropist -- had been spied coming out of an Opus Dei building in London. While "not a fully paid-up member," it was nonetheless reported that she had "ditched" Kabbalah and "taken up" with "the secretive Catholic sect made famous in "The Da Vinci Code."
The coupling of Madonna and Opus Dei is an intriguing one that brings two seemingly irreconcilable public perceptions into stark juxtaposition. On one hand, we have Madonna -- baptized, confirmed and raised Catholic but better known for songs, videos and extravagant stage antics that are not exactly in sync with authentic Catholic teaching. On the other, we have Opus Dei -- seared into the popular imagination as a fiercely conservative Catholic organization that is alleged to quietly manipulate everything from politics, to world markets, to the inner workings of the Vatican itself.
But our public perceptions are only part of the story.
Reflecting on Madonna's career over the years, it is striking to note the extent to which her Catholic upbringing comes through in her work. "Papa Don't Preach" (1986), for example, was a markedly pro-life, pro-motherhood message at a time when such themes were not especially popular. It is also hard to miss that in her videos and live stagings, symbols of Catholic culture are often close at hand: a cross, a saint, a rosary. There is also, of course, her very name which bears witness to the Mother of God; the name of her oldest daughter (Lourdes) recalls the site of a famous Marian apparition.
Whatever twists and turns her life has taken, the Catholic identity that Madonna Louise Ciccone received from her parents as a child in Bay City, Mich., is never at a far remove. Detractors might point to famously scandalous productions such as "Like a Virgin" (1984) or, better still, "Like a Prayer" (1989). But I would suggest that part of the scandal lies in our assumptions and the baggage we bring to the songs. Indeed, a number of things we tend to read into them are not necessarily there. "Like a Virgin" is an interesting example. The song tells us of a first sexual experience but one that could have just as easily taken place within the blessed covenant of marriage as without it. Why assume the worst? After all, in one of her most famous performances, Madonna performed the song in a wedding dress!
A song such as "Like a Prayer" places an especially difficult question before us. Is she singing about the ecstasy of a heightened religious experience or an erotic sexual encounter? Perhaps it is both. But if Madonna is accused of blasphemy for "Like a Prayer," we might be pressed to level similar criticism at St. Teresa of Avila whose autobiography describes being touched by an angel in such sensual terms that the 17th-century sculptor Gian Lorenzo Bernini captured the moment vividly in orgasmic splendor. To go one further, we would at least have to reproach the composer of that exquisite dialogue between lovers that has come down to us as the Song of Songs -- some of the most beautifully sensual poetry in the bible.
All of that might seem well and good. But is Madonna "Catholic enough" for Opus Dei? The surprising answer is that she wouldn't have to be Catholic at all to share in what members of Opus Dei call "The Work." (Opus Dei is Latin for "The Work of God.") Distorted public perceptions of Opus Dei as an exclusive club with totalitarian aims bury the important fact that non-Catholics -- and even non-Christians -- can participate as "co-operators" in its activities. And contrary to "Da Vinci Code" fantasies, those activities focus primarily on forming a spiritual life that bears witness to Opus Dei's fundamental tenet -- the firm and unwavering conviction that every person is a child of God who is called to live out that divine filiation in the ordinary circumstances of everyday life.
For Madonna, living out her divine filiation would encompass the multitude of areas in her public life as a songwriter, performer, businesswoman and philanthropist, to be sure. But, more importantly, it would also include those areas largely hidden from our view -- her work as a mother, as a friend, and as a steward of the countless, seemingly insignificant things that God entrusts to each of His daughters and sons. (No cilice involved!) Madonna, St. Teresa of Avila, and the author of the Song of Songs may not have very much in common but, in a special and timeless way, their divine filiation unites them to one another and to each one of us as well. Therein lies the best-kept "secret" of Opus Dei.
So there it is; my pick for top "music and religion" story for 2011. In addition to retrospective pieces, the turn of a new year also brings with it another time-honored tradition: resolutions. It thus seems fitting to close with a firm resolution to pray for Madonna, her family and indeed, for the galaxy of stars out there who, we often forget, are real people and -- like each one of us -- children of God.
Madonna: if you are reading, please pray for me too.
Calling all HuffPost superfans!
Sign up for membership to become a founding member and help shape HuffPost's next chapter