 The AP reports that Madonna started her Thursday night show in Denver, Colo. with a bit of weaponry, brandishing fake guns on stage in a state that was roiled by the Aurora theater shooting this past July.
UPDATE: The AP has more reporting from Denver. Liz Rosenberg, Madonna's publicist, said the set piece could not be altered because it was too integral to the show. "It's like taking out the third act of Hamlet," Rosenberg said. "Madonna does not make things pretty and tie them up with a bow."
Audience member reactions seem pretty severe:
Madonna's second act at her show Thursday night at the Pepsi Center in Denver featured the 54-year-old singer using a fake gun to shoot a masked gunman and images of blood splattering on a large screen behind the stage. She used the set for her performances in other cities for the song "Gang Bang," which includes the lyrics "shot my lover in the head."

"We're dancing and all of a sudden people started realizing what the song was," said concert-goer Aaron Fransua, 25, who was in section 120. "We all just stood there. Everybody who was around me all had shock on their face. I heard a lot of `wows,'" Fransua said.

Mile High Sports Radio Denver personality Peter Burns, who was in another section, said the people around him began murmuring when the song came on.

"You could see people kinda looking at each other," Burns said. "I heard the word `Colorado,' you know, `Aurora,' `shooting.' You could hear people talking about it and it was little bit unsettling. I saw two or three people get up and grab their stuff and actually leave their seats."
The original article continues below.
At the time of her Scotland show, a member of her tour staff told The Huffington Post that "Madonna would rather cancel her show than censor her art. Her entire career, she has fought against people telling her what she can and cannot do. She's not about to start listening to them now."
A number of attendees of Thursday's show were "upset," according to the AP.
Madonna herself explained the use of guns in a letter. "I do not condone violence or the use of guns," she wrote. "Rather they are symbols of wanting to appear strong and wanting to find a way to stop feelings that I find hurtful or damaging. In my case I want to stop the lies and hypocrisy of the church, the intolerance of many narrow minded cultures and societies I have experienced throughout my life and in some cases the pain I have felt from having my heart broken."
The MDNA Tour, like all Madonna ventures, has been littered with controversy. Before it even started, the singer appeared on stage at Ultra Music Festival and asked the crowd how many of them had "seen Molly," a slang term for MDMA or ecstasy. House producer Deadmau5 slammed the singer's comments, and despite the fact that her own album, "MDNA" and tour bear a striking linguistic resemblance to "MDMA," Madonna later said she was referring to a song title.
News then broke of the singer's inclusion of a swastika on the forehead of Marine Le Pen, the leader of France's far right party. Though she defended use of the image, Madonna eventually changed her tour video to no longer include the offensive symbol.
Twelve were killed and 71 were wounded when James Homles walked into a midnight screening of "The Dark Knight Rises" and sprayed the audience with gunfire. Holmes is currently on trial.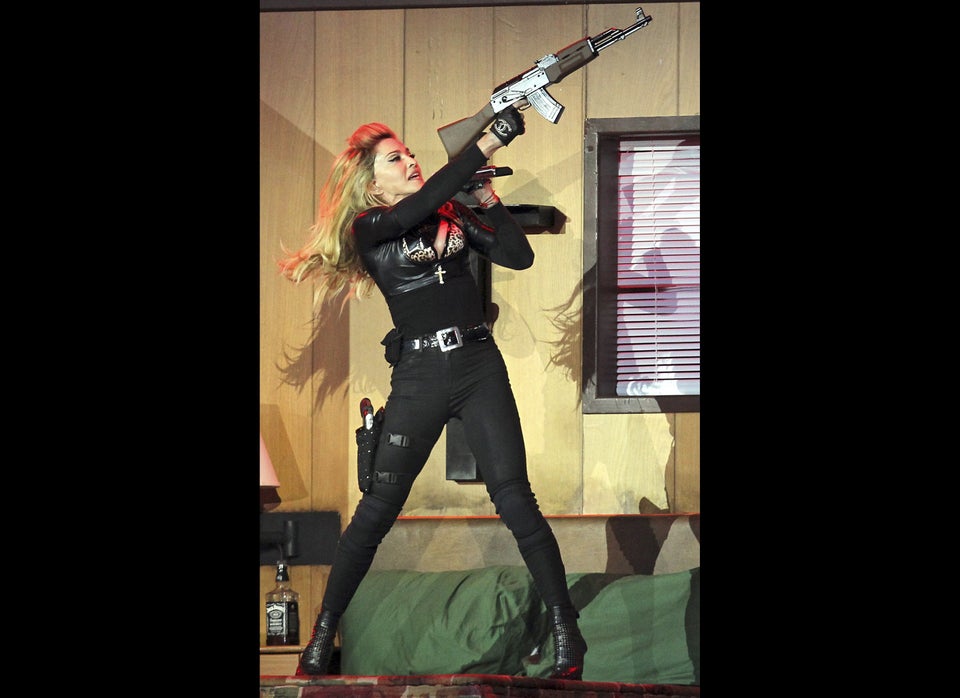 Madonna And Guns
Popular in the Community