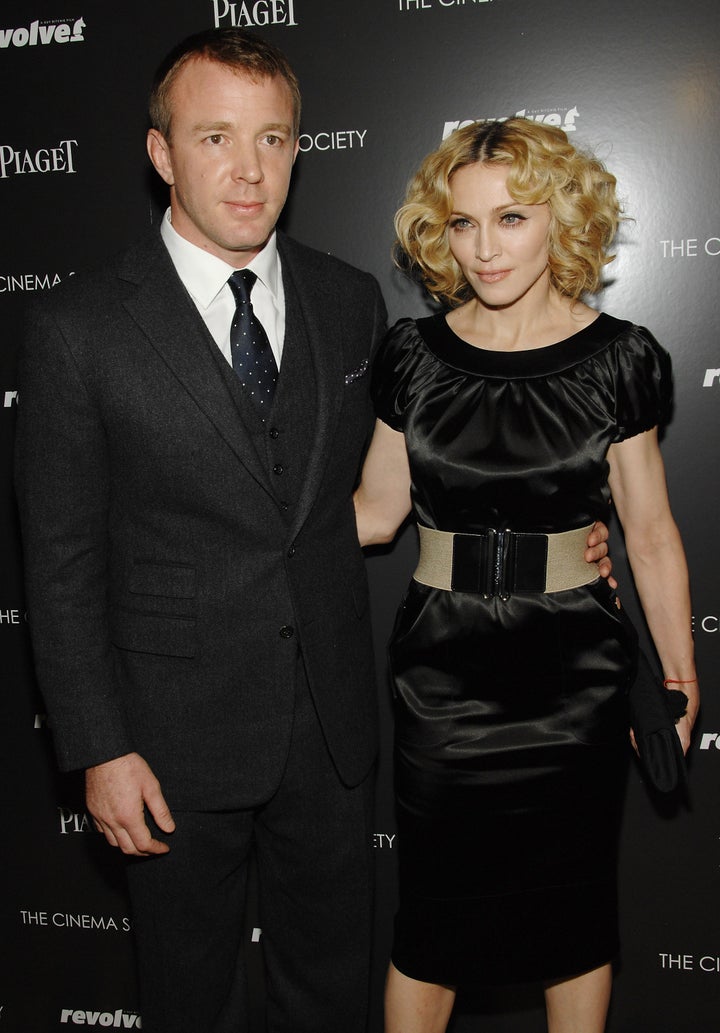 Update:
Friday's UK Sun reports that Guy Ritchie told wife Madonna he is quitting Kabbalah:
"Guy threw himself into it at first and even filled his movie Revolver with obscure references to the faith.

"He was genuinely into it and it helped the bond between them. But then he backtracked a little with his gestures of public backing, like wearing the bracelet, because he didn't like being such a high-profile follower.

"He also became suspicious of all the Kabbalah crowd living off her money.

"But he always told Madonna he had kept his faith -- until now.

"A few weeks ago he told her he doesn't want anything else to do with it. It didn't go down well."
Friday's Mirror claims that Madonna asked for a divorce, and Guy easily agreed.:
Madonna told Guy Ritchie she wants a divorce after the couple agreed they had fallen out of love.

They admitted to each other that their seven-year marriage was doomed because they had simply drifted apart.

A friend said last night: "They were both very calm. Madonna told Guy: 'I'm sorry, I want a divorce'. And he agreed. It was quite painless but very sad."

Last night Guy was holed up alone in his country mansion last night hoping against the odds that he can rescue his doomed marriage to Madonna.
Advertisement
Click here to find out more!

Guy, 39, reluctantly agreed to 49-year-old Madge's request for a divorce to end their turbulent relationship.

But friends said he still nurtures the dream that the final break can be avoided.
She did it for Macca - now can she do it for Madonna? Fiona Shackleton, the divorce lawyer who ensured that Sir Paul McCartney retained all but £24.3 million of his £825 million fortune, has been lined up by the pop star.

Madonna, whose fortune is estimated to be worth £300 million, is understood to be seeking legal advice on a possible divorce from her husband of seven years, the film director Guy Ritchie. Ms Shackleton, 52, is the lawyer of choice for the rich and famous after what was regarded as the spectacularly well-handled split of Sir Paul from Heather Mills, who was rumoured to be pushing for £80 million.

Dubbed the "steel magnolia" for her tough but pragmatic negotiation tactics, Ms Shackleton instructed the top divorce silk, Nicholas Mostyn, QC. They secured such a successful result that Ms Mills emptied a jug of water over Ms Shackleton's head after hearing the judge's ruling.

Ms Shackleton also acted for the Prince of Wales in his divorce. Yesterday Madonna's spokesman refused to comment on the claims.
The Sun reports they sleep in separate rooms.
In May Madonna and Guy walked the red carpet together at Cannes, having rarely been spotted as a couple, and stories flew that the pair was living a civilized separation.
Popular in the Community