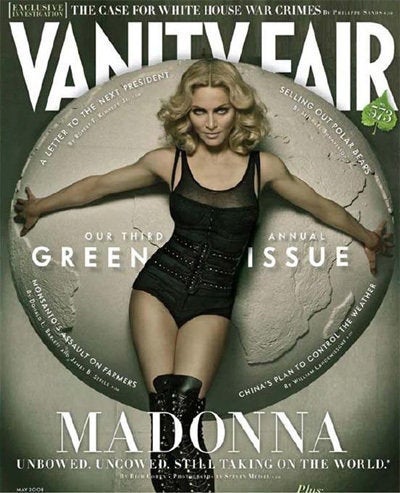 Madonna graces the cover of the May issue of Vanity Fair, on newsstands in New York and LA on Wednesday. She is busy promoting her new album "Hard Candy," which comes out April 29. Here are highlights, including her thoughts on New York, fame, and your soul's ability to choose the sex of your child:

Madonna spoke of New York, how it's changed: "It's not the exciting place it used to be. It still has great energy; I still put my finger in the socket. But it doesn't feel alive, cracking with that synergy between the art world and music world and fashion world that was happening in the 80s. A lot of people died."

...

madonna: Do you have a daughter?
me: No, three sons.
[Madonna looks at me accusingly.]
me: I didn't choose it--it just happened.
madonna: Do you believe that? You think things just happen?
me: I think that just happened.
madonna: Mm-hmm.
me: So who's making the decision?
madonna: You are, you and your missus.
me: About what kind of kids we want?
madonna: You chose it. Your soul chose it.
me: No. Do you believe that? That my insides wanted boys?
madonna: Unconsciously. Yes.
me: I kind of like the idea, three sons--it's like having a little army out in the woods.
madonna: And all the work they can do, and you can teach them carpentry and then build houses for you in Old Greenwich, or wherever you live.

...
"You have to get to a point where you care as little about getting smoke blown up your ass as you do when you become a whipping boy in the press," Madonna said, "because ultimately they both add up to shit. You just have to keep doing your work, and hope and pray somebody's dialing into your frequency."

She then said, "If your joy is derived from what society thinks of you, you're always going to be disappointed."