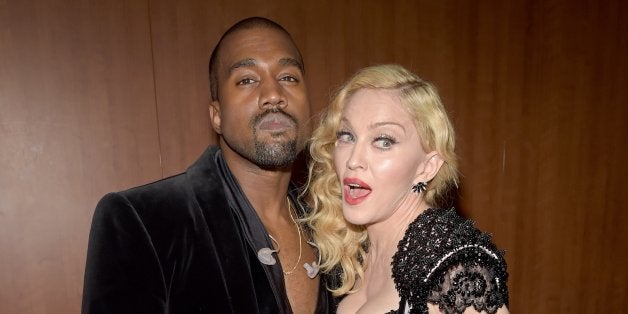 Madonna has reigned supreme over award shows since first rolling around at the MTV Video Music Awards in 1984, and now she has some advice for Kanye West: calm down.
"Don't go to awards shows looking for justice," Madonna said in a new interview with Rolling Stone. "That's like trying to find a needle in a haystack. Just go and have fun. I never got too engaged with who wins awards or not, because I don't honestly think it's that important. So that part of him I can't relate to. Like, what's the point of fighting for somebody to ... like, 'This person should have got it?'… I think sometimes he takes things too seriously."
"It's really hard to describe Kanye in one sentence, so I may have to use several," Madonna said of the rapper, who produced songs on her forthcoming album, "Rebel Heart":
He's a brilliant madman. He can't help himself. Like, he doesn't have the same filters other people have. He has to blurt things out -- he's always saying inappropriate stuff. But he also has brilliant ideas, if you can get him to pay attention long enough, working with him in the studio. He would come and go. He would drive me bonkers, because he's got so many things going on in his life. And this seemed to be the theme of my record, working with people who can't get off their phone, can't stop tweeting, can't focus and finish a song. It drove me crazy. But when they did pay attention, it was brilliant. I was, like, running around with a butterfly net. But I feel like the music business needs him, because everyone's become so politically correct, so safe. I don't always agree with the things he says or does -- I don't always like his music, even. But he's a beautiful mess. I love him.
Calling all HuffPost superfans!
Sign up for membership to become a founding member and help shape HuffPost's next chapter
BEFORE YOU GO
PHOTO GALLERY
Madonna's Wildest Moments