Madonna's greatest hits have been getting a pint-sized makeover, courtesy of a California teacher and his kindergarten class.
Arturo Aviña, who teaches kindergarten at the Olympic Primary Center in Los Angeles, created a viral sensation in 2012 after filming his students re-creating the Madonna's iconic "Vogue" video, complete with black top hats, hand-held fans and surprisingly elaborate choreography.
Since then, he's had successive classes pay homage to the Queen of Pop's musical catalog, with students putting their spin "Material Girl," "Live To Tell" and "This Used To Be My Playground," among others. In 2014, The Los Angeles Times deemed "Like An Alphabet" -- in which Aviña's students tackled all 26 letters of the alphabet to the beat of several classic Madonna hits, including "Borderline," "Express Yourself" and "Hung Up" -- the teacher's most ambitious project yet. (Check out that video at top)
This year, Aviña's class grooved to the 1993 Girlie Show Tour version of "Vogue."
"With money hard to come by for regular arts instruction, Aviña's endless creativity is a boon," reporter Nita Lelyveld wrote at the time. "He has a knack for making learning feel like playing make-believe."
A self-professed Madonna-holic, Aviña has also incorporated music by Björk, Garbage and Blondie (among others) in his classroom projects. As evidenced by the over 280,000 views that his original "Vogue" racked up on YouTube, it's the Madonna videos which have drawn the most attention.
Students re-told Shel Silverstein's "The Giving Tree" set to the 1986 hit, "Live To Tell."
"What always appealed to me was the fact that she marched to the beat of her own drum and broke down so many barriers, but what grabbed my attention first was her music," Aviña, who is openly gay, told The Huffington Post. "It's given me so much joy."
Still, the teacher is aware that some parents might not see the 56-year-old Material Girl, who has never shied away from religion, politics and sexuality in her songs and music videos, as a worthy role model for young children. The tunes, he said, are incorporated in a way that "blends theater and music" into his school's language arts curriculum in a child-friendly way. Parents are all asked to sign release forms before their children participate in the videos, while administrators have been "very supportive" of the projects.
Aviña had his students mark Valentine's Day with "Living For Love."
"Her music has a sincerity and timelessness to it that is cross-generational," Aviña, who has had students tackle the "Rebel Heart" single, "Living For Love," and hopes to create a video for another cut, "Iconic," said. "My kids love her music! The thing about 5-year-olds is that they don't have some of the biases that adults have, so they don't discriminate. They like what they like and there's no stigma about it."
Before You Go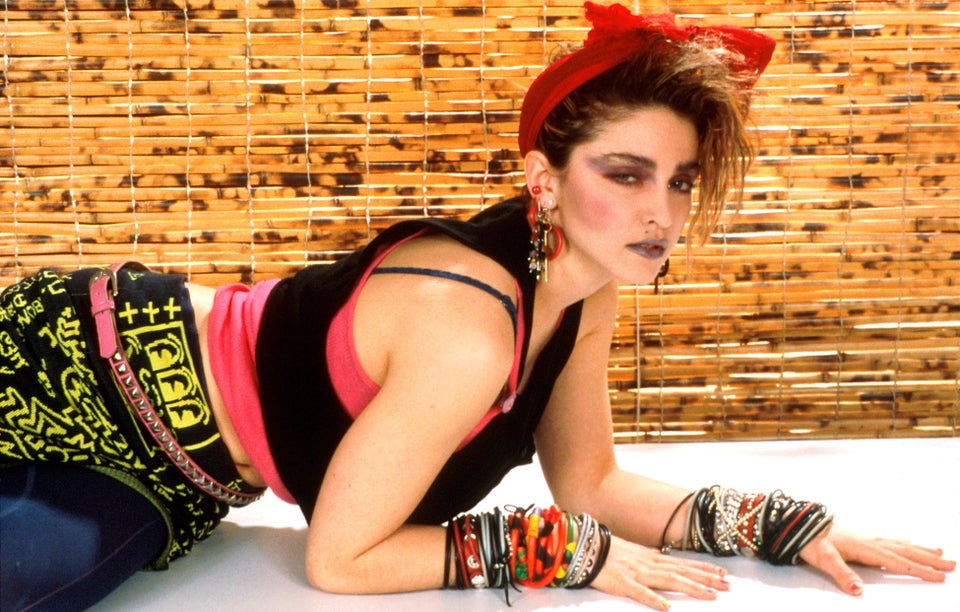 Madonna: 56 Of Her Most Memorable Looks
Popular in the Community