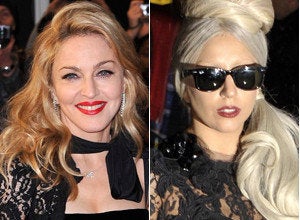 When Lady Gaga released "Born This Way" last year, a nation of music fans immediately thought of Madonna's seminal hit "Express Yourself." Turns out the Material Girl was thinking the same exact thing.
Gaga has long been accused of borrowing heavily from Madonna's act, from her use of Catholic imagery to gay rights activism to her often provocative wardrobe of fishnets, cone bras and other eclectic bits. Madonna acknowledges that she sees the connection.
"I certainly think she references me a lot in her work. And sometimes I think it's amusing and flattering and well done," she tells the newsmagazine.
However, lest one make accusations of unrepentant plagiarism, Gaga herself has agreed that much of her work is enabled by Madonna's legacy.
"Madonna is a wonderful influence on me," she told the Daily Mirror in November. "I feel blessed to have grown up with a powerful, blonde woman to show us the ropes. It's all down to her that I'm able to do what I do."
Popular in the Community