Madonna was among a host of celebrities who joined the Women's March on Washington Saturday, in solidarity with the hundreds of thousands of women marching in the capital and around the country the day after President /www.huffingtonpost.com/topic/donald-trump"}}">Donald Trump's inauguration.
The singer, who has been vocal about her distaste for the former reality TV star since the beginning of his campaign, took the stage in D.C. to deliver an impassioned and profanity-laced speech about the importance of a political moment that forces everyone to "wake the fuck up." 
"Welcome to the revolution of love, to the rebellion, to our refusal as women to accept this new age of tyranny, where not just women are in danger, but all marginalized people," she said. "It took this horrific moment of darkness to wake us the fuck up. It seems as though we had all slipped into a false sense of comfort that justice would prevail and that good would win in the end. Well, good did not win this election, but good will win in the end."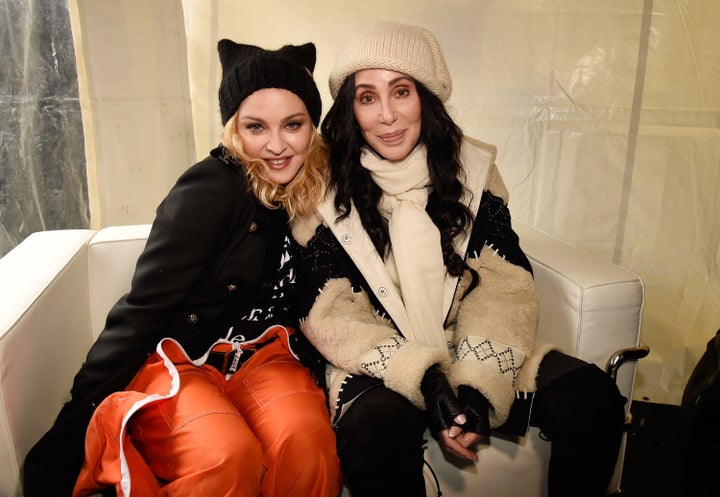 Madonna went on to issue a simple message to those who believe the Women's March will amount to little political action: "Fuck you."
"Yes, I'm angry. Yes, I am outraged. Yes, I have thought an awful lot about blowing up the White House, but I know that this won't change anything," she continued. "We cannot fall into despair."
The speech was broadcast live on a variety of different television networks. According to The Hollywood Reporter, CNN and MSNBC cut away from Madonna after the singer dropped her third F-bomb, with CNN's Brooke Baldwin later apologizing to the audience. C-SPAN, however, continued to cover her remarks uninterrupted. 
"I just need to apologize for the multiple f-bombs by Madonna," Baldwin said. "That happens, and we apologize here at CNN for that."
After closing her speech with a powerful quote from poet W. H. Auden, the pop star performed "Express Yourself" and "Human Nature." But it wouldn't be a Madonna show without one last dig, so she dedicated her final song to "DT."
"The new DT in the White House," she said. "'D' could stand for dick. I don't know."
But later in the song, she made things abundantly clear by changing the lyrics to "Donald Trump, suck a dick."
Watch her full speech below: 
Calling all HuffPost superfans!
Sign up for membership to become a founding member and help shape HuffPost's next chapter
BEFORE YOU GO
PHOTO GALLERY
Ranking Madonna's Singles