I see a lot of bad photography. The other day I spent over an hour looking through the 'editor's picks' on 500px. I was not impressed. Who are these editors? I must qualify this statement however. I'm not impressed by technically perfect photographs. Images that are primarily produced in a computer are also nothing to write home about - at least not in my letters. Call me old fashioned, but I like photographs that are organically intriguing, that rely on subject matter and composition, not good lighting or fancy Photoshop skills. When I do see good photography it excites me, it inspires me and, the first time I saw Madison's work, this is exactly what happened. I was excited. I was inspired. I wanted to be Madison.
Madison (who prefers to keep his last name a mystery, kind of like Madonna) is a Dutch photographer who was born and raised in the Netherlands. He studied graphic design at The Academy Of The Arts and Fashion and fine art photography at the Photography Academy.
Madison is currently working on a major project, Claustrum Corporis Vol. I-V. After a successful solo exhibition of the first volume, titled Simulacra, the second volume, Mortui Te Salutant, is currently in production and scheduled for mid to late 2014. That work is not shown here, but it is some seriously good stuff. You owe it to yourself to take the time to search it out and consume it. It is, in a word, pure genius - okay, two words.
When I look at Madison's photography I think of Madonna. I think this is the guy Madonna would want photographing her, if only she knew he existed. I don't know why I feel this, exactly, but it likely has something to do with the fact that both Madison and Madonna imbue their art with their keen intellects. They both produce art with a multiplicity of layers - with immense depth. I also think of Helmut Newton, Bruce LaBruce, Anders Petersen, and even David Lachapelle (although you won't see any color here) when I view this work. I think of these famous photographers for different reasons, but Madison's work has elements from all of these masters. What a feat!
In this feature, I asked the photographer to speak to the images that I selected from his work. It's not an interview, per se, but more like "talking photographs". The words are his and his alone. I curated the images, he wrote the text. Enjoy the experience that is - MADISON.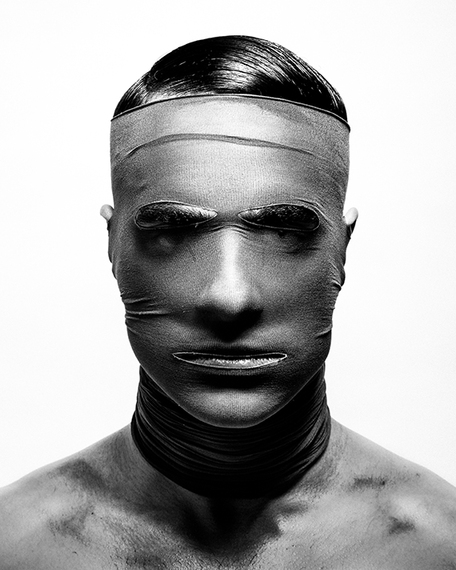 Freek Bartels is a Dutch musical star, actor, and television personality. I photograph people in the public eye more often than not, but I am always aware that fame is a tricky thing in two ways: the person themselves always tries to maintain their status/image in front of the camera because they, or their agents, position themselves visually as a product rather than a person; and the people buy into the image and project because a personality is featured. So, in Freek's case, I covered his face. I showed the fame, the distortion, but not him. This is closer to the truth than shooting a 'natural' portrait, which would never be natural. This is my comment on fame. It separates us from the people we think we know, and it is what separates them from us, because they rarely show themselves as they are.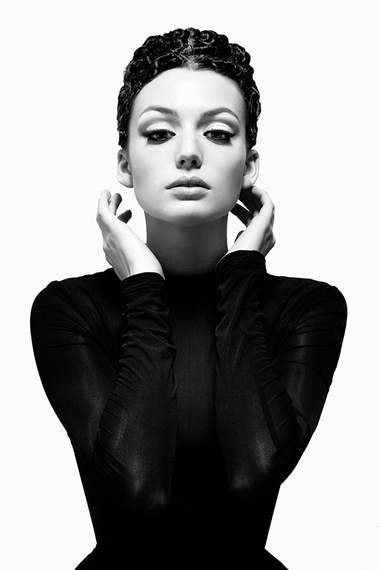 Gaite Jansen is a young and very talented upcoming Dutch film actress. I shot her portrait, for a magazine article, in a way that projected onto her the allure of the great divas of the past. She looks like Maria Callas or Audrey Hepburn, very different from the twenty-year-old funny girl she is usually photographed as in the Dutch media. I sometimes like to add subliminal symbolism in these portraits. The hair is made to look like an outer brain - insect like, but still high end fashion. It is a reference to Franz Kafka's 'Die Verwandlung' (The Metamorphosis). Not only did I photograph her in a new way, I also symbolized the change from a young actress to a quickly rising star in this image, both referencing the great masters of her past, as well as the monster that fame could possibly turn her into. It's classic beauty with a dark edge.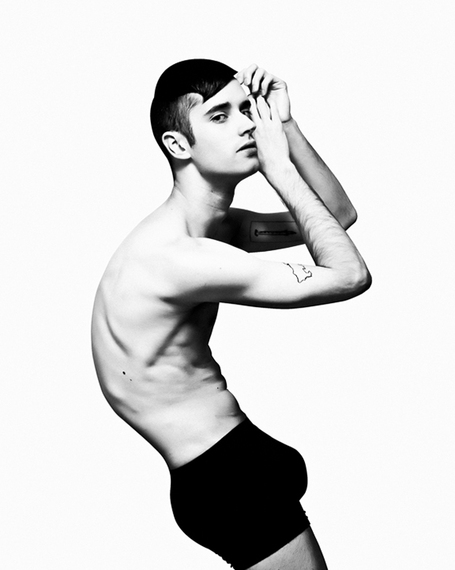 Jip Loots is a Dutch stage actor who is kind of a pretty boy, but really is an underground type of character. He is rough around the edges with a love for the unusual and the uncomfortable. I had him stretch until it hurt. He bent his body in a way that you do not often see in a portrait of an actor. It's strong. He retains his pretty boyish looks, but his body is contorted and the viewer feels the tension, which is exactly the part of his character that people rarely see in photographs.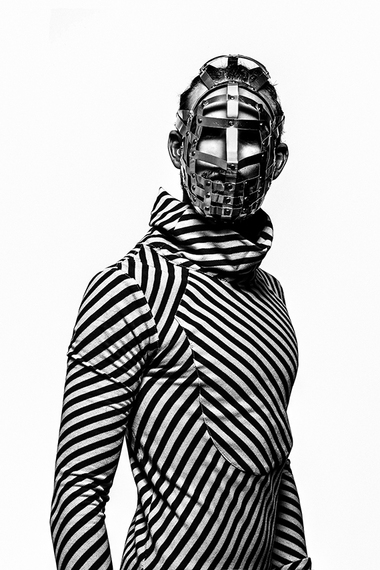 As a former graphic designer, I am always looking for patterns, textures, composition, lines, and connections - strong graphic elements. In this fashion shot, for Dutch menswear designer Niels Brinkman, I combined all of these things to create a silhouette that is an extension of his designs. It's a hybrid between graphic design and photography, hiding the model's face in this particular shot by making him wear the steel mask that connects to the design. Ultimately, a lot of people forget that in fashion photography, no matter what the context, the clothes have to come first. If the situation lends itself to it, I will take a chance and seek out the shapes, the textures, and the patterns, rather than the model and his or her own beauty or sex appeal.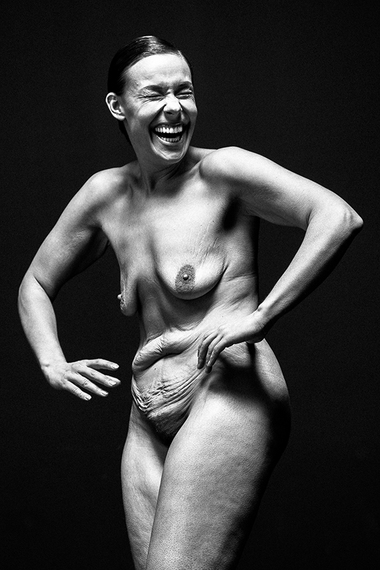 This is a rather sensitive and personal photograph from my personal collection. This woman had an eating disorder when she came to me, but she did not feel she had a problem. Instead of emphasizing her body, which was becoming thinner and thinner and getting ready for corrective surgery, I wanted to dive inside her head and try to understand how she could see herself the way she did - to find her joy and her pride in her body, for which she was paying a very high price. This shot in particular is an outtake where she burst into laughter and let go of everything. There is a purity in the darkness and in this very moment that touches me tremendously. It's not shocking, it's not sexual, it's not misogynist - it's human. And, it does not judge on any level even though it would be so easy to do so when dealing with something so misunderstood as an eating disorder.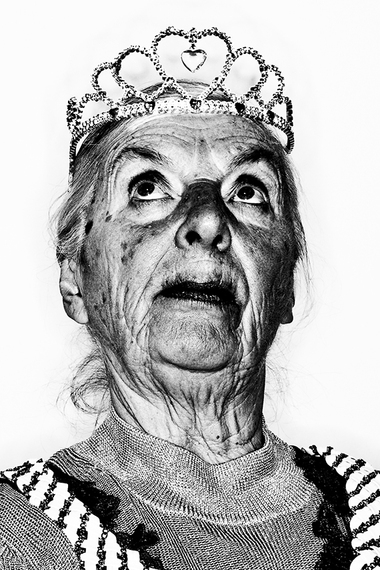 This old lady is part of a series of old women with weird and unique kitsch styles and attitudes. It was a series on unique and unconventional women that were not afraid to dress up in front of my camera and work it. There is a lot of character here. She is untouchable. Victorious. People who dance to the beat of their own drum interest me greatly, although they rarely sit down in front of my camera. There aren't that many women like this left.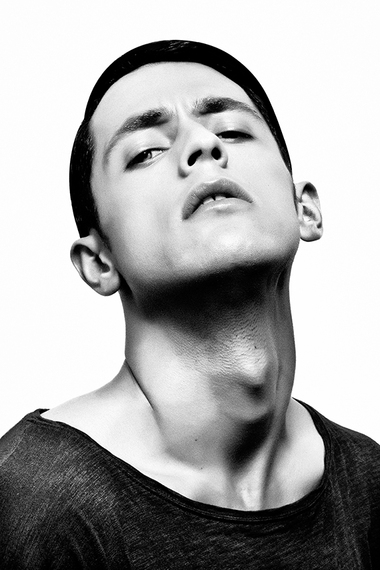 When I saw Enes, I could not believe his swan-like neck. I have an obsession with bone structures to begin with, so all I did was try to find the exact angle where he would be beautiful, but almost otherworldly because of the long neck. There is a lot of unusual posture or emotion in my portraits. Beauty often clashes with the unsettling energy of either the pose or the expression.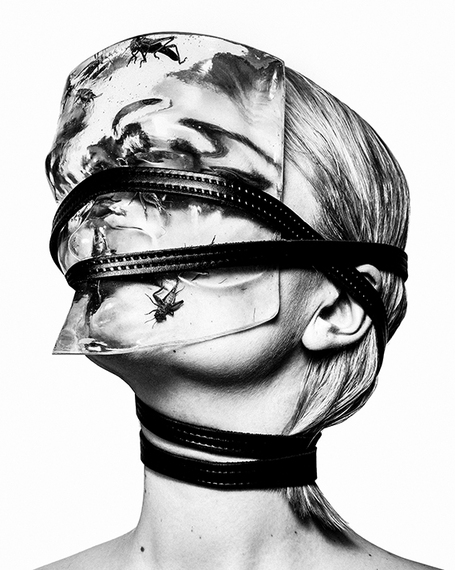 London-born and Berlin-based singer Emika was shot in a glass mask with insects embedded in it. We used this image to tease the darker subtext of her second album before it came out. The image was used in the press kit. She is not afraid to trust a photographer to make a visual translation of the layers in her work, which is an absolute must, if you want to work with me. I am not somebody you hire to press the button - I am somebody who extends something my subjects say or do, or somebody who adds a layer of symbolism or commentary to a subject. Normally a blonde bombshell, Emika, in this mask, caused quite the shock among some of her fans who thought the image was too dark. There is no such thing as too dark.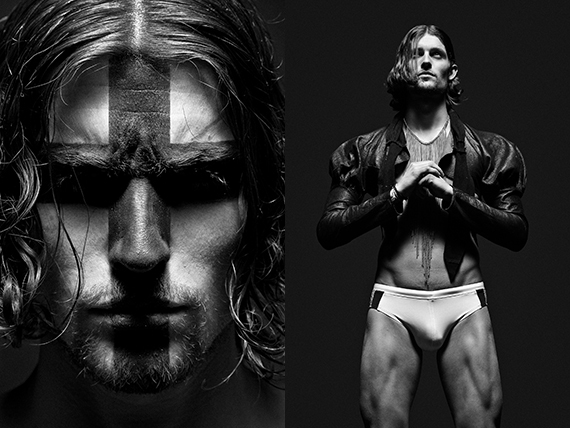 When French Magazine Fiasco Homme, or F/Homme, asked me to shoot a swimwear editorial for them, I decided to not go where everybody else goes when they shoot a swimwear editorial. No focus on sex, no seduction, no sunny outside setting - nothing. I didn't want to be cheeky.I looked up a passage in the bible about redemption and salvation - promises the fashion industry makes to its customers, and went with that in an almost old testament dark kind of way. The beauty is there, the body is there, the swimwear is there, the salvastion and redemption are there: but are these promises false or true? It's up to the viewer to decide. It went pretty viral when it was first published. This is what I mean when I shoot something and keep the essence, but add a commentary to it that adds depth and dares to ask questions. The entire first page of the editorial was a bible passage. That was a first for a fashion magazine.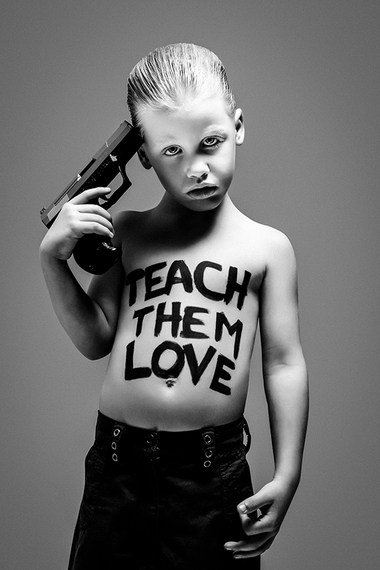 My most exhibited image is, 'The Boy With The Gun' (AKA Teach Them Love). It was shot after I saw a news segment about summer camps where eight-year-old children are allowed to train with live guns - something that is unthinkable where I live. Here, in the Netherlands, gun regulation is very strict. Possession of a firearm is forbidden. I realized how much society has taught our children about violence instead of love. So, I shot the most direct and literal image I've ever shot in my career. I received several death threats when it was published, all from the United States. What struck me as odd is that the threats came from both camps - people who were against guns, and people who thought every eight-year-old should own a gun.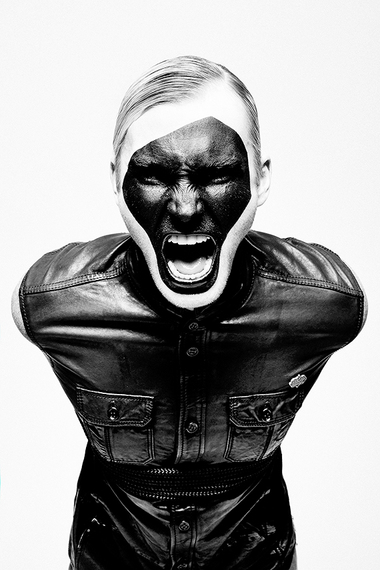 This is an image from an editorial shoot where you not only sell the clothes, but tell a story and drag the emotions out of a model. It has to be real on an emotional level, even in the case of an editorial that is mostly constructed. For this particular shot the model went to a dark place, the recent passing of his father, and let go of all his anger in that scream. The death was irrelevant for the story, but the anger was not. Sometimes you have to go to dark places to tell a story- to emote people, to make them appreciate beauty, but at the same time ask questions about it.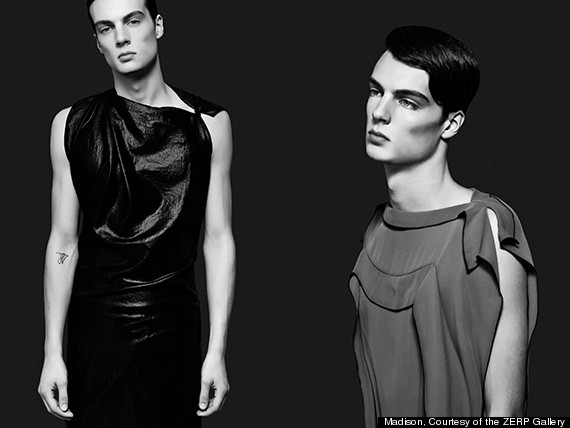 I love playing with gender stereotypes in my work. This spread is from an editorial for a magazine that didn't make the cut because they normally feature butch men posing with predictable pretty girls and preferably alongside cars. I decided to take a risk and go androgynous with this image. The audience loved it. The editors did not because it was too 'gay'. That shows you there is still a lot of outspoken homophobia in fashion publishing, which is odd, considering the percentage of gay men and women working in the field. I guess they fear the clients, the readers, the advertisers. They are afraid to publish something androgynous. It ended up in a gallery.

Often, before I begin writing a conclusion to a feature, I re-read the whole thing - again. I just did that with this article and - wow. It's been a really long time since I've been exposed to an emerging photographer of this quality. Madison is a master - although he may not yet be recognized as such. Not only does the imagery impress and inspire, but so do the words also. It is one thing to find a brilliant photographer, quite another to find a brilliant mind - now imagine the two in one person. Indeed, you don't need to imagine, his name is Madison. Now Madonna, are you there? Meet Madison, your new photographer!
Want to have your photography featured here? Tweet me your best images @28mmphotos.
Calling all HuffPost superfans!
Sign up for membership to become a founding member and help shape HuffPost's next chapter