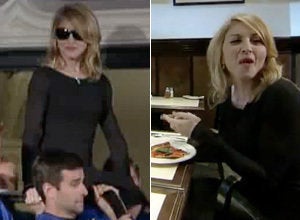 Madonna returned to David Letterman Wednesday night, riding in on the shoulders of NY Rangers, and joked about smoking a joint before a previous appearance, her recent dalliance with Alex Rodriguez, and her recent divorce from Guy Ritchie.
Of her eight-year marriage to Guy Ritchie, she said it was "the Bush years... a good time to be out of America."
But she won't marry again. "I think I'd rather get run over by a train."
Letterman later found something that she had never done before - eat a slice of New York pizza. She claimed it's because she's 'not a cheese person.' The pair then walked next door and were served pre-ordered slices of cheese-less pie with olives, which she even took a bite of on camera.
Popular in the Community