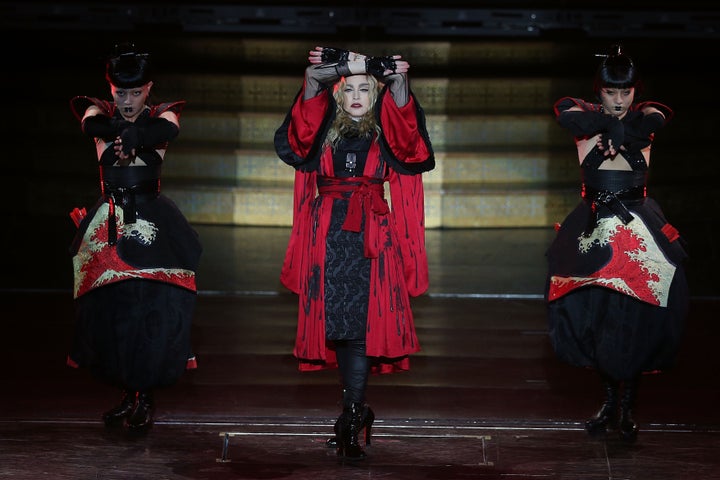 UPDATE: On March 22, 17-year-old Josephine Maggie Georgiou -- the girl who went viral after Madonna pulled her top down -- spoke with The Huffington Post via email about the experience. 
"When Madonna pulled down my top we both kind of looked at each other like 'oops!' and laughed as I pulled my top back up," Georgiou said. "I didn't have any particular feelings about my boob being exposed other than it being a funny slip up. So afterwards I just felt over the moon that I had shared an experience with Madonna. We held hands and hugged!
Georgiou said that Madonna's people later flew herself and her mother to Madge's final show in Sydney, putting her up in a fancy hotel and offering door-to-door limo service. She says the incident has been a "blessing" so far. 
"This experience has been a blessing in so many ways, I've connected with a lot of really lovely people, particularly the Madonna fans at her concerts who shared the experience with me and I've received really touching feedback and warm support from people all over the world," the teenager said. "Right now my life feels a bit surreal." 
And while it's been a crazy ride, Georgiou's mother, Toni, says many have asked what would've happened had a male entertainer pulled down her daughter's top. 
"This was unique and extraordinary set of circumstances," Toni said. "It was Josephine's encounter with the Queen of pop and it was Josephine's breast so all that anyone need be concerned about is how Josephine feels about it. And she feels perfectly fine."  
PREVIOUSLY: Madonna stunned crowds at her Brisbane, Australia, concert after she took things too far and accidentally revealed a teenage girl's breast.
The singer brought the girl up on stage and proceeded to describe her looks to the audience before launching into the very "WTF" moment. 
"She's the kind of girl you just wanna slap on the ass and pull [her top down]," Madonna said in a Radar Online video, as she accidentally pulled the girl's top off and revealed her breast.
"Oh, shit!" the singer said as the 17-year-old girl gasped and quickly pulled up her top. Madonna went over to hug her, saying, "I am so sorry. Sexual harassment."
"You can do the same to me, good luck," said Madonna as she motioned to her own intricate costume. She later added that the girl deserved her own Victoria's Secret contract. 
Madonna angered fans by arriving on stage hours after she was supposed to, causing concertgoers to miss the final train home. The 57-year-old singer has come under fire recently for appearing wasted, though she quickly shut those rumors down with an Instagram post. 
"Too bad people don't know the art of acting and playing a character," Madonna captioned her photo. "I could never do any of my shows high or drunk. And yes underlying all of this is sexism and mysongony [sic] which proves that not only do we not get equal pay but we are still treated like heretics if we step out of line and think outside the box!" 
Calling all HuffPost superfans!
Sign up for membership to become a founding member and help shape HuffPost's next chapter
BEFORE YOU GO
PHOTO GALLERY
Madonna's Outfits, Ranked