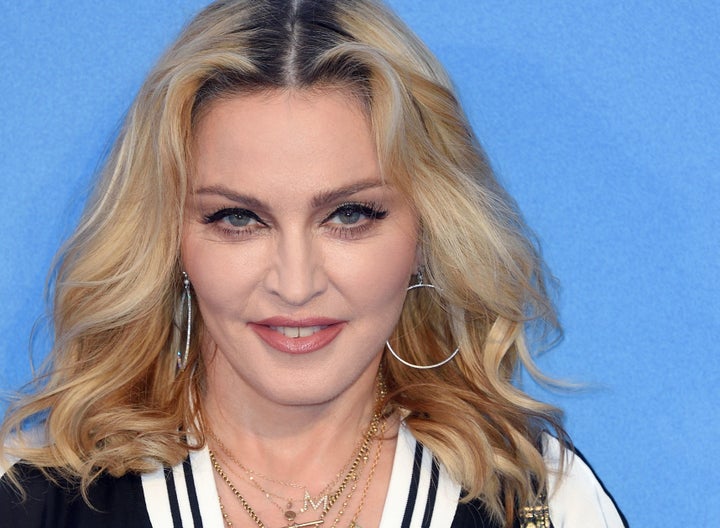 Any time you think that pop music crown might be slipping off Madonna's head, she readjusts, smirks and places it back to its rightful place.
Packed with celebrities like Leonardo DiCaprio, Chris Rock, Dave Chappelle, James Corden and Paris Hilton amid Miami's Art Basel festival, the fundraiser spotlighted Madonna's ability to do just about anything for a good cause. 
(See: Madonna offering oral sex to anyone who promised to vote for Democratic presidential candidate Hillary Clinton.)
Grande took the stage to auction off one of the looks from Madonna's Rebel Heart tour. The two apparently wowed the crowd with a song and dance number, as well as sharing a brief kiss, AP reports.
At one point in the evening, ex-husband Penn somehow wound up in the spotlight ― the former couple's 1985 wedding photo was up for auction ― to encourage everyone to open their pocketbooks.
Penn crawled through her legs to get up on stage and then handcuffed her in front of the crowd. Madonna then offered to marry the actor a second time if he bid $150,000. 
"For once, he's not the one being arrested," she said. 
Thankfully, Bethenny Frankel, who was also in attendance, (random, but helpful) captured the moment in all its glory on Snapchat.  
But Madge truly outdid herself with her anti-Trump pièce de résistance, a performance of Britney Spears' "Toxic" while distorted images of Trump flashed on a screen behind her.
Seated on a chair for most of the performance, Madonna cooed lyrics like "You know that you're toxic," while backdropped by a photo of Trump with a "Pinocchio" nose and quotes from the president-elect about building a wall. 
"I'm not being too opinionated?" she asked the audience after the performance. "Too extreme? I'm not insulting anymore? I must not be doing something right."
And then she auctioned off the actual chair she was sitting on. 
Calling all HuffPost superfans!
Sign up for membership to become a founding member and help shape HuffPost's next chapter