But what most caught our eye last night was Madonna's thong. Yes, thong. The underwear emerged as part of her tour choreography, where she strips down during "Like A Virgin," revealing a sheer black pair of panties.
But bad omens aside, we have some other issues. The MDNA tour's, well, DNA, seems to be all about controversial accessories: sheer lingerie, cross imagery, fake guns everywhere -- some she even points at her temple.
Madge's wardrobe is pushing the same risky envelope, seemingly designed just to get people talking. The problem is that we've seen it all before... in Madonna's '80s and '90s phases. Nipple baring top? Check. (NSFW pic). Provocative underwear? Check. Is there really a person left who hasn't seen Madonna's boobs at this point?
We wish the Material Girl had kept evolving in creative ways (the '90s brought us her geisha phase, her henna tattoo phase, her house music phase) and had unleashed an interesting array of costumes that stoked the zeitgeist but didn't come off seeming desperate. How great would it be if Madonna innovated a new style wave, instead of resorting to tired and raunchy gimmicks that only merit yawns? After all, we've already seen most of her body before.
We know the idea is that Madge is revisiting her classic costumes, which is pretty cool, but when it comes to her new material: It's time for Madonna to try a new style direction.
Check out NSFW photos below from Madonna's current MDNA tour wardrobe. Do you think her style's working for her?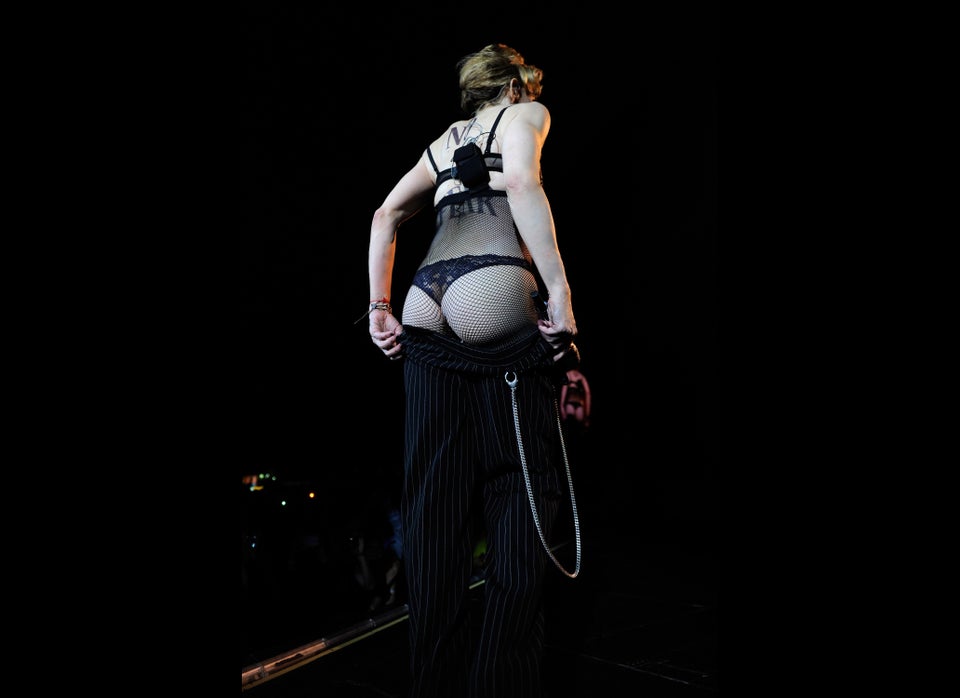 (NSFW) Madonna's Concert Looks