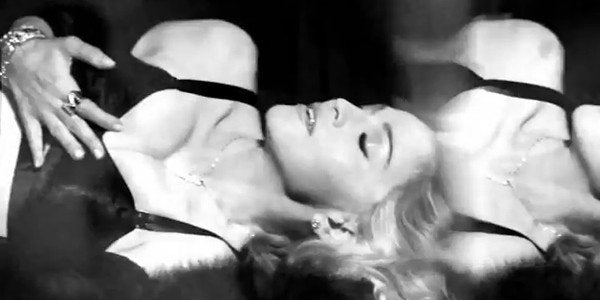 Truth: Duality. Sin is my twin. Contradictions push and pull.
Dare: To expose what lies beneath. Infinite possibility.
In this tension, we find our true selves.
Um, OK. We weren't sure what Madonna was getting at, but now that we've seen the fragrance's new TV commercial, it's pretty clear what "exposing what lies beneath" meant. Her famous body, including a rather liberal dose of décolletage, is on full display -- and apparently not everyone is happy about it.
"ABC viewed the ad [and] came back with a list of changes. They say they want her bra digitally made bigger, and to extend higher to cover more of her chest, and her corset longer to cover more of her bottom. ABC also wants to cut another suggestive scene where Madonna writhes around."
While the requested edits sound fair, we are a bit surprised -- it's not as if network TV is cleavage-free nor is this the first time viewers have seen Madonna in a low-cut top (as a look back at her style evolution proves, below).
Check out the commercial below. Do you think this commercial is too racy for network television?
See Madonna's style evolution!